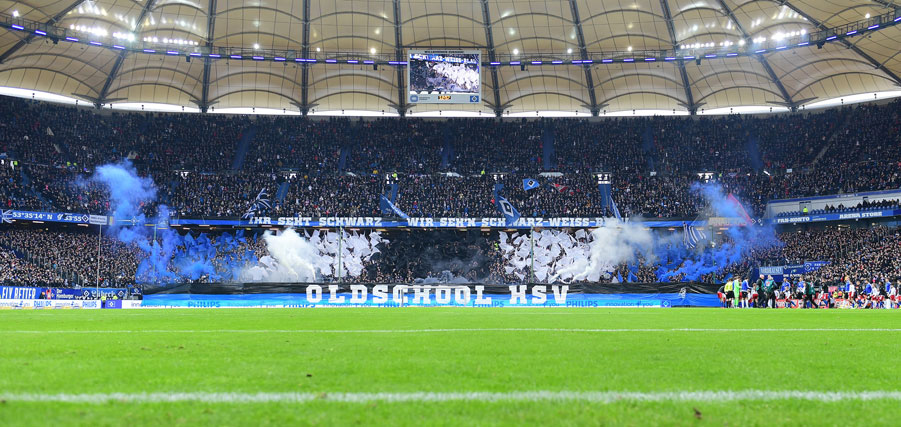 89% of fans would welcome further pyro applications
HSV undertook a survey of season ticket holders to see their opinions on the first legal use of pyrotechnics in professional German football.
The fan's display on the Nordtribüne during Saturday's home game against Karlsruhe, continues to be a topic of conversation in German football, due it being the first display of its kind. Other clubs as well as ultra groups have been in contact with the relevant parties in Hamburg, asking for information, so that they too can successfully apply for a similar display with the German F.A. (DFB).
HSV is more than willing to help the other parties in their aims and looked to reflect on Saturday's action with a survey of season ticket holders, asking them via e-mail of their thoughts on the pyro display on Saturday and ways to move the conversation forward. The result of the survey is impressive and underlines the first reactions from many after the game. 98% of the 5,000 participants in the survey stated that they felt safe whilst the smoke bombs were set off, whilst 95% didn't feel restrained in their seats during the display. 89% would welcome it if HSV applied to set off pyrotechnics at games in the future.
Cornelius Göbel, HSV's fan liaison officer, was more than happy with the results of the survey. "The high amount of respondents to the survey shows that it's an important topic of conversation," yet Göbel warned we are only at the beginning of a long process. "You could see that the expectations were very high on Saturday. The feeling was: The ultras have got their official pyro show, now it has to be the end of using flares. But you can't use this linear form of thinking – when this happens, this has to happen afterwards – for sub-cultures like that. The successful legal use of pyro on Saturday doesn't mean that using flares in stadiums will now stop overnight. We find ourselves in the middle of a process. At the moment it's difficult to say how the situation will develop." HSV will continue to discuss the topic with networks and the federation. Whether and when a similar display is planned, is unclear at this moment in time.