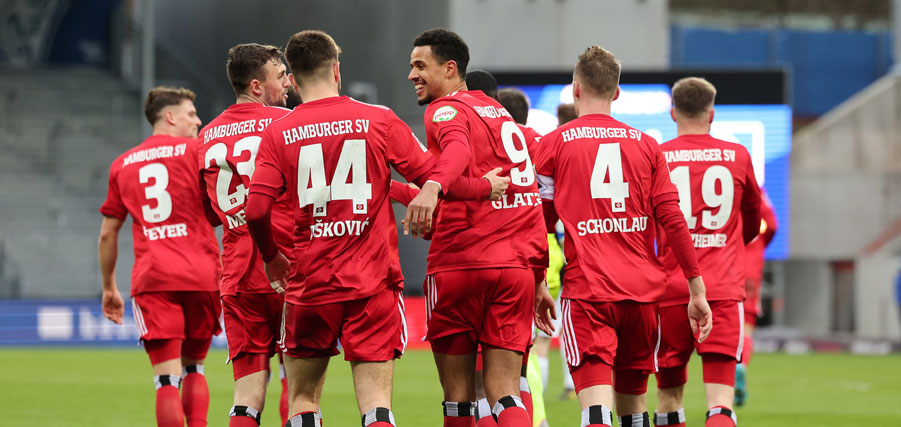 A Special Day
The Rothosen won away at top of the table Darmstadt 98 with an incredible 5:0 - and also wrote a special piece of history with the result. The Voice's from the Game.
There are days when everything seems to go right. The HSV professionals had such a day on Sunday (6 February), when they played against the league leaders SV Darmstadt 98 - and after the final whistle they were happy about a 5-0 victory. Robert Glatzel scored four times alone, as did substitute Manuel Wintzheimer, who, together with debutant and 5:0 assist Elijah Krahn and newcomer Giorgi Chakvetadze from the bench, gave the team a real boost. What a day for the Rothosen, who were rewarded for a determined and compact performance right from the start and remain at the top of the table. Quotes from the game.
Robert Glatzel About...
... his four goals "Of course, this is a very special day for me. The team performance was great, but for me personally it was also a highlight. I took the match ball with me after the final whistle and will have it signed by all my team mates.
... the game: It was clear that Darmstadt would throw everything forward after the break. In that phase, we were a bit lucky that the goal against us didn't count, but then we defended so well and could have closed the bag even earlier. All in all, 5-0 is a deserved result. Now we have to go into the next game with the same attitude and bring the intensity back into our game.
"Today you could see what we are capable of"
Daniel Heuer Fernandes: It's outstanding with what willingness, intensity and class we played today and that's why it was an all-round successful afternoon. We were 3-0 up early on, which of course gave us a boost. Darmstadt have enormous quality and showed it in the phase after the change of ends, but it was still a very good performance from us today. In the coming weeks, we want to continue in the same way and consistently put our performance on the pitch. Today you could see what we are capable of.
Tim Walter: We started the game very well and took the lead very early, after that it almost went by itself. In principle, the three-goal lead at the break was almost too little, we could have rewarded ourselves even more in the first half. Nevertheless, it was a good result, even though we needed a little time after the break to regain control after Darmstadt's phase of pressure, to let the opponent run again and to score two more goals. In the end, it was a well-deserved victory after a strong performance by the whole team, with Bobby Glatzel of course standing out a bit more and being rewarded for his great daily work.
Torsten Lieberknecht: In a season, it always happens that you have such a bad day. But we lost against a very strong HSV, who were also extremely efficient today. In the second half, we chose a different approach and have to admit that we probably would have seen a different game with this approach from the beginning. We are always wiser in hindsight. But all we can do is pay respect to HSV for a great team, a strong performance and a great day, which was rewarded with a well-deserved victory.