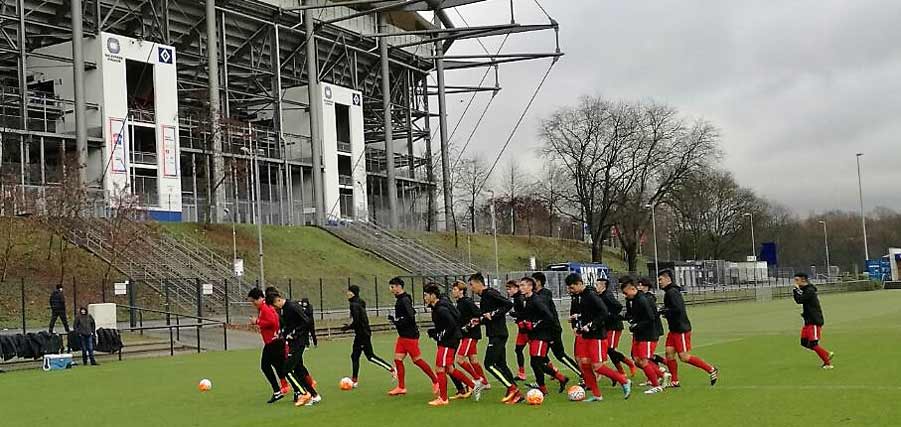 Co-operation HSV - SIPG FC
Sporting development
One of the key aims of the co-operation between the two clubs is the sporting development of the SIPG youth academy. This constant process is fuelled by workshops and visits to the footballing facilities of both clubs in Hamburg and Shanghai.
Alongside regular analysis sessions, HSV experts in all departments of the academy are seen as points of contact for their opposite numbers in Shanghai. The ongoing development of the SIPG FC youth academy is thus backed up by the years of experience and knowhow of the HSV employees.
With a playing and training phihlosophy that aims to constantly improve the players under its tutelage, HSV has the aspiration of increasing the number of players who make it from the academy into professional football. One of the key points of the co-operation is the joint development of aims, values and education content for the various levels of the academy in Shanghai.
汉堡体育俱乐部与上海上港足球俱乐部的合作
足球运动领域的发展
青训工作重点:以上海上港足球俱乐部青训基地的建设发展为合作目标。为此将借助相辅相成的进修班以及在汉堡和上海举办研讨会的方式加以实施。
除定期进行现状和理想状况分析外,汉堡体育俱乐部专家团队专人专责、诚信服务。双方共同合作持续发展上海上港足球俱乐部青训基地的工作将以汉堡体育俱乐部体育主管本哈特 皮特斯 (Bernhard Peters) 长年积累的丰富经验为基础。
汉堡体育俱乐部不断发展其比赛哲学和培训理念,旨在循序渐进、有条不紊地培养热爱足球的少年儿童成为顶尖球员。双方合作的焦点在于共同为分处不同发展阶段的青少年球员制定符合其各自特点的培训目标、理念及内容。