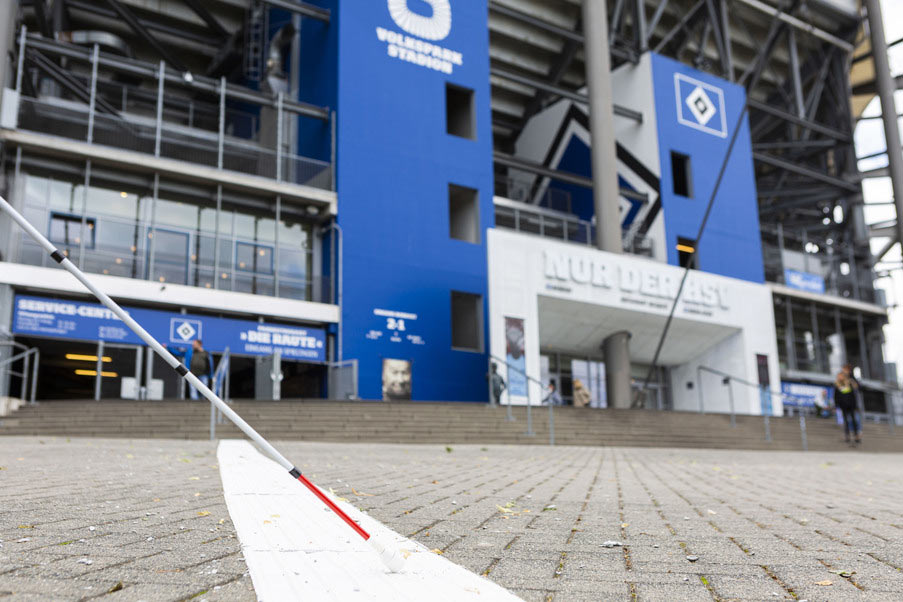 Tactile guiding system
Barrier-free access is available to get to the blind and visually impaired places in Block 3C and the museum.
For the start of the 2019/20 season, the building of a tactile system was completed, to guide visually impaired visitors and help them throughout their visit to the Volksparkstadion. With the help of the tactile guiding system, visually impaired and blind fans can orientate themselves more easily in the stadium, whilst also simplifying the journey to their seats in block 3C, where they receive audio commentary on the game.
This guiding system is built upon three key features; firstly the white indicators on the ground, which are different from the area around them in terms of colour and feel as well. Due to the structure of the indicators on the ground, blind fans can find their way round, with the help of a white cane. The bright colour also enables fans with visual impairments to differentiate the indicators from the area around it. The second feature of the system are signs that can be found on the handrails, written in braille as well as German. The first and last steps in the flight of stairs have also been coloured blue, so that visually impaired fans can differentiate when joining or departing the stairs.