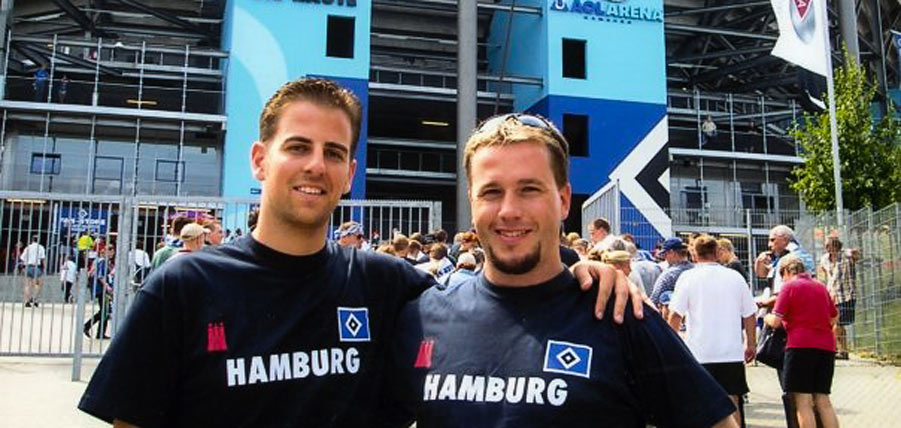 HSV Worldwide: Derek Howat
In the next installment of our HSV Worldwide series, Canadian middle school teacher Derek Howat shares his story of how he fell in love with the blue, white and black diamond.
Hi Derek, first things first, where are you based in Canada?
I live in Calgary, Alberta. I am a middle school (grades 4-9) physical education teacher at William D. Pratt School.
How did your love affair with HSV begin?
A very dear friend of mine took me to the Volksparkstadion in August 1999. HSV defeated VfB Stuttgart 3-0 and I became a fan for life!
Do you have any connection with Hamburg? Family or friends who have lived there?
I have a good friend who lives in Scharbeutz. My great-great grandfather, who emigrated to Canada via the United States prior to WW1, was also born in Hamburg.
Is there something particularly about the city, other than HSV, that attracted you to keep coming back?
I have always loved travelling, and having a friend to stay with has brought me back to Germany a few times over the years.

Have you been able to convince any other members of your family to become HSV fans?
I have three sons, aged 8, 6 & 3. They are able to recognize "Die Raute" on sight, but I haven't been able to get them to wake up at 5:00am to watch a game with me yet! I hope to take them all on a family trip to Germany, including the Volksparkstadion, when the boys are a little older.
Do you know any other German football fans near you in Calgary?
I have one German friend in Calgary who supports 1. FC Köln. We will wager beer when they play HSV or to see who goes further in the DFB Pokal.
When was the most recent HSV game you were able to attend?
The last time I attended a HSV game was August 2015 – a 5-0 loss to Bayern Munich in Munich. My last game at the Volksparkstadion was in 2008 – a 2-1 win over Karlsruhe SC.
How often are you able to come to the Volksparkstadion?
Usually once every 3 to 5 years. I will be there again one day.
Do you support a local team in Canada as well as HSV?
I support Cavalry FC in the newly formed Canadian Premier League. I often wear my HSV hat or jacket along with a Cavalry scarf or jersey. I am also a huge supporter of the Calgary Flames (ice hockey) & the Seattle Seahawks (American football).
How well known is HSV and the Bundesliga in Canada in general?
My friends who follow the beautiful game & have spent time in Europe certainly know who HSV is. The Bundesliga is well known as being one of the top leagues in the world, and Canadians players such as Owen Hargreaves & Alphonso Davies certainly help this.
Is it difficult being a HSV fan in Canada?
Not really. I think people find it interesting when you cheer for a team that they don't expect. I may get teased about them being in the second division, but nothing I can't handle. I certainly cannot be accused of being a glory hunter!
Have there been any surprising encounters with HSV fans on your travels in Canada?
I met a family from Hamburg while waiting for a ferry between Nova Scotia & Prince Edward Island. Die Raute was an ice breaker to a friendly conversation!
How easy is it to watch HSV games in Canada? Both in terms of time difference and broadcasters showing the action?
It is difficult, especially with HSV being in the second division. There aren't any official ways to watch the game and most of the games start at 5:00am local time, but I still get up to watch anyway!
Are there any particular matches that stick out? Either at the Volksparkstadion or watching at home?
I especially enjoyed the 4-0 victory at the Millerntor in the 2018/19 season.
What is about HSV or Hamburg that keeps you coming back to the club?
The personal connection and the prestigious history of HSV are what keep me coming back. It is easy to follow the team through official & unofficial social media outlets.
Who's your favourite player to have ever played in a HSV shirt?
Uwe Seeler. My favourite player for HSV since I started following them would have to be Mladen Petrić.
What are your hopes for HSV for the future?
I would like to see HSV return to the top division, and become as strong as teams such as Borussia Dortmund & Borussia Mönchengladbach where they are capable of putting up a good fight against Bayern Munich and perhaps win the Bundesliga once again in my lifetime.
Thanks very much for your time Derek and nur der HSV!