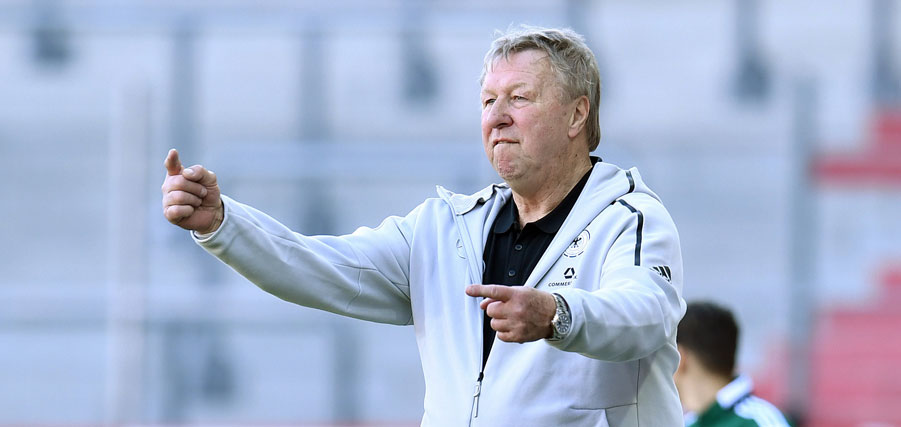 Hrubesch: "I will try to make changes"
Horst Hrubesch, ever the pragmatist, talks about his appointment as head coach. He intends to help the players regain more composure.
On Monday, 3 May, Horst Hrubesch took over the first team head coach role until the end of the current season. HSV.de spoke to the former academy boss about his new position.
Mr. Hrubesch, you will now stand in as HSV head coach for the remainder of the 2. Bundesliga season. How are you approaching the challenge?
Horst Hrubesch: Pragmatically. I know a lot of the players and as well as observing several of this season's training sessions, I have also watched a lot of the first team games as part of the HSV delegation. My first task will be setting the players' minds free. Recently, they've been playing below par. They've got a lot more quality in them, which we want to show on the pitch in the remaining games. I will be talking to a lot of them, listening and trying to make some changes.
What kind of changes?
Changes to details at training, changes to team talks, changes to the way we do things. We need a good balance of relaxation, fun and ambition. And one thing is very important to remember: History is not written by the individual, but the collective. We need to give everything we've got to win back the position we've let slip away. For this, I expect the whole squad, including coaches, staff and of course players to direct all their efforts and focus onto our last three league games. Injured players are not exempt from this attitude that I expect.
How did you end up being chosen to take over the role as head coach?
We had a lot of internal discussions over the weekend, then at one point we got onto coaching alternatives. With just three or a maximum of five games remaining, other options didn't really make sense. I don't need a getting-to-know phase. And – before you ask or start spreading rumours – I will only be head coach for the remaining games this season, after which I will return to my position in the academy.