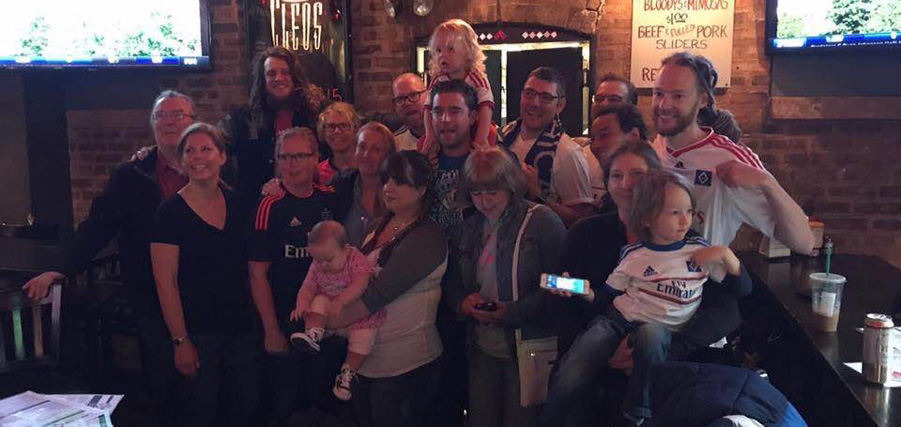 HSV Worldwide: HSV Fan Club Chicago
HSV still enjoys a significant pull around the globe, with fans young and old tuning in at all times of day to follow their beloved Rothosen. Nowhere is that more true than Hamburg's sister city, Chicago, where we managed to catch up with a number of members of the HSV Fan Club in the Windy City for the first of a new series about Rothosen fans around the world.
2019 was the 25th anniversary of the partnership between Chicago and Hamburg, yet ties between the two are extensive and existed long before the partnership became official in 1994. HSV was in fact the first German team that headed across the pond after the Second World War to undertake a tour of America, whilst the links between HSV and the Windy City were cemented as youth teams from the Rothosen's academy regularly made trips to Chicago as part of their education in the early 2000s. Various institutions in Hamburg and Chicago have become intertwined over the course of the official partnership between the two cities, witha whole raft of events commemorating the 25th anniversary of the collaboration in 2019. These ties have unsurprisingly led to a number of Hamburg natives travelling to the Windy City and falling in love with their surroundings, as well as Chicago natives visiting the Volksparkstadion and wanting to continue their love affair with HSV once back home. The HSV Fan Club in Chicago is one of the many official fan clubs outside of Germany, and HSV.de got in contact with them, to ask the members all about the special ties between the two cities and their undying love for the famous blue, white and black diamond.
Christoph Lichtenfeld, who emigrated to the U.S. from Hamburg in 1962, was one of the founding fathers of the fan club, and, as is so common when groups of ex-patriates form overseas, it all came about by chance. "My son Nathan, the first president of the fan club, was wearing a HSV jersey under his suit jacket at the German Unity Day celebrations in Chicago. Surprised to see another HSV fan, particularly as the Rothosen weren't doing particularly well at that moment in time, long-time HSV fan Uwe Schoberth came up to my son and commented: 'Du bist ganz schön tapfer!' (You're pretty brave!)" Another HSV fan, Christian Herrmann, was also at the party and the foursome decided to form an official fan club and register themselves as a non-profit organisation in the state of Illinois.
That chance meeting was eight years ago and since then the fan club has only gone from strength to strength, swelling to around 25 members at the time of writing, with family and friends also adding to the numbers at meet-ups. A common theme with all of the members of the club was a feeling of surprise that there were in fact other HSV fans in the Windy City. Kim Ferizi moved to Chicago in 2004 from Bramfeld: "I really had no idea that there was a fan club here and didn't expect it at all. I bumped into Nathan (Lichtenfeld) whilst watching Germany at the 2014 World Cup and joined the group after that." None of the members knew each other before moving to Chicago and were brought together by their love for HSV, as backed up by Thorsten Rangnick from Barmbek, who settled in Chicago in 2013: "I didn't expect there to be a fan club in Chicago so it was a really nice surprise. We all got to know each other here, with HSV being the one thing we had in common."
Cleo's bar in the West Town area of the city became the fan club's meeting point due to it being one of the few bars to actually show Bundesliga football in Chicago. Christoph tells us they had to be creative when the fan club was still in its infancy: "The Bundesliga games weren't officially covered by a broadcaster back then so we had to find a website streaming the HSV games." And naturally, as the fan club got older, it grew in size, with word-of-mouth proving to be a powerful tool for the club's growth, culminating in one of the moments that few HSV fans will ever forget, the relegation play-off against Karlsruhe. Thorsten picks it out as his favourite moment with the fan club: "Marcelo Diaz's free-kick against Karlsruhe was amazing. I think we were all mentally prepared for relegation then that happened – a moment I'll never forget!"
Although the majority of the club's members are German emigrants whose career has led them to the Windy City, there are a few representing the sta-spangled banner, who for one reason or another have chosen the blue, white and black half of Hamburg. Jorie Sterne is one of those, daughter of an American father and Austrian mother: "I've been a HSV fan ever since I visited Germany as a teenager. Some of my best and oldest friends come from Hamburg and when I came over, we went to a lot of games and supported the team together. Then back in Chicago, I used to live quite close to Cleo's bar and so heard about the fan club that way. I was very surprised that there was an official fan club here! I was quite lucky that I joined the club at that point because by then it was pretty well established."
Unfortunately, relegation to the second tier hasn't just had consequences back in Hamburg but also for HSV fans worldwide. Kim explains: "I think that the derby against St. Pauli in September 2018 was the first Bundesliga 2 game to be shown on American television. Unfortunately, the game wasn't exactly great advertisement for the division and 2. Liga games just aren't shown on TV. Then on top of that, the weekend kick-offs in the 2. Liga are 6:00am on Saturday and 6:30am on a Sunday here in Chicago, which is just too early for lots of us." Despite the setback, the fan club gathers as often as they can, whether it be to watch a HSV or German national team game.
The arrival of a certain German in the Windy City caused a bit of a stir with the fan club as well, according to Kim: "I used to go to Chicago Fire games, usually twice or three times a year, mainly because Schweini (Bastian Schweinsteiger) signed for them. The team is moving and Schweini has ended his career, so unfortunately I don't think I'll go as often next season." Christian Hermanns, born in Jenfeld and in Chicago since 2011, says although he went a few times to see Schweinsteiger and enjoyed himself, "the atmosphere wasn't really comparable to the Volkspark. I try and get back to Hamburg as often as I can and was at the Volksparkstadion for the Darmstadt and Aue games. I even had a season ticket up until two years ago."
And whilst Fire themselves are in a state of flux, moving stadiums and trying to rebrand themselves, the links between Fire and HSV go back to the early years of the new millennium. As part of the Hamburg-Chicago Committee Christoph started an exchange programme with the HSV under-15 team in 2005: "For 6 years, HSV teams and support personnel, around 30 people all in all, came to Chicago, and I arranged it so that all of the team stayed with host families to get a more authentic feel of the city. Probably my favourite HSV moments in Chicago were when the HSV youth team members would play with kids from the inner city, who were usually eight to ten years old. It was part of a social service project; the HSV academy players relished the experience and the Chicago kids enjoyed themselves as well, and were given a few gifts by the HSV players at the end of the session. German World Cup winner Shkodran Mustafi was one of the members of the Rothosen's academy who came on one of those trips."
It's been difficult for the fan club with the switch to the second division, and there are two German clubs that are out on their own in America, as Kim says: "People who are interested in German football are simply bombarded by Bayern and Dortmund in America. Especially in the 2. Liga, you need a particular reason to follow HSV, but as you've seen there are lots of people in Chicago with a link to Hamburg." A common theme running through the interviews is the relationship between Hamburg and Chicago. "For me there will always be a special bond between the two cities," says Jorie. "Things haven't gone as well for HSV recently but I think there could be a real uptake in interest if things go our way this season. Who knows what the future will bring!"
The club would like to thank all the members of the fan club who got in contact with us, and particularly Kim Ferizi, Christoph Lichtenfeld, Jorie Sterne and Christian Hermanns for answering our questions. A big thanks to Thorsten Rangnick as well for his help in organising and sending us the answers and pictures, HSV wishes the Chicago Fan Club all the best for the future! If you're part of an official fan club abroad then feel free to get in touch via Facebook or Twitter with your stories about your fan club, we'd love to hear from you about how you follow the Rothosen all around the world! If you have been inspired and would like to set up your own fan club, you can find more information here. Nur der HSV!