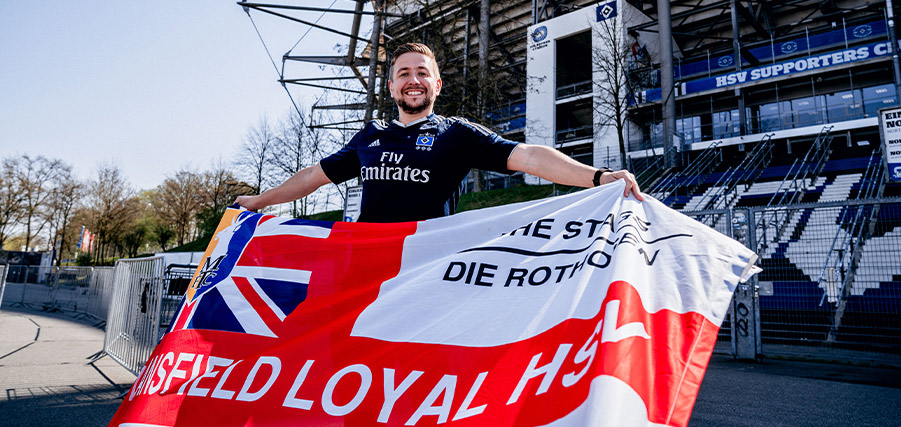 International Season Ticket: Benedict Mason's story!
For some a trip the Volksparkstadion is a simple walk, catching the S-Bahn or the local Bus. For Benedict Mason, it's planes, trains and automobiles that are required so that he can scan his Season Ticket before the Volksparkstadion turnstiles.
Benedict (36) from Mansfield, England is season ticket holder in the Nordtribüne standing sections and a member of the club since his first visit in 2019. The most sacred place to be on a matchday in the Volksparkstadion and for many, it's a difficult place to get a hold of. Here's how Benedict became HSV through and through without even living in Hamburg.
Despite accidently coming across the club whilst on a Stag-Do in Hamburg, Benedict hasn't looked back. A simple tap on the shoulder was enough to give our English native his new beloved football team. Whilst trying to grab his bearings outside the stadium a member of the HSV Jungz Lübeck with a keen ear noticed the English native speaking and decided to offer Benedict his matchday ticket on the 'Stehplatz'. Frrom there on, he was hooked! Benedict would later join the official supporters club and through this was able to gain his season ticket in Block 25A
Although his first love was for his local side Mansfield Town, the fanbase at HSV gives him the exact same feeling when he graces the terraces of both clubs. "I'll always be a Mansfield fan through and through, it's in my heart. But now so is Hamburg" said the season ticket holder. To help with his new found love in northern Germany, Benedict actually gave up his season ticket at Mansfield, but insists he does still visit Field Mill often.

"It doesn't matter what language you speak, when you have the raute on your chest then you are HSV."
He continued explaining why HSV is the club for him, not just the club, but the city had a massive impact on his decision. "Hamburg is a second home for me now and its never a chore to book flights. It's like coming home. Although the football can sometimes let you down, As soon as you walk into 25A, It just hits different."
Now, HSV haven't just gained one new international member but three! Benedict has made his household a blue, white and black home in England. His wife, Danielle and son Erik are both enrolled in the HSV membership and Erik (18 months old) was a members since he was only two weeks old. Keeping the love of HSV in his family line for years to come!
As we embark on our final home game of the 2022/23 season, Benedict will once again take the flight to Hamburg and walk on the North stand terraces to cheer on the lads as they take on Stuttgart in the relegation Play-Offs. HSV is HSV because of our fans and international makes our club that more special.

Nur Der HSV! Only HSV!