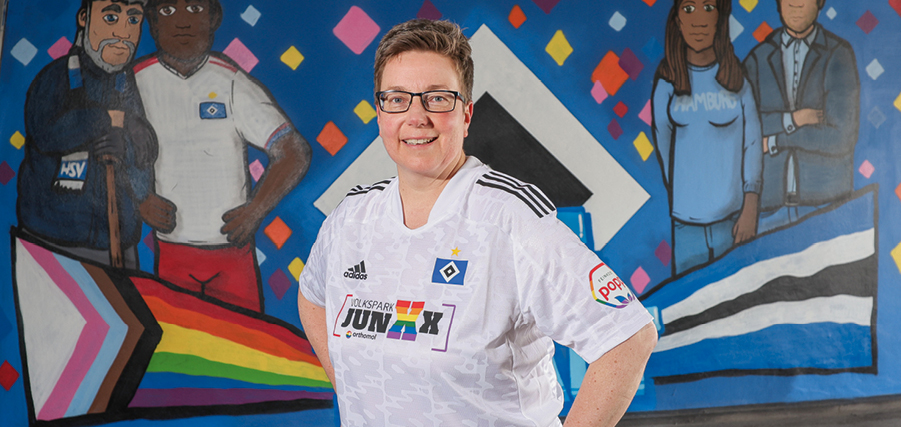 Limited edition shirt available now
The HSV players will wear a limited edition shirt in the home game against Karlsruher SC to mark the 10th anniversary of the club's LGBTQ fan club, Volksparkjunxx. 1,887 shirts are available to buy now on the online store.
LGBTQ fan club Volksparkjunxx celebrated their 10th anniversary at the start of April. The HSV fans from Pinneberg have been active within the fan scene for years, taking on a special role at the club. The HSV players will wear a special limited edition shirt in tomorrow's home game against Karlsruher SC (29th April, 18:30 CEST) to thank the Volksparkjunxx for their special work over the last 10 years and to show how much the club values the LGBTQ community.
The centrepiece of the shirt is the Volksparkjunxx lettering on the front of the jersey, with the first, colourful, X representing the Roman numeral for 10. Our main club sponsor Orthomol allowed the fan club's name to take the space usually made for their logo. "As HSV's club sponsor, we gladly support this initiative," said Nils Glagau, Orthomol CEO. "We are more than happy to take a step back to give diversity and tolerance a chance to be made aware in sport. That means our logo is a lot smaller than usual and is also in the colours of the rainbow to match the Volksparkjunxx."
Popp Feinkost, our sleeve sponsor, have also got involved with this initiative. Their logo has been changed to the colours of the rainbow too. "We're pleased to have the chance to show our colours as part of the Volksparkjunxx's 10th anniversary," said Alexander Schmolling, marketing director at Popp Feinkost. "Popp is a food brand that is available to everyone and we're glad to support tolerance and diversity." The slogan for this campaign, 'Raute ist Vielfalt', is stitched on the back of the shirt.
The new limited edition shirt is only available to buy on the HSV online shop, with the sizes ranging from XS to XXL and priced at 89,95€. The shirts can also be personalised with player names and individual printing options available. There will only be 1,887 shirts on sale, so if you want a shirt, be quick! In order to give as many fans as possible the chance of getting one, a maximum of two can be bought per order. Orders unfortunately cannot be made over the phone.
If you weren't able to get your hands on a limited edition shirt, but still want to show your support for diversity and tolerance, you can still purchase the special 'Volksparkjunxx' t-shirt. The design is very similar to the limited edition shirt and is available in men's, women's and kids' sizes. The kids' version costs 24,95€, while the adult one costs 29,95€.