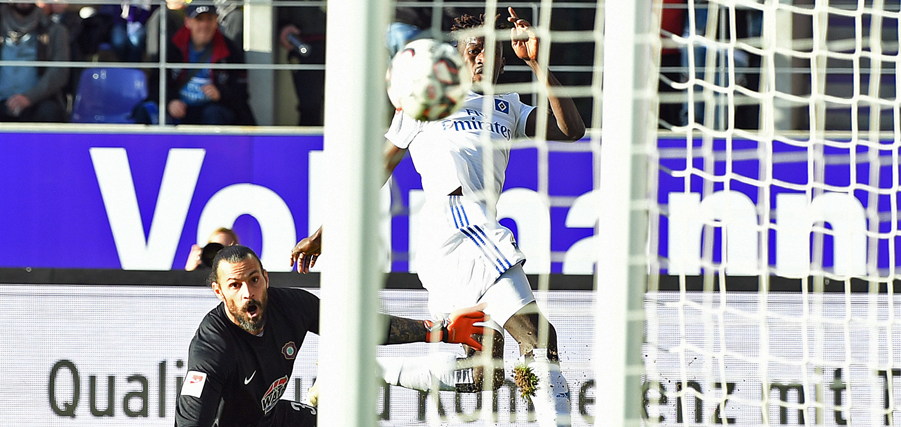 Bakery Jatta "I'm not a dreamer, I'm a worker"
Having now scored his first professional goal, Bakery Jatta has overcome yet another milestone in his career. The 20-year-old winger attributes his goal to his tenacity and hard work.
The angle was tight, the volley was class and goal was beautiful, but the story behind it is a special one. Bakery Jatta's first professional goal in the 3-1 win in Aue caused a bit of a stir and lots of delight for HSV. "I'm extremely happy for Baka. He worked hard for this goal and really deserves it. He's really improved and recently he's been affecting games very heavily with his substitute appearances," explained Pierre-Michael Lasogga. The 26-year-old described his teammate's goal, in his own words, as "absolutely delicious". The providers Lewis Holtby and Aaron Hunt also gave their congratulations and were very happy for the 20-year-old winger.
"Aaron's assist was just perfect"
Since the Gambian arrived at HSV, after arriving in Germany from Africa as a refugee in 2015, the trio have experienced and accompanied Jatta. 'Baka,' as he is known in the HSV squad, signed for the club in January 2016 on a two day trial under former coach Bruno Labbadia. The former striker and the HSV hierarchy described Jatta as a youngster who had the potential to become a Bundesliga player. Jatta signed his first professional contract at the club that summer, before making several appearances for HSV's U21s side. The Gambian made his first Bundesliga appearance in April 2017, and has now scored his first goal in professional football. "It was an amazing moment and a great feeling for me to score. The hard work had paid off not just over the course of the last two years, but also this season. I missed pre-season through injury and have had to fight my way back step-by-step," Jatta explained, regarding how important his first goal was to him.
According to Jatta, it is no coincidence that his long time teammates have prepared him for and celebrated his success. "Lots of coaches and colleagues at HSV have given their experience to me and allowed me to improve. Aaron, Lewis and Pierre have been especially helpful," said the young player, who now has 16 Bundesliga appearances to his name. He has high praise for HSV's captain: "Aaron always said to me in training what positions I should take up on the pitch and in which direction I should run. He knew my role in certain scenarios, and knew exactly where I'd need to be to pick up the ball in front of goal. We have built up a good partnership together. It was also perfect that it was Aaron who provided the assist for my first goal."
"I never gave up during tough times"
The excitement about his goal was not only visible within the team, but particularly on Jatta's mobile phone, which was flooded with congratulatory messages after Saturday's game. How many? "Oh, there will have been over 100," replied Baka with a smile. "I got so many nice messages on WhatsApp, by text and on Instagram. It ranged from people I know well and have helped me in my career, to people I've never met before. It really was special and it made me very happy."
They all seem to know that there's a lot more to Jatta's first goal than the ball just going into the net. The moment it went in is evidence that it's always worth working hard to fulfil your aims in life, because hard work always pays off in the end, as Gambier knows: "If I think back to my first training session, then of course I've become a lot better over time. In a professional environment, I always learnt more. It's just like life. You start off as a baby, then a kid, later on a teenager and finally an adult. You grow bit-by-bit and learn step-by-step."
This development isn't always a smooth and straight road to success, as there are always setbacks and obstacles on the way, which Jatta himself has had to overcome in his past three years at HSV. "Of course, there have been difficult patches, but I've never given up. I knew that the day would come where I finally scored a goal as a professional player", explains the lightning-fast winger. "I'd already shown my ability in the U21s and only needed the playing time to then make it to the first team. If you don't play, then you can't score goals." Although Jatta got on the score sheet in Aue, it might not quite be the fulfilment of a dream. "I'm not a dreamer, I'm a worker. I believe in myself and my capabilities, and it does me good when others around me are the same. For me, it's a constant learning process and is always about working hard. The results follow after that."
It's exactly this special perseverance that has helped Bakery Jatta to reach the next milestone in his career, and he would now like to follow it up with more highlights.