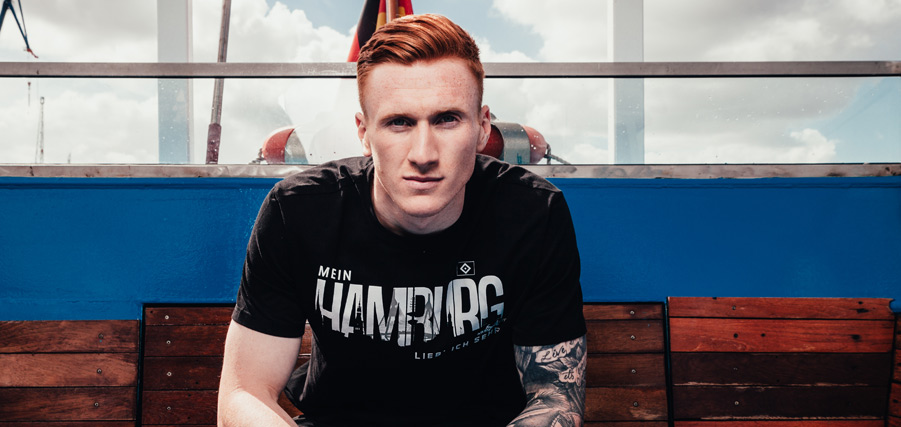 David Bates: "It is important, to set the tone on the pitch"
In an interview with HSV.de, the Scottish centre-back spoke about the Old Firm derby in Scotland, the special derby atmospheres and his views on the upcoming game.
If someone from the HSV squad can talk about derbies, it's David Bates. The Scottish centre-back has played three times in the Old Firm derby – a game between two huge rivals; Celtic FC and Rangers FC, a game that the whole of Scotland will watch. In April 2017 at the age of 20, David Bates played for the first time at Celtic Park in front of over 50,000 supporters. It was the semi-final of the SFA Cup and Rangers lost 2-0. However, the 22-year-old defender will never forget this game. "It's a game, that as a footballer you love," he said about the special atmosphere. In an interview with HSV.de, Bates spoke about his time in Scotland, his performances in the derbies and his expectations for the upcoming game against St. Pauli.
David, what is the first football derby that you can remember playing in?
David Bates: It was at my first club in Scotland. When I played for Brechin City, it was the game against Forfar Athletic. You could say that was the first derby that I played in.
Was it because it was a tough team to play against?
Both of the small towns were within 20 kilometres of each other. Quite a few fans always came to watch the game. There were about 600 and for a third division game that was quite a lot. There was always a lot going on in the games but of course games between Rangers and Celtic were always very intense.
You have played for Rangers FC against Celtic FC in the Old Firm Derby three times, the first time being in 2017. What were the games like and what are our memories like?
They were difficult games and the atmosphere was always very intense. It would feel like the whole country would stop to watch the game. As soon as Monday comes around before the game, it's the only thing people talk about and everything increases towards the game at the end of the week. Everybody looks forward to the game.
You told us that your dad used to take you to Rangers games. Did you ever go to a derby?
My first time watching a derby was when I signed my first contract at Rangers. I was with my father than as I was injured. As a kid, he took me to many games but never to a derby.
Because it was too dangerous?
No. It was very difficult to get tickets for the game and I was always playing football so didn't have time to go to the games. I still felt the special atmosphere though as everyone spoke about the game all the time.
Do you like the atmosphere?
You simply realise how important the game is for the fans. Everyone is completely up for the game. I like that. It's what footballer live for.
You have now played in a Hamburg derby. Can you compare?
They are similar – the HSV fans are like the Rangers fans and the St. Pauli fans are like Celtic's. It is also the same type of atmosphere. The excitement here increases as the game gets closer too. Everyone is up for the game.
When did you first find out about the Hamburg derby?
When I had talks with HSV, it was not clear which league the club would be playing in the next season, but I deliberately chose HSV. I had discussed with my family what it would be like to play in the second division and that's when we also talked about a possible derby against St. Pauli.
Were you surprised at any point when you experienced it live?
It was very intense. Before the first game there were 2000 fans who came to watch our final training session before the game. I'd never experienced that before and it's not something you experience every day. We really want to win the game for the fans so that they can go to work happy on Monday.
What are you expecting from the game this time, as the last game ended 0-0?
In the first game, neither team had a lot of chances. It will also be a difficult game this time. The league is very difficult and you can see that every week. It is of course even more difficult to play away, but our fans will be loud and support us. It is the little things that make a big difference in games like these.
Does your style of football match derbies?
In a derby, it is important to set the tone of the game first. Every first duel, first header, first pass, you need to show them that you are there. It is important in every game but in derbies you need to get the fans behind you. Everyone has to put in a top performance in games like this. You don't need any extra motivation for these games. When you wake up and think it's derby day, then you know it's going to be special.
Will anyone from your family come to watch?
My father has flown over. He is usually at our games. Of course he wouldn't miss this game. He likes these games just as much as me. He's been to many derbies in Scotland. It is even shown live on TV. Everyone will follow the game. My whole family will be watching the game on TV at home.