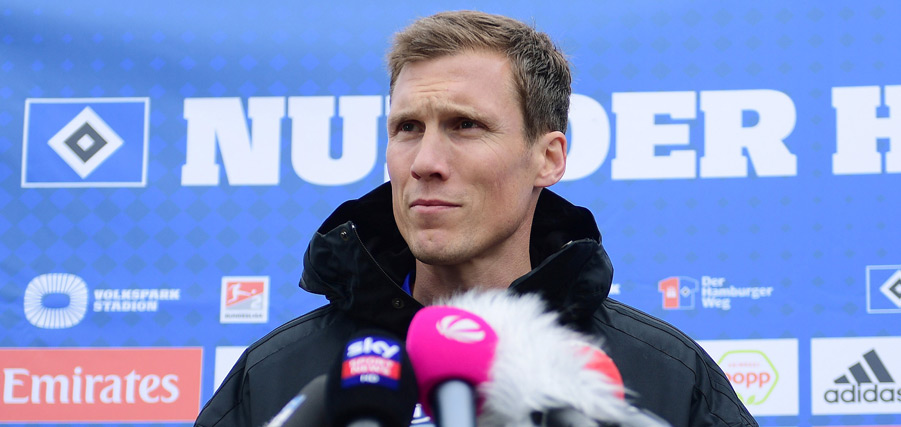 Press conference
02.05.19
"Believe in our own abilities"
In today's press conference, Hannes Wolf discussed the home game against FC Ingolstadt, the impressions he has made from the training camp and the upcoming tasks.
HSV have been working hard in Rotenburg since yesterday, preparing for their important home fixture against FC Ingolstadt (4/5, 13:00 CEST). Hannes Wolf spoke the media after Thursday's training session. The coach discussed...
...the training camp: The conditions here are brilliant and just what we need right now. We've switched our schedule around a little bit. All we need to do is believe in our own abilities and work as a team. I hope that people will see this in the game on Saturday.
...his impressions: The players showed a good energy in training yesterday. Our role has now changed. We are now chasing other teams, after spending most the season being changed. Ingolstadt are a team who shouldn't be at the bottom of the table and are fighting hard for survival. On top of that, they have played well recently. The game means a lot to both teams and we need all the strength we have. It's our fault that we are now chasing other teams and we have to live with that.
... the approach for the rest of the season: It's key that we look forwards now. Chasing teams is a lot different to having the advantage. All we need to do is give our all so that we can be successful. A lot of the time we have just been missing a few little things. We need to work on making sure everything is spot on. We need players that are ready to die for the cause.
... the training sessions: Of course we have had discussions and talked together as a team. However, it doesn't help if we just sit down for an hour and analyse every aspect of the game. We have to be more conscious of what we have: What are strengths and qualities are. The boys should also play a little less intuitively and not thinking about taking every next step. Everyone knows what it's about. The players have been doing some non-football activities today and have done some yesterday too. It's not about what I say, but what the players do. The stadium is so loud that often my voice does not help. That's why it's so important that the boys are confident and implement our plan well.
... the personnel: Orel still has pain in his foot. We need to see if he can play but it would be important if he could play. Aaron landed on his back last game and so has a small muscle strain in his back. We have to wait and see with both of them. We can make a late decision prior to the game.
... the opponents: Ingolstadt like to play a lot of long balls, which gets them forward, they fight for the second ball, counter well and are good from set pieces. We have said from the start that we need to have respect for the opposition. We need a constant intensity and want to bring our own play into the game. We want to play to the max.
... the pressure: The pressure is there and it is a part of it. It would be silly to say anything else. However, it is crucial to deal with it responsibly. What we do as a team has to be at one hundred percent. I have been a coach for many years and so I know how to deal with these situations. It's nothing new to me.