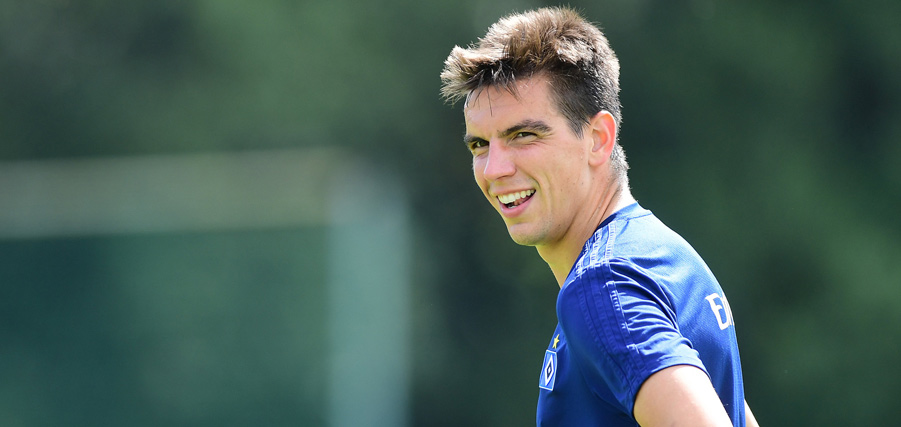 Christoph Moritz: "Football has always been my passion"
HSV's new signing spoke about how he made his breakthrough as a professional, his advice for the younger players in the squad and why he used to play in a different position.
With the signing of Christoph Moritz, HSV have acquired a well-traveled and experienced professional. The 28-year-old has played in a total of 96 Bundesliga and 59 Bundesliga 2 games, despite the fact that he made a fairly late entry to the professional game. He didn't take the classic route of progressing through the ranks of an academy, but he preferred to play with his friends on the streets. Moritz spoke to HSV.de about how he looks back at his development, and what sort of advice he'd give to the young players looking to make a similar breakthrough as he did himself.
Christoph, you've been taking part in pre-season training with HSV for a little over two weeks now. What are your first impressions?

Christoph Moritz: I have to say that it didn't take me very long to settle in whatsoever. It's a lot of fun to work with this coaching staff and this squad. I naturally have a bit of experience in these kind of situations, so it helps me to get used to moving clubs.

You didn't take the typical path of joining an academy at a young age, rather you actually became involved in professional football at a fairly late stage.
That's right. It took me quite a while to become involved in the professional game. Football has still always been my passion though!
Why did it take so long?
I played for my local village's club (Viktoria Arnoldsweiler) until the Under-18 level and I always was a little apprehensive about making the next step into professional football. Clubs like Aachen, Köln and Leverkusen were close to where I lived and scouts often asked me if I wanted to come to a trial. I always turned them down, because I enjoyed playing with my friends in my village. We trained twice a week, but on all the other days I was still out playing football with my friends anyway. But it was up to you how much you played.
Did you also play in midfield back then?
The first position that I can remember playing was midfield. I have a book at home which says I played some defence though. Still, I was more of an attack-minded midfielder at the beginning. It was quite typical for the better players to play in the attacking midfield spot at that age. I played a bit more of a defensive role from the Under-18 level onwards.
You moved to Alemannia Aachen at that age. How did you come to that decision?
My dad's persistence. He almost had to drag me to training back then. I'm still a bit disappointed in myself for sulking in the back of the car on our first trip to training and not wanting to go. I quickly realised after the session that I had a lot more fun than I normally did, because the level was a lot higher. It became clear then that I would move to Alemannia Aachen for the next season.

Did you believe that you could make it to the professional level at that point?
Not quite yet actually. I was definitely good in a few games, but there were other players who people watched and said "they are so good, they will definitely be a professional." It wasn't so clear with me. It was for that reason that I decided to drop out of my academic studies. After that, plan A was to study at the Sport University in Cologne.
And then everything changed?

After I dropped out, this was the decision I had to make: Civil service or military service. In Aachen I probably should have done military service and then trained now and then with the first team. But then my former coach with the Under-21s moved to become the coach of the Schalke reserves in the Regionalliga West. It was because of him that I moved there and took two years to see if anything would come of me playing football.
And it came quicker than expected. It was in that summer that you were brought up to the first team. Was it hard to process at the time?

At Schalke it went from 0 to 100 in the blink of an eye. It was definitely difficult. I completed parts of their pre-season training with the reserves. I was certainly not at the physical level I needed to be yet. Then I suddenly found myself in the starting eleven for the first game and then played lots of games after that. My body showed the effects of the step up. I had knee problems for about 19 months. My body took it's time to recover.

And how did that affect the mental sign of things? Such a rise isn't easy for a young player like you were.

I hope that no-one thought that I became big-headed. I would definitely have been brought back down to earth by my father if that was the case. I think it's very important to have friends who can show you what it's like to live a so-called 'normal' life. And that's what I had. It was therefore not too hard to stay grounded.

What else changed apart from the physical workload?
The expectation level from the outside is completely different. You have to deliver in every game and you can't really prepare for that. It forces you to grow up very quickly. I'm much better at dealing with the pressure now than I was at 19. It means I can enjoy every game more, because I know what to expect.
You were brought to HSV to be a leader. Is that a role that you have within you?

We had the opportunity in the first training camp to get to know our teammates. It became clear to me through that that some of the young players felt like I did back when I was their age, thinking too much after one bad game or training session. You have to be critical of yourself, but it's very important to me that you don't put yourself under too much pressure. It means you can enjoy the games more. You are playing the game in front of 50,000 fans that you grow up loving. I hope the younger players realise that at an earlier stage than I did. If you don't enjoy yourself then you won't win any games.

After years of battling relegation, the task now is very different for HSV. Did you think much about that before your move?

I definitely thought about it, because this is a new situation for HSV. The pressure is still huge in the second division, but in a different way. In the second division, you don't go into the games trying not to lose like you would in a relegation battle, but instead you go into games looking to win - mostly as favourites. Every team would love to take points from us. There will be 17 hostile away games, where no-one will want you to have any success. You can certainly prepare mentally for it, but it will come down to how we play on the day.
Can you compare this situation to your time at FC Kaiserslautern?
Teams definitely took particular pleasure in beating Kaiserslautern, because that is also a club rich in history. I hope that we manage to not allow other clubs to celebrate beating HSV.
You know Lewis Holtby from your time at Alemannia Aachen. What's your relationship like?
It just goes to show how football can bring people together. I think you can tell that we're quite different people away from the pitch. He's a little bit more of an extrovert and I'm more of an introvert. But when we were at Aachen, we were always the last to leave and the first to arrive. We are both a little bit crazy when it comes to playing football - in a good way though. It's nice to know that you can make friendships like ours through football.