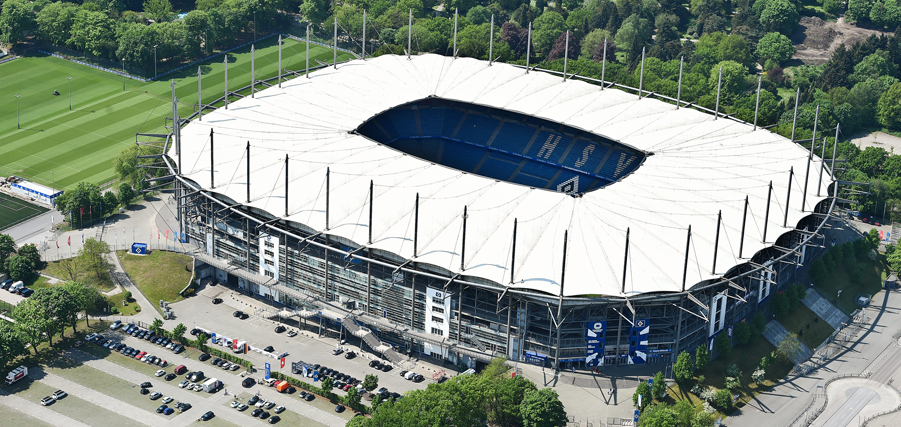 "Did you know...?" – The Volksparkstadion by numbers
266 floodlights, 62m2 big screens, 21 stairwells – there are some fascinating numbers behind the Volksparkstadion, and we take a look at the lesser-known details ahead of 17 more matches at HSV's home in the second half of the season.
Hamburg host 1. FC Köln in their first home game of the new year on 20th January (18:30 CET). The Volksparkstadion was quite the fortress in 2017, with six home wins in the second half of the 2016/17 campaign the foundation to survival. HSV have also collected eleven of their 15 points so far this season on home soil. We take a look at what makes the Volksparkstadion what it is!
- 57,000 capacity (47,000 seated, 10,000 standing; all covered).
- 1953 was when the Volksparkstadion was opened, with a complete renovation carried out between 1998 and 2000.
- 266 floodlights light up the arena.
- 37,000 litres of beer and 8,000 litres of alcohol-free beverages are drank per matchday.
- 23 CCTV cameras ensure security at the stadium.
- 62m² and 11-tonne big screens are at either end of the stadium.
- 45m is the height of the roof over the pitch.
- 4,868 business seats are located in the east and west stands.
- 755 MWh of energy is used by the pitch's underfloor heating each season.
- 5cm is the distance between each seat.
- 35,413m² is the surface area of the roof, which is made up of 40 segments of a special membrane layer.
- 17km is the distance of the entire steel construction that supports the roof.
- 45m is the shortest distance from a seat to the centre spot. The farthest distance is 129 metres.
- 7,500 pretzels and 4,000 fish sandwiches are consumed in the stadium per matchday.
- 460 tonnes is what the roof's steel construction weighs. That is the equivalent of 60 fully-grown African elephants.
- 20, 30 and 35 degrees are the inclinations of the A, B and C tiers respectively.
- 3 different companies held the naming rights for the Volksparkstadion between 2001 and 2015: AOL-Arena (2001-07), HSH-Nordbank-Arena (2007-10), Imtech Arena (2010-15).
- 45cm is the width of each seat.
- 105 x 68m are the measurements of the playing surface.
- 20,000 Bratwurst are eaten each matchday.
- 146 press seats are in the east stand, 27 of which are commentary seats.
- 10,452 parking spaces are available (plus 62 spaces for buses).
- 21 stairwells allow for the many spectators to empty and fill the stadium quickly.
- 1,500 lux is the output of the floodlight pointed towards the main camera.
- 2,500 exhibits can be found in the HSV Museum, which covers 560m² in the catacombs of the stadium.
- 95cm is the width of each step in the stands.
- 949,738 spectators (55,867 on average, 11 sell-out crowds) visited the Volksparkstadion in the 2006/07 Bundesliga season – both record numbers!