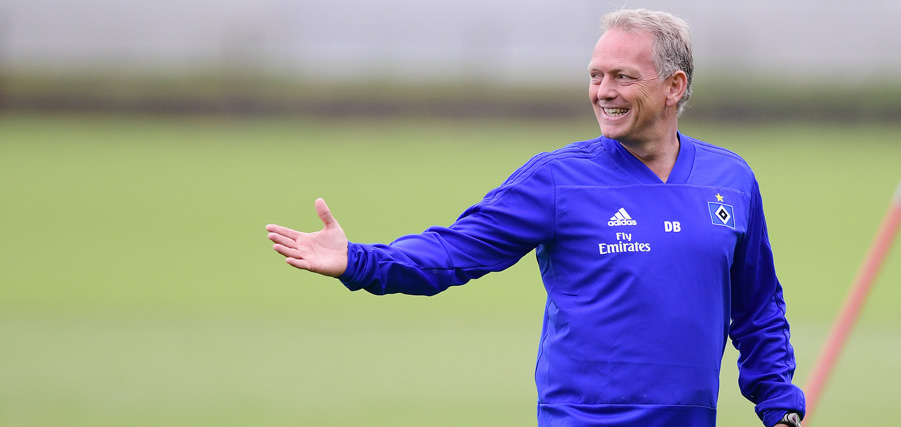 Dirk Bremser: 'Stay human'
The spotlight usually falls on the man to his left-hand side. Yet the work from Dirk Bremser is just as important for the harmony within the HSV ranks. HSVlive sat down with the assistant manager to find out what makes him, and his charges, tick.
More than 200 first and second division games as a player, over 700 as a manager, 35 years in the football industry – not many other coaches still active have as much experience as Dirk Bremser. For two decades he has shared the stage with Dieter Hecking, who Bremser described as 'almost like a second wife' when he began his time in Hamburg – that is how close the manager and his assistant have become over the years. Yet it is Hecking who commands and stands in the spotlight the majority of the time, the ideal line-up according to his right-hand man. The man who, at the beginning of the new millennium, recommended Dieter Hecking to the VfB Lübeck hierarchy, despite ruling the roost himself on an interim basis at the time. "Between myself and the board there was a clear agreement that we should look for a new head coach but that I would stay as part of the coaching staff, just how I wanted it to be," Bremser remembers fondly.
The 54-year-old, who has lived right at the edge of the Baltic Sea in Scharbeutz with his wife and two sons since his time in Lübeck, sees many factors as important for the success of the team, far beyond the work that is done on the training pitch. "In my opinion, everything leads back to how you treat one another," Bremser said. "Staying true to yourself, communicating with each other at the same level irrespective of hierarchy and being honest – if you address people with these things in mind, then you get the same treatment reciprocated from the players and can create that feeling of oneness within the squad." For Bremser it is not simply about creating superficial harmony, but treating each other with honesty, fairness and sincerity. "Always staying human, that is the most important thing for me," he says, smiles, and adds: "But I like winning as well!"
… his connection to HSV: For me when I was younger, it was all about Gladbach, Bayern and HSV. Those were the clubs that I watched out for as a child and a teenager, even if VfL Bochum was my hometown club. For that reason HSV were always on my radar and I continued to follow them. And at this point we arrive at the anecdotes that I always love to tell about myself, Dieter and HSV. When we were at VfB Lübeck we took over the scouting department as well and watched players that could have been targets for us, and one game that we watched was Hamburg's second team against Rot Weiß Essen. Because there were so many Essen fans the game had to take place at the Volksparkstadion. So we were sitting there in the stands and at some point halfway through the game Dieter said to me: "Dirk, we have to work so well that at some point we're sitting down there on the manager's bench." He didn't necessarily mean that he wanted to become HSV manager, but to manage a club of that magnitude in the Bundesliga. But now we're actually here! But there was always that link when we were in Lübeck as we wanted to see how HSV did one thing or the other. At that point we used to come to Hamburg a lot and talked a lot to the various people at HSV. That's part of the reason why we were so happy to accept the offer when it came from HSV, because the club represents something special for the both of us.
… on the upheaval at the club: After chatting with various different people at the club we decided on making a raft of changes. We all agreed that we had to turn over a new leaf to bring positive energy into the club again. I don't want to judge what happened before we were here but one thing was clear: We have to make the people around the team, the HSV employees, the fans feel that they are part of something new, that things are moving in a positive direction again. We have to give them belief and courage. To achieve this we thought a new start was inescapable. For that reason we signed players who have the burning desire to play in the Bundesliga, because they haven't played there before or want to show that they can be successful with HSV. We signed a lot of motivation and drive. We also managed to bring the players with us who have been here a while and lure them out of the negative spiral they had got themselves into.
… possibilities in the modern game: Nowadays there are infinite possibilities in terms of measuring the players. Data is compiled scientifically and digitalised, you shouldn't stand in its way, no question about that. But from our perspective data isn't a global panacea. We still believe in what we see with our eyes and our gut feeling, because you can't learn experience, you can only gather it over time. And we have a lot of experience, without wanting to sound arrogant. As a coach there's a lot more than statistics and data. It's about people, often very young people, you have to understand that. For that reason in the past few years I've asked both of my football playing sons what they would think, if their coach reacted in a certain way or did certain things. It's important to listen to the younger generations. Firstly it keeps you young and secondly it helps us with our work. In that way data and statistics are important extensions of what we see and feel ourselves.