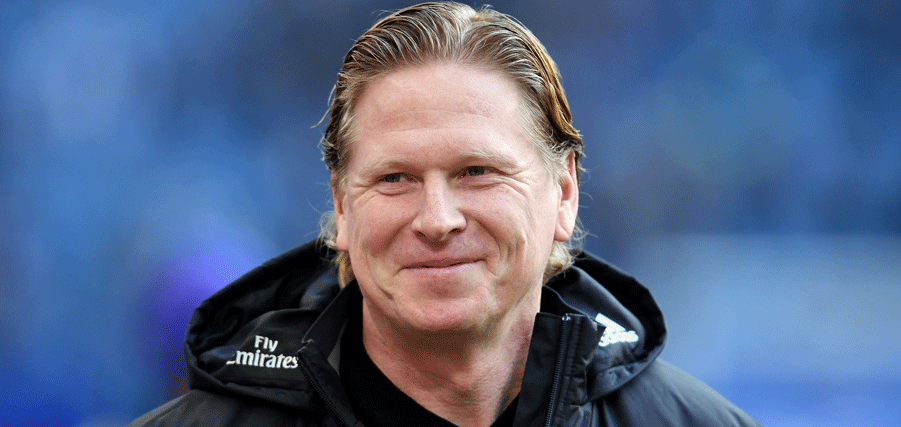 "Down the path together"
On Wednesday, HSV and Markus Gisdol extended the current contract of the head coach and his coaching staff by a further two years. The new deal expires on June 30th 2019. HSV.de spoke to the Rothosen head coach.
HSV.de: Markus, you signed a two year extension to your contract on Wednesday. Judging by the quiet way things were done it looks like all sides were happy to quickly agree terms.
Markus Gisdol: Yes, things went quickly. They were good talks on a good level. We want to continue down our current path together and wanted to display continuity. That is why it only came down to choosing the right time to discuss and end the matter.
Is the extension down to the progress made under your command, after all such things are unusual with a club currently 16th in the Bundesliga table?
It is nice to have the trust regardless of the position in the table, but also it is about the progress made so far. We all know what kind of predicament the club was in several weeks ago. Nobody believed that we would stay up after taking only two points from the first ten games. We changed certain things and worked intensively with the team. We corrected many things. We are still not where we want to be in the table but we have made up a lot of ground. Now we have a chance to make what was considered impossible possible – to remain in the Bundesliga without having to play relegation play off games. We are all on the same page so it was a logical step to continue to work together.
How important was is to have your coaching staff extend their deals too?
It was because we have found a good way of being together. I joined HSV in November 2016 along with my Co-trainers Frank Kaspari and Frank Fröhling. With Stefan Wächter, Daniel Müssig and everyone else like for instance the medical team we have become a really good team. That is why it was important to continue together.
You have signed on for a further two years, but your focus is on here and now right?
Yes absolutley. We are only focusing on what immediately counts – we have done that from day one. We do everything in our power to ensure we collect points. That is the only thing that counts right now. We will have to see how everything else goes.
HSV have taken most recent points at home. How important will that be in the season run in?
I hope very. Everyone connected and not connected to the club have seen that we have had our "12th man" behind us in our home games. They scre4amed us forward in every home game and we have a great relationship between the team and our fans. Five of our remaining nine games are at home. We want to take full advantage of our strong home advantage and collect as many points as possible.