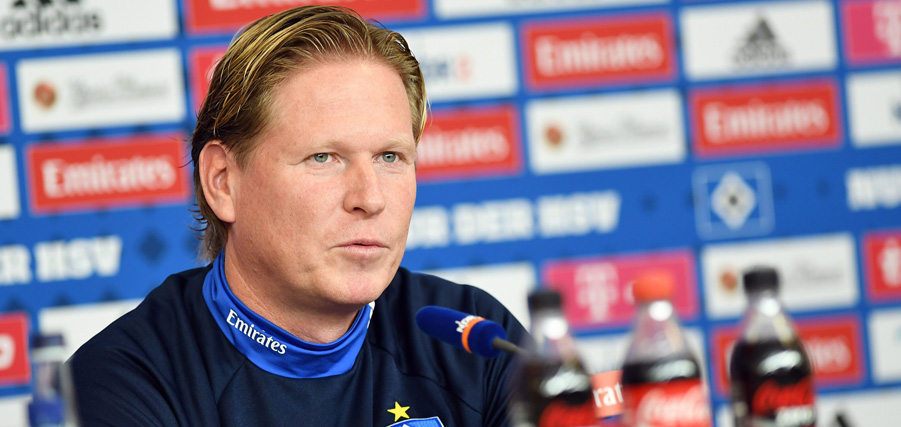 Press conference
27.04.17
"Everyone wants to turn things around on Sunday"
At the official pre-match press conference ahead of HSV's crucial matchday 31 trip to Augsburg on Sunday afternoon, Rothosen coach Markus Gisdol discussed team news including keeper Tom Mikel and the overall shape of his team.
The official pre-match press conference ahead of HSV's tricky trip to Augsburg on Sunday afternoon was a little different. On Thursday afternoon (27.04) around 50 kids attended the event and asked questions of their own. HSV coach Markus Gisdol was in good spirits and joined in, honestly answering the questions posed by them. He told them what Sunday's crucial clash is all about saying: "You know that when you as a team have to take on another team at the place where they play and you have to take something from it is not easy. That is kind of what we face on Sunday."
Markus Gisdol on…
Team selection: Christian Mathenia is not able to play in Augsburg. We have decided it makes no sense to play him because he has restricted movement. Tom Mikel will play. Apart from that there are no further surprises. The long term injured are still out and those who picked up slight knocks against Darmstadt are back training.
... Tom Mickel: Tom has always performed well with the under-21s. He has our 100% trust and knows Augsburg because he made his debut there for us a year ago. It is a story that only football, can write. We have confidence in his abilities. I spoke to him a fortnight ago before all of this happened and told him that it is great to see how hard he works in training and to have such a man at our disposal. He will give the team security even if he is our number three. He will give nothing short of his best.
... weakness away from home: There is always something. If we had taken points on our travels they way we have at home we would be in a different region of the table. So we hang onto our successes away from home where we have played well. It is vital to pull together as a team away from home, because you are also playing against the home crowd and atmosphere. You have to work well as a unit and not allow anything off the pitch to affect the way you play. You can only collect away points as a team.
... team fitness: We are in good physical shape. We have a top fit team so I am not worried about coming games on that front. We can deliver more than the opposition in every game. Even if we do run more it is the sprints and intense runs that count and we are good in that department. That gives us reassurance. No team can over run us over 90 minutes and I mean nobody.
... crucial clash in Augsburg: We have analysed the Darmsdt game and put it to bed. The game in Augsburg will be totally different. We learn quickly and have always bounced back from defeat. We have intensely discussed everything and it is good to have an extra day to prepare for this game. I know what makes my team tick and everyone is keen to turn things around on Sunday. I am sure that we will too. We will produce a focused performance.
... so-called cup finals: We don't differentiate whether we play someone close to us in the tabel or a side from another region. Until now we have only had so called must win games, which is an unusual situation. We had so much ground to make up that we couldn't afford to make any mistakes and always had negative pressure hanging over us. Such things can cause a team to collapse under it which is only human. We have though managed to collect poits week by week. It didn't work in Bremen or against Darmstadt but it is our turn again now and we will get back on track.