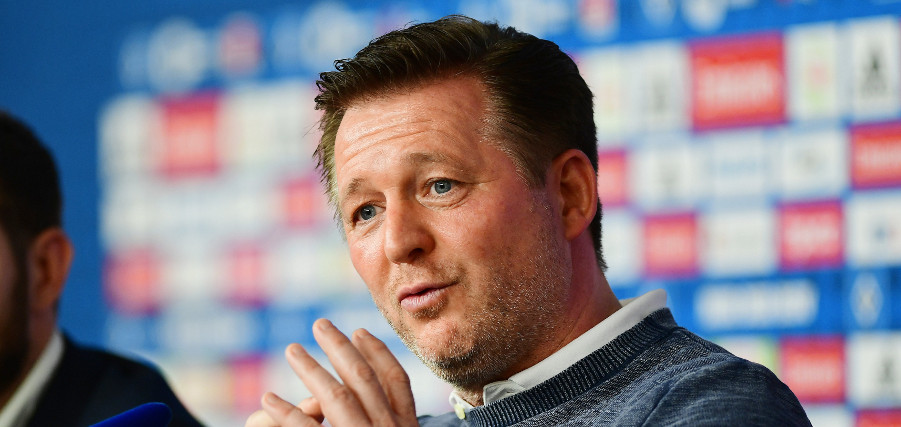 Press Conference
10.05.18
"Fans and team united"
In the press conference ahead of the final game of the season against Borussia Mönchengladbach, Christian Titz praised the support from the fans, his alternative options in attack and the quality of the opposition.
Fathers' Day was an extremely busy occasion for HSV. First of all, around 2,000 fans tended the team's final public training session and demonstrated once again how impressively they have stood behind Christian Titz' side this season. In the official press conference afterwards, ahead of his team's final fixture of the season against Borussia Mönchengladbach on Saturday, 12 May (15:15 CET kick-off), Titz displayed his confidence that his players can achieve what many deemed an impossible task. "If somebody had told us seven weeks ago that we would be only two points off safety going into the last matchday, we would all have taken that. I believe that we can do this."
The head coach spoke in detail at the press conference about…
… the fans coming to training: I have already noticed how matchdays and certain situations affect the team. The boys were especially down after the defeat in Frankfurt. It is good for the players to notice that other people still believe in them. That gives them self-confidence and the belief that they can deliver. There are always different approaches but in our situation, this is doing us good.
… the atmosphere on Saturday: I am obviously expecting the atmosphere to be very loud when we enter the stadium. The fans want our team to surge forward but there will certainly be a strong feeling of tension. On the one hand, we need to manage to take the lead and on the other, we are also relying on other results. That should make for a special atmosphere.
Dealing with the atmosphere: The players obviously have their own histories. They will each react to it slightly differently. For me personally, I can only say that it is not an obstacle, but rather something very special. When you come into a sold-out stadium with the majority of fans cheering you on, I see that as a very positive aspect that pushes me on. At the end of the day though, our concentration will be purely on the game.

… checking the score during the match: I don't think we would be advised to start thinking about other scores. But should the score be a positive one for us and we think in the moment that it could help, then I wouldn't rule it out. Ultimately we wanted to concentrate on ourselves. But it will not hinder us if the stadium reacts when a team scores somewhere else.

… personnel: Aaron and Tatsu have not been able to join in some of the exercises during the week, so we had to try a few things out. Nicolai Müller has been training well. We need to weigh up whether we will have him on from the start. That will of course be tricky after such a long time out. We may bring him on as a substitute. There are some open questions there. It is very positive that we have so many options in offensive positions coming into such an important match.

… the opposition: I would have preferred it if they weren't in good form. They have picked themselves up over the last few weeks. They are a very strong team that can open the game up and have players with pace, especially in attack. If you give them the space to play, it is very difficult to defend against them. With all the quality that Borussia Mönchengladbach have, they are well-suited to this kind of game in my view, because two teams that want to play football are coming up against each other. Since Gladbach still have something to play for, I am expecting an explosive game.

The season finale: If somebody had told us seven weeks ago that we would be only two points off safety going into the last matchday, we would all have taken that. We were in a situation where we asked ourselves to win one more match and then we could reasonably bow out. Now, we are in a situation where a home win and some help from 1. FC Köln means we could reach the relegation play-off place. It is these positive thoughts that are dominating.