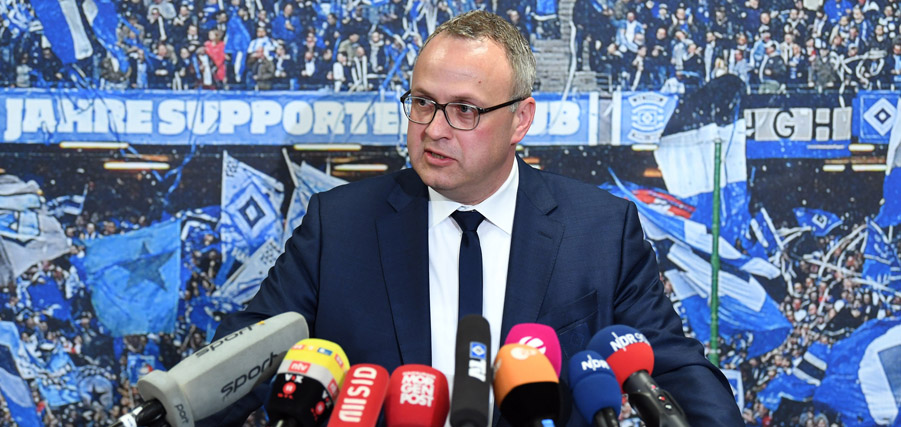 "Our coach is doing a really good job"
Chairman Frank Wettstein gave his thoughts on Christian Titz, the updated situation after Mainz's win over Freiburg and his plans for the future.
HSV.de: What are your thoughts on the current situation after Mainz beat Freiburg yesterday?
Frank Wettstein: We're not going to pull the wool over anyone's eyes, because we know that the outlook has not got any better going into the last four games of the season. That doesn't change how we'll be going into our games over the next few weeks, however. The only thing that will help us are wins if we want to have any chance.
HSV could theoretically be relegated this weekend. What would happen then?
It would be exceptionally sad. Nevertheless, it's the sort of thing that we've had to come to terms with possibly happening for a while now. We would be prepared for it if it were to happen, but we still have a chance to stay up, even if most people have already written us off.
What gives you hope that you can stay up?
The work that Christian Titz and his staff put in with the team. The playing style that the team has shown since he has come in. And the atmosphere that our fans create for us, both at home and away. Our fans have a keen sense for the current situation.
What do you mean by that?
Our coach is doing a really good job. The fans appreciate that the style of football he is preaching and the promotion of various young players is the correct way forward. We have to keep doing that in the future, irrespective of which league we are playing in, if we want to ensure that HSV can become truly successful once again.
Regardless of what happens in the next few games, is the club in capable hands?
It is. We are in constant communication with the chairman of the board Bernd Hoffmann and are planning for both eventualities. We're looking to continue bringing in players for the future such as David Bates from Rangers. However, there's only one thing we're focused on right now, and that's this Saturday's game against SC Freiburg at the Volksparkstadion. We have to play in the same way as we did against Schalke 04. That's what counts.