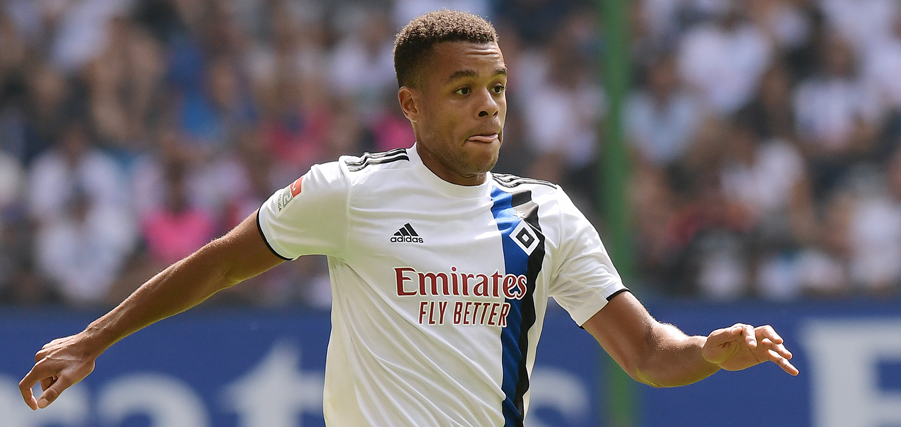 Gyamerah: "Bochum are going to be dangerous"
For the 24-year-old, Friday's match-up is the first time that he will be facing his old employers since his switch to the Volksparkstadion over the summer, a club who he has a lot to thank for, and who will certainly pose some problems on Friday night.
Jan Gyamerah spent the majority of his formative years at VfL Bochum, striding out 'an der Castoper Straße' in the famous blue and white kit between 2011 and 2019. Despite being born in Berlin, 'Gyambo', as he is called by his teammates, points to his time in the heart of the Ruhr valley as absolutely key for his development as a man and a professional footballer, eventually making 76 appearances for the first team, with one goal and three assists. After a solid start to the new campaign, the meeting with his old colleagues is already on the agenda for Gyamerah on the third matchday of the new season on Friday.
"As soon as the fixture list was released, the first games I looked for were the home and away games against Bochum. Of course I'm really looking forward to the game, particularly seeing lots of old acquaintances again. I'm still in contact with a number of old teammates as well as a few of the staff at Bochum," explains Gyamerah, knowing that Friday's opponents will be particularly tricky, even after a seemingly difficult start with a 3-1 loss away to Regensburg and a thrilling 3-3 draw at home to Arminia Bielefeld. "Bochum have a very good team with huge potential. The season probably hasn't started the way they would have wanted to, but that makes them even more dangerous for us. They want to show everyone here at the Volksparkstadion how good they are and will be very dangerous on Friday night."
No topic was off limits for Gyamerah when he sat down for a chat with HSV.de recently, sharing his thoughts on the Bochum coach that shaped him the most, Thierry Henry and how he switches off from football away from the pitch.
You properly committed to football when you were 15, first with Arminia Bielefeld, then VfL Bochum. Who were your footballing heroes at that point?
My main role model from a young age was Thierry Henry, particularly because I used to be a winger myself. At the start of my time in Bielefeld I was always switching between right-wing and right-back, and by the end of my time there I was pretty much only playing as a winger, sometimes even on the left-hand side as well. I was signed by Bochum predominantly as a winger. Then when I was playing for the under-17s our right-back was suspended and we didn't have any alternatives, so I went to our manager and said that I can play there if no-one else can. It went really well and I kind of just stayed in that position. At this point Jérôme Boateng became my hero, as he had a similar career path and I thought he had a pretty cool attitude as well. He's a bit different in terms of his body type, but we have similar backgrounds, he also has Ghanaian heritage.
Who were the coaches that made the biggest impression on you and made you the footballer that you are today?
My under-15 manager Angelo Daut. He showed a lot of trust in me and signed me for Bielefeld. When his contract wasn't extended at Arminia he also took me with him to Bochum and organised everything for me, particularly in terms of integrating me at the club's boarding school and helping me settle.
After eight years at VfL you decided to leave your comfort zone in Bochum and join HSV. What was your reasoning for leaving a club where you were very successful?
I had a great time in Bochum. The people, the city, I just love the Ruhr valley. I can definitely see myself living there later in life. But I wanted to do something new, something bigger. In Bochum I knew what I had but was also perhaps a bit too settled, I needed a bigger challenge. At HSV it's certainly a different level, for our first training session of the new season there were 600 fans here. The fans, the stadium, that ambition was something I wanted to be a part of.
You've said before that HSV is a club that is often in the public eye. What was your impression of the club last season?
Coming to the Volksparkstadion as a visiting team is certainly something special. You've got more power, more strength, more energy – as a HSV player you have to realise and internalise what that means for you. It's simply a great experience playing here – the stadium, the atmosphere – you only experience something like that in the second division at most twice a season. I don't think there are many players who have rejected an offer from HSV. It doesn't matter what's been said about HSV in the past, you still know that it's a great club to play for.
Do you have a particular strategy to help you switch off away from football?
I started long-distance learning for a sports and business management degree a year-and-a-half ago. I realised that it would be good for me to step away from football from time-to-time. On free days I used to just think about football, stare at the league table endlessly and work through all of the possible permutations. If we had lost the game the day before the day just passed me by and my life was a bit rubbish; it was pretty extreme. I learnt how to deal with it better. When I come home now having lost a game I know that my girlfriend will be waiting and that I can distract myself with other things, including studying.