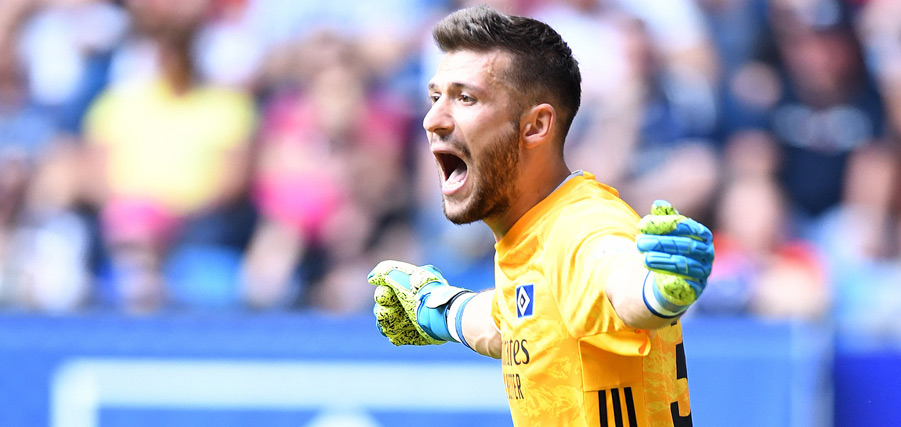 "We have to reach our limit"
Daniel Heuer Fernandes sat down with HSV.de to talk about his excitement at the new campaign finally getting underway, the three-way battle for the goalkeepers' jersey at HSV and his extra motivation for the game against his old employers, Darmstadt 98.
Whether he'll be between the sticks from the word go on Sunday, is still unknown for Daniel Heuer Fernandes. HSV's new signing is part of a three-way battle for the starting berth during Sunday's league opener against Darmstadt 98 (28th July, kick-off 1:30pm). However, what he makes clear in his exclusive interview with HSV.de is that the game will be something special for him. Not only because it could be his first game with the famous diamond on his chest, but also because it is against his former employers, for whom he completed all 34 league games last campaign.
"Since the fixtures were released, my phone hasn't stopped ringing," Heuer Fernandes disclosed to HSV.de. The amount of calls and messages will probably decrease over the coming days, as everyone concentrates on the job at hand, but it will still be a special occasion. As part of the interview the 'keeper reveals his assessment of the team's progress, who HSV have to be wary of on Sunday, and how HSV has to set up against his former employers, in order to start the season off in the right way.
Six weeks of pre-season are coming to an end, the anticipation for the start of the campaign on Sunday is growing. How would you rate your time up until now at the club, particularly as a new signing?
Heuer Fernandes: Pre-season is just part of being a professional footballer and at the end you're usually happy that it's over and are looking forward to what everyone has been working towards; the games. My impression is that our work, both tactically and fitness-wise, has been very focussed and intense. Particularly the training camp in Austria was really good in that sense. Personally it was a shame that I was out for the first few days but I'm feeling tip-top and am happy that the season is getting underway.
As well as the ten new signings, yourself included, the whole of the coaching staff were also new to the club. Was it difficult to bring everyone together?
With football it doesn't take long to get to know each other. Either you already played together at youth level or for another team, or crossed paths at some point in the past. For example, I've already played with Khaled in Paderborn und Gyambo (Jan Gyamerah) in Bochum. The cohesion is very good considering the short amount of time, I think the training camp helped this process a lot. We get on well with one another. We want to show that on the pitch now as well.
Before the first matchday no one is quite certain how the team will play. How much longer until the team is firing on all cylinders?
We want everything to fall into place as quickly as possible. In the best-case scenario straight away against Darmstadt, but that will be difficult. It's important that on Sunday we reach our limit. A number of experienced and talented players have been added to the squad, who can implement the manager's plans quickly. However I think it will definitely need a bit of time until everyone is singing from the same hymn sheet.
With Julian Pollersbeck and Tom Mickel you already have two potential candidates to play in goal. What's your impression of the race for the number 1 jersey at this point in time?
I've said before that competition for the starting berth will develop all three of us, we all push one another to improve. That only one of us can start in net is of course part of it and we all know that. Everyone has their own ideas and ambitions. I will carry on giving everything so that the manager chooses me to start on Sunday.
Goalkeeping coach Kai Rabe has also had a big role to play, having been signed from Karlsruhe this summer as well. What do you make of his training so far and what have its effects been for you?
The work with Kai Rabe has been very positive. He's got lots of good, new drills alongside a whole range of different exercises. It's been a lot of fun, there's lots to think about and input for what I'm doing when I'm in goal. I think he can bring all of us to a new level.
For you as a goalkeeper you now have to adapt to having a completely new defence. How difficult is it to make sure the chemistry is right with players in front of you that you haven't played with before?
Co-ordination can only happen through training and communicating a lot on and off the pitch. In this formation, everyone is new as far as I'm concerned. But having a lot of 11-a-side drills in training makes getting to know each other that bit easier.
On Sunday the HSV season starts with a home game against SV Darmstadt 98. Are you still in contact with your former teammates?
Naturally I'm still in contact with a number of people there. Since the fixtures have been announced we've exchanged a few texts and a bit of banter. That's just part of it. But that will also be over in the next few days. I'm not going to give them an inch on Sunday.
Darmstadt striker Serdar Dursun chose you as his goalkeeper in his all-time XI this week as part of a video released on Darmstadt's social media channels. He's obviously got a lot of respect for you, but hopes that we don't have our best day on Sunday.
Yeah, I saw the video (laughs). We got on well in Darmstadt and did a few things together in our free time as well. We both know that the other one brings a lot of quality to their position and rate each other highly. Therefore, we have to watch out for each other.
You know exactly how Dimitros Grammozis will want to play. What can we expect on Sunday?
I won't say exactly what we have to do in such a public interview (laughs). I'll discuss it with Dieter Hecking if he asks me. But every game has its own dynamic, as everyone saw last season. I know that Darmstadt are a quality outfit and we need to be wary of their pace in attack. But I also know that we will be very well prepared and Darmstadt will be wary of us. There's a lot of quality in our team and we won't shy away from the challenge.
What can you contribute to the preparations, given that you have also played against HSV numerous times?
I think it's an important factor when you know how it feels to sit in the opposing dressing room and how motivated they will be. On top of that the first game of the season here at the Volksparkstadion. That's something special. You want to put one over big clubs like HSV. I've experienced it myself and am aware of it. We have to give 100% and not give an inch but also believe in our own strengths. Then we can start the season in a positive fashion.