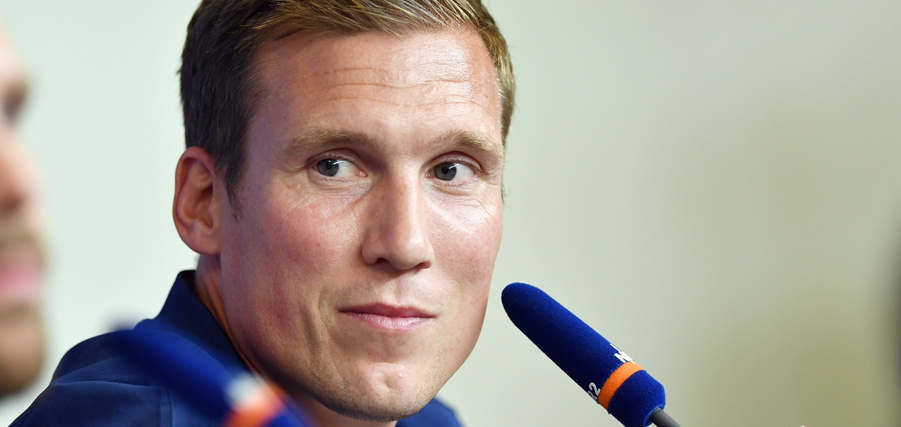 Press conference
30.11.18
"How did Köln do against Duisburg?"
HSV-head coach Hannes Wolf was quick to state that their game against bottom side Ingolstadt 04 would not be a walk in the park, using Köln's result against Duisburg as an example. Instead, they need to focus on putting in a top performance.
After the top-of-the-table clash with FC Union Berlin ending in a 2-2 draw, HSV will play away at Ingolstadt 04 this Sunday (12:45 CET). Die Rothosen will travel with the aim of keeping their unbeaten away record intact (five wins, one draw, goal difference of 10:2). If you simply looked at the table, then there is a clear gulf in class between the two sides, but having just parted ways with head coach Alexander Nouri, HSV will be need to be wary of their opponents. "How did Köln do against Duisburg," Hannes Wolf reminded people during the press conference and warned his players that they can't take the game easily. On matchday 9, top-of-the-table Köln lost 2-1 to bottom side Duisburg. A surprising result and one that HSV will not want to experience.
The 37-year-old spoke in detail during the press conference about ...
... the game plan against bottom-of-the-table: "How did Köln do against Duisburg? Bottom-of-the-table beat top-of-the-table 2-1. We need to make sure that we do not slip up. I have asked the same question to my players. Ingolstadt have a good team. They have also picked up many draws and they have looked good in defence in the last few games. I know the players and they are all good players. We need to put in a top performance to win there. It may not look like that from the table, but it is.
... the changing of head coach at Ingolstadt: We haven't had a lot of footage that is useful to watch. As a result, we have concentrated a lot on our own game during the build-up. We will have to be able to adjust to their style of play quickly in the game. We have also watched some Ingolstadt U19s games, as Roberto Pätzold is coach there. We are of course aware that teams and coaches will not always set themselves up in the same way. A big part of football is being able to be flexible and react to what the opponent is doing. Tactics are often changed during game and plenty of unexpected things can occur in a game of football.
... his expectations for the game: Everyone in the team knows what happened in the game between Köln and Duisburg. We would not be clever in thinking that we will make the short trip to Ingolstadt and win easily. We are preparing for a tight, tough game. We must respect them and be in the game until the end.
... Bakery Jatta: I've been impressed with Jatta, just like I have been with the whole team. He runs hard, especially when there is more room in training and it is contact free. Then you can see what he can do with his pace and his runs. The fact that some passes are misplaced is normal. It happens to every player. He has been making the right decisions and is getting along well. He is also accepted and respected within the team. The bottom line is, he, like every other player in the team, is very important.