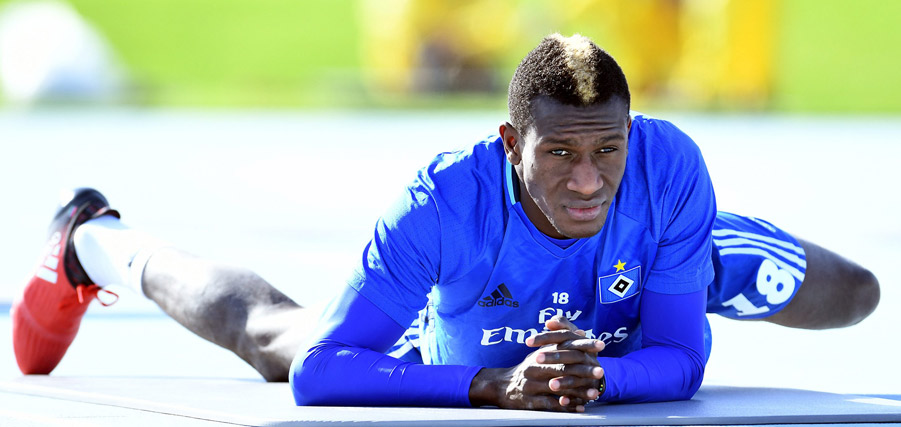 Jatta: The dream in his sights
An incredibly eventful year has just ended for the 18 year old attacker. Reflection on that dramatic year acts as motivation as he looks ahead.
The state of the art training camp in Dubai is a new world for Bakery Jatta. The massive architecture in and around the area where the squad is training is a lot for the youngster to take in. He told HSV.de: "Everything is so massive here and if I'm honest, a little unreal to me." Hardly surprising: Only 18 months ago he arrived in Germany as a refugee from Gambia. He arrived here without his parents and his journey began into a completely foreign world. He lived in the Niedersachsen town of Bothel early on, and took his first tentative steps into football via the Lothar Kannenberg academy and a youth education project. Jatta soon found that effort, determination and talent are needed to play football here. Not a problem for the 18 year old forward – he has all of that in abundance.
Huge talent
Almost a year ago to the day, the youngster was training at third division club Bremer SV, as he was invited to a two day trial at HSV, who were (like now) preparing for the impending second half of the season. We all know how that went! A week after turning 18, Jatta signed a three year deal with the Rothosen. His physical presence and potential, his ambitious approach and his obvious talent impressed the Hamburg club. The dream from refugee to Bundesliga player began. He revealed to us: "Last year was very emotional for me." He added that it had flown by. Bakery: "It didn't feel like a year to me. Every day was esxciting and brought new challenges with it."
Apart from the strenuous first team training schedule, Jatta must also try to understand the German game and learn the German language. He has done well on both fronts so far. In the meantime the striker can communicate in ever-improving German. September 5 last year was an important day for Jatta who received the paperwork making him eligible to play for HSV. A couple of days later he made his debut for the under-21s. He scored twice in a 2-0 win over BSV Rehden. That gained a little media interest. That interest increased further as he repeated the feat in his next game. Another brace of goals, this time in a 3-2 win against VfV 06 Hildesheim. Jatta has a record of six goals in ten games for that team. The fact that he only began in September makes the record even more impressive.
The Jatta adventure: Watch this space for chapter two.
Life became even more exciting for the Gambian as he sat on the bench during HSV's trip to Cologne on October 30 last year. Bakery: "It was so exciting with the fans in the ground and the atmosphere. It was all new to me. I had never experienced it from that perspective before", he added. The initial nerves are almost gone now due mainly to the five call ups to the bench he has had since. He told us with a beaming smile: "I can enjoy it more now because I am not as nervous." He then said that his personal highlight of his first year was after the final home game of the year against Schalke, as the lights inside the Volksparkstadion were turned out and the fans created an amazing choreography of light using lighters and mobile phones. It was an emotional end to an emotional year for the lad who has dealt with it well.
"Baka" as his team mates call him is keen to work hard on his game and take further steps towards his dream which is of playing in the Bundesliga. It was good progress to make the bench, but he has smelled blood now and wants more. He explained: "Everyone here is working so hard trying to impress during training. I am tired but feel well prepared and am highly motivated."
The Jatta adventure: Watch this space for chapter two.