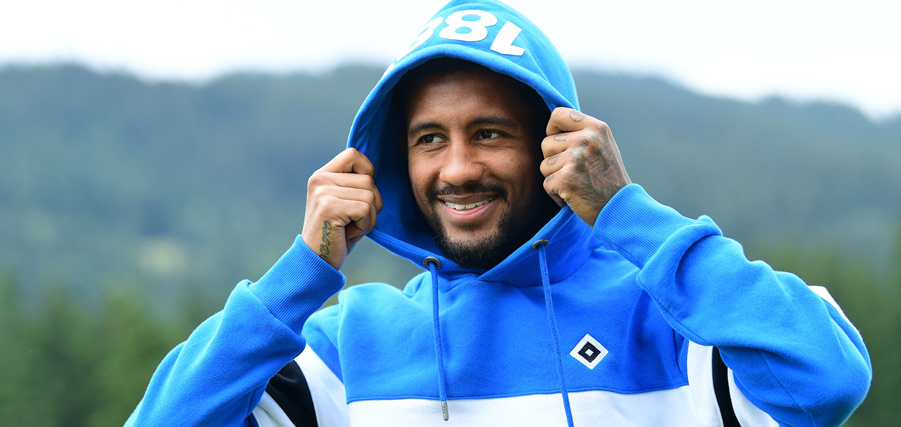 "We used to climb over fences just to play football"
The 23-year-old speaks to HSV.de about his time playing football in the playground, his development in various different positions and his role models.
In Jeremy Dudziak's passport it lists his place of birth as Hamburg. But the 23-year-old didn't really call the Hanseatic city home until a long time later. "I'm more of a Hamburg native by accident than on purpose," explains Dudziak, gladly retelling the story once again for HSV.de. His mother was visiting his godmother in Hamburg, when Jeremy wanted to see the outside world for himself a little earlier than expected. These days Hamburg feels like home for the midfielder, who signed for city rivals FC St. Pauli in the summer of 2015 and wants to take the next step in his footballing career at HSV.
However, Dudziak grew up in the Ruhr valley area, and in the Duisburg suburb of Beeck the course was set from an early age for the path that he would later follow. How his life was impacted by the time he spent playing outside as a child, what he's taken from the playground to the professional ranks and how he developed into a utility man under Jürgen Klopp, explains Dudziak exclusively to HSV.de.
Jeremy, you were unexpectedly born in Hamburg, but then grew up in Duisburg and started playing for Viktoria Beeck. When did you get started there and how did it come about?
Dudziak: I can still remember, why I wanted to play football; I sat with my mum on the sofa and as we flicked through the channels with the remote there was a football game on TV. I said to my mum: 'Wait a minute'. Then I watched the game all the way through to the end and found it fascinating. Afterwards I said to my mum that I want to play football; I was five years old at the time.
Did she fulfil your wish to play straight away?
She took me to a club a few days later. I started playing quite early.
Did you play a lot in the street or on the playground as well as for your club?
Of course. It wasn't like it is today where you're on your phone or your iPad the whole day, like my little brother is. We used to play with the ball in the street or on the playground and always used to come back in after lunch dripping in sweat. After school you then always picked up your mates with a ball under your arm and went to the football pitches or climbed over fences, just to have a kickabout, even when the pitches were closed.
Did your mum used to have to look for you, because you were still outside playing football?
Every now and again I got in trouble because I came home later than we had arranged.
Who did you used to play with?
In Beeck, the suburb that I come from in Duisburg, it was very mixed, from nationality to size. There were a number of younger lads there but also some older brothers, so there was a real mix.
Even though you started playing for a club at a very young age, would you still consider yourself a street baller?
Definitely. I played on the street more than I did for my club. In those days we only had training twice or three times a week.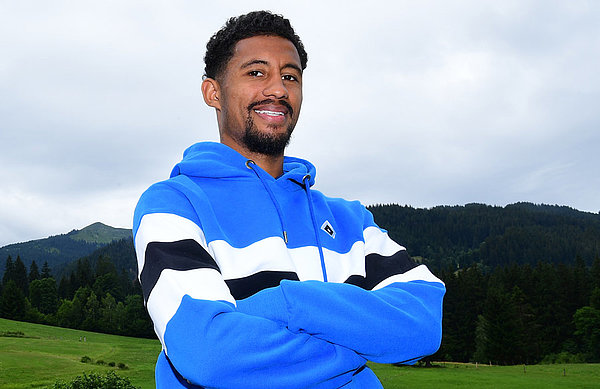 You once said that Zinedine Zidane is one of your role models. As he played the last game of his career at the World Cup in 2006 you were only eleven. Did you used to follow his progress or did that come later when you got a bit older?
I can still remember the 2006 World Cup very clearly. I was in Beeck and always used to ride through my part of the city with my bike to watch the games at my friend's house. During the final I was at a summer camp and everyone watched the final, Italy against France, on a huge projector. Zidane had a great game, he was simply a world class player.
Other than him who did your base your game on?
Mainly on Andres Iniesta. And of course you can't forget Messi, he's certainly up there as one of the greatest of all time.
Do you think they were your role models because you played a similar position?
At youth level I always played as number 10, just behind the striker. For that reason I probably did base my game on players who also played centrally. For me the way Iniesta played was just perfect. I like players who make short, sharp movements and look to turn on the ball. In that Barcelona team pretty much all of them played like that but he had another level of finesse with his dribbling and could always deliver that killer pass.
Did you pretend to be Iniesta or Zidane when you played on the street?
I never had one of their shirts unfortunately but when we replayed the world cup one-on-one or as a free-for-all on one goal I was either Iniesta, Zidane or Ronaldinho. Hit the ball in the air and the game was underway.
You played for Schalke for a while before joining Borussia Dortmund's academy. Jürgen Klopp then decided to redefine you as a left back after you joined the first team, having been a creative midfielder before that. You can imagine that that wasn't met with wild celebrations. How did you react to this idea at first?
When you are moved from the number 10 role to the left-back position, it's certainly a big change. That originally came from the international set-up though. In the u15s and u16s I played left-back a number of times. And I found out at that point that the position wasn't so bad after all.
What attracted you to that position?
You're a lot more involved with the build-up play when you play there. You've got everything in front of you and can always get involved going forward as well. When the play is switched you've usually got a lot of space to use too, that's generally not the case when you play in the middle.
Is it perhaps a bit different when a manager like Jürgen Klopp tries to change your position, or do you think about it yourself as well?
When a manager of his calibre says something like that, you have a look at it and ask yourself if you can really do it.
In the same year you were then used as a winger by Frank Wormuth at the u20 World Cup for Germany.
That was a bit different. With Kloppo I played in the number 10 role for a bit then at some point he said that he saw me more as a left back. With the national side it was exactly the reverse and I'd completed one whole cycle if you like.
At what point did you realise that flexibility is one of your strengths?
That only came a bit later. I always knew that I could play in a number of different positions, but I never really nailed down one position as my own. At one point I also played right back for a bit.
That was whilst you were at St. Pauli, how did that come about?
It was a coincidence that that happened. During the warm-up our right back injured himself and we didn't have any players who could play there. Then the manager just said that I should play there. That was in Duisburg. Afterwards he came up to me and said "you played really well and got an assist." From then on I was always an option for him in that position.
It wasn't that big. I just had to get my co-ordination right. Because I'm left-footed I can play the ball more easily back into the middle of the park or play a chip over the top, or even look for a shot coming back onto my stronger foot.
How do you prepare for that kind of change?
It depends really. At St. Pauli I had to wait and see as I was playing different positions every week. Once I know where I'm playing I usually watch a few videos of the opposition so I know what to look out for.
At HSV it looks like you'll play more centrally, are you pleased about that decision?
I think from that kind of position you can bring a lot of other people into play.
What did you take from your playground days that you still use as a professional?
On the playground you learn quite quickly that nothing is handed to you, and that winning is paramount. When you lose, you're a loser, simple as that. That was how it was back then and it's the same now; you have to show that desire to succeed.
What would be your advice for younger players?
Everyone should set goals for themselves and give everything in trying to achieve them; every day trying to do something new and focussing on that end goal. For me from a young age there wasn't anything else. I said when I was a child that I was going to be a professional footballer. With an insatiable appetite for success you can achieve a lot.