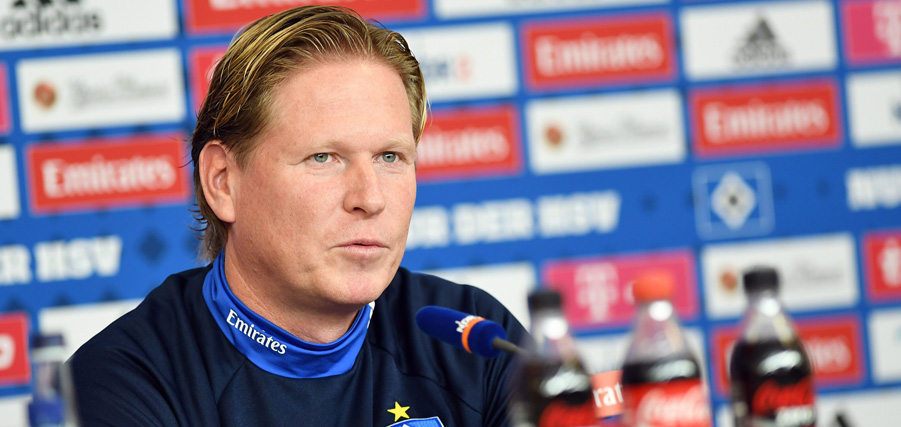 Press conference
09.02.17
"Leipzig play extreme football"
Markus Gisdol praised the high speed football played by RB Leipzig, but also said that his team has a chance to take something from the game.
HSV are away to RB Leipzig on Bundesliga matchday 20 (11.01.17, 3.30 PM), the strongest home side in Germany's top flight. Because of that, Rothosen coach Gisdol preferred to discuss Saturday's game rather than the 2-0 DFB Cup win over Cologne on Tuesday evening. He told the media at the pre-match press conference on Thursday (09.02): "They have built a superb team there and we have a major hurdle to take on Saturday. Not many teams have taken anything home from their place." Gisdol then said that he reckons that his team is capable of taking something from the game.
Gisdol on…
…team selection: Like before the last game it is difficult to give an accurate prognosis. Michael Gregoritsch is ruled out again while young Finn Porath injured a hamstring in the final session ahead of the cup game last Tuesday. He will probably be out for a fortnight which is sad for the lad who had fought his way back from injury, only to get a further knock just before he was ready to play again. As far as the others go we will just have to monitor them on a daily basis. Today's training session is important and could give us a clearer picture and there will be decisions to be made tomorrow.
…alternatives: The cup game was important because is revealed that we have several alternatives for many positions. We have Ekdal, Jung and Walace in front of the back line and they are all similar so it doesn't really matter who finally plays. The situation at the back is similar. They have to support each other and profit from each other as a team. As a coach you sometimes rely on your gut feeling which is why I cannot yet give an accurate prognosis.
...the return of Papadopoulos to Leipzig: Papa is champing at the bit. I had to console him after I told him he wouldn't be starting the cup clash with Cologne. It is a good thing when his emotions come out because he is always burning to play, but we know how to channel him and it is great to have him here. Should he play, he will be able to focus on his strengths.
…work done at Leipzig: In our business there is often a lot of money made available and that can be misused. But it can also be invested sensibly. You can say what you want about them but they have invested sensibly. They have built a superb team there and probably have the best youth system in the country. Of course there are critical points, but they have used common sense with regard to investment.
…Leipzig's football: Leipzig have played extreme football this season. It is a rarely seen form of top speed football. They don't press that high up the pitch, but set traps for you in midfield. I don't think that any other team is nearly as quick individually as they are. Their blistering tempo is impressive. That speed can catch you cold when they fly past you.
…expectations from the game: We have been warned. They have played many impressive games this season but have slightly lacked consistency in recent games. We go there with confidence after recent results and I am convinced that we can take something from the game.