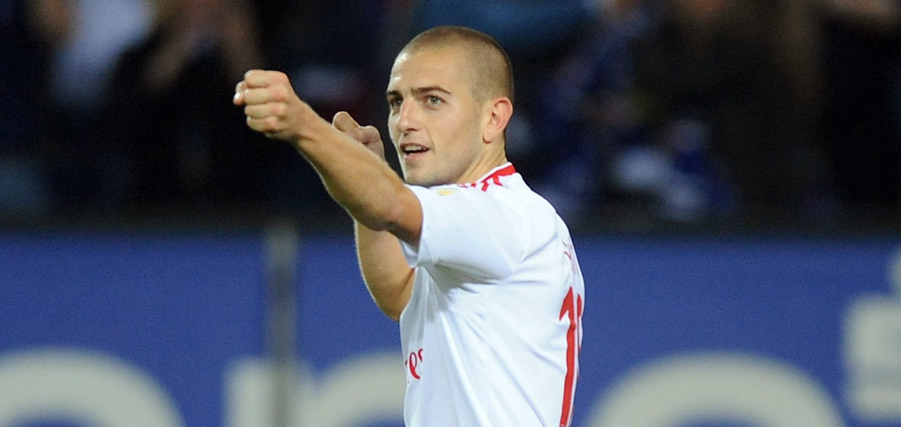 Mladen Petric - "You don't forget moments like that"
You have to go back eight years for Hamburgs last win against Munich. On September 26th 2009, in a sold-out Volksparkstadion, Mladen Petric scored the only goal in a memorable 1-0 victory. HSV.DE caught up with the former goalscorer.
Every HSV supporter recognises the iconic bow-and-arrow celebration. The Croat, raised in Switzerland, transferred to HSV from Borussia Dortmund in 2008 and soon became a fan favourite. A lot of that had to do with his goals: Petric netted 61 times and made 21 assists in 136 games for the Rothosen. There are a fair few highlights to pick from in all that, but one of the stand-out memories is the goal against Bayern Munich.
It was on matchday seven, 2009/10. Petric made it his second winner against FCB since his arrival in 2008, and up until this day, it remains the last time HSV defeated the Bundesliga champions. "I remember it very well – you don't forget moments like that," recalls Petric. "I remember Zé Roberto saying that Bayern weren't up for it. He had experience playing for them and what he said really inspired us. And then of course we went on to win it."
"You can't compare the games"
Since then, HSV have found it difficult to score points against Bayern. Petric is still a follower of his former club and is aware of the current gap in quality between the two clubs. "You can't compare the games in 2008 and 2009 with today. We had a truly brilliant team then. HSV always competed at the top of the table. It's a difference situation today."
Petric may now be far away from North Germany – he and his wife live 20 kilometres outside Athens – but his feelings for the club remain strong. "I follow all the clubs I played for. It's no secret HSV occupy a special place in my heart. I had a brilliant time at Hamburg and have very fond memories of that period in my life. You never forget a club like that," he reflects. "I recently had a couple of HSV fans write on my page, asking me to come back to the club. That was pleasing but I also thought, you must know that I'm 36 now and retired a year ago!"
Petric is currently completing his coaching badges. The former Croatia international will be following the match from his new home in Greece and should HSV pull off a victory, Petric will surely be firing those imaginary arrows over social media.