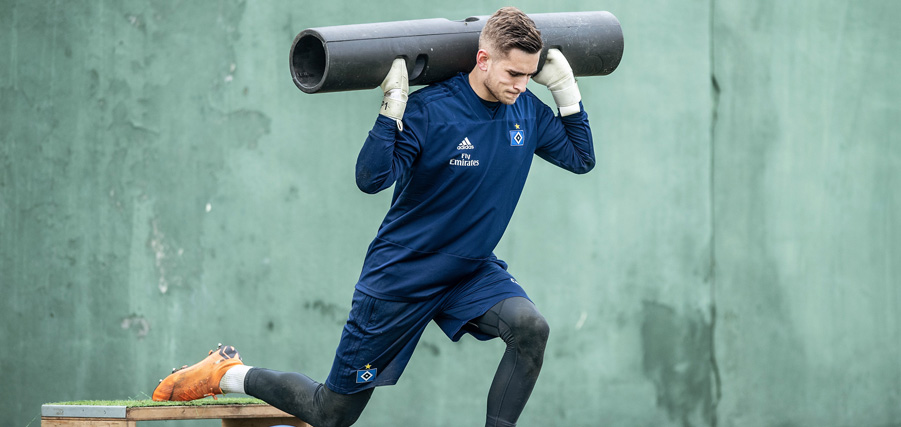 Pollersbeck: "Lead by example with my performances"
In an interview with HSV.de, the goalkeeper discussed the goalkeeper training in the camp, communication and at the second half of the 2. Bundesliga season.
Julian Pollersbeck showed a few days ago in training that he has a great technique, when he took part in a drill as an outfield player and chested down a cross, before volleying it home. It was the final goal in the drill and sparked massive celebrations. Pollersbeck wants to be celebrating promotion at the end of the season. The team has to give everything in the remaining 16 games, according to him. The basis for the hard work is currently being laid in La Manga. In an interview with HSV.de, Pollersbeck discussed important things off the pitch, what he expects for the rest of the season and how the goalkeeper training has gone in La Manga.
Julian, the team has been focusing on a lot of technical things as well as tactics in La Manga. What does a goalkeeper do during this time?
Julian Pollersbeck: I concentrate on things that our goalkeeper coaches and I have spotted in the Hinrunde, i.e. things that I need to improve.
So you can practice certain parts of your game that you cannot work on in everyday training in the season?
Our goalkeeping coach Nico Stremlau always gives us a lot of good feedback. He knows our strengths and weaknesses and knows what we should be doing in training. We can train more intensely in the training camp, as we have more sessions and don't have to worry about competitive games yet. Another factor is how often we need to take part in team training.
How involved do you get with the tactical plans?
We attend every meeting, which I find important. As a keeper you need to know about every position, especially the lads who play directly in front of me. I also like to know for example where the strikers are supposed to be running to. I have the whole game in front of me. Naturally it can be difficult to reach the strikers on the pitch, but I can still help coach them now and again despite the noise.
Are you quite loud on the pitch?
I'm not normally the type to shout a lot. It takes quite a lot to get me really angry. This has happened one or two times in games, but I try not to waste my energy by doing this.
Why not?
Sometimes you have to get loud to sort things out. For me though, other things are more important. I try to let my performance do the talking. If you concentrate on that, you shouldn't have to be shouting a lot. Just speaking a lot doesn't sort anything out. I give out loud instructions so that the lads get a good idea what I'm saying. I personally know how it is when you are 19 or 20 though. You don't want people constantly trying to spoon-feed you. I just try and lead by example with my performances and then the others can follow. If I have time, I can look at the others and give them tips, regardless of how loud I do it.
What is the general feeling in the squad?
I think it's very positive right now. There are no bad eggs in the squad and we all get on. Despite that, things can still get very competitive in training. People aren't afraid to voice their opinions. It's not always peace and joy. I think we generally all understand one another and everyone contributes their own qualities from their respective backgrounds.
What do you mean?
Our squad is full of guys who come from many different cultures. This is notable in things like the language, taste in music or players' mentalities. The Brazilians always improve everyone's mood, before the Germans then kill it (laughs). It's a great mix. The head coach leads us well.
It all seems to be working well in the training camp.
Training camps are there to build up our spirits. We want to improve our sporting performances, but also get closer together as a group. People's personalities can subconsciously help to win a few more points in a season and a feel good factor can also play a big role too.
Is this a big feature of the team?
At the moment everybody is contributing to our success, even those who aren't playing that much. This is vital for top teams. Everybody knows that if they give 100%, they will get their chance. We are pushing ourselves in training all the time.
What does the team need to prepare for in the second half of the season?
I like a sentence that my old manager Norbert Meier once said: "In the first half of the season there are more games, in the second half there are less." It's clear that all our games so far have been very close – the scorelines have proven that. I think that has done us good though. The team needs to be under some pressure to be able to perform. We are a team with strong characters, who can deal well with pressure.
Are you expecting a close finish to the season?
I think there are four or five teams fighting for promotion. Last season only a couple fell away – the rest all stayed competing. Everyone can beat everyone in this league. You have to take every game seriously and have respect for your opponents.
What happened in the last game against Kiel?
In hindsight the game was a good learning curve. It should show all of us what will happen if we are not on our game and just think "we'll win it somehow". We will only win if we bust a gut week in week out. There are only 16 games, that isn't a lot. We have to be prepared to play to our limits every week and then we will be able to reach our goal of promotion.