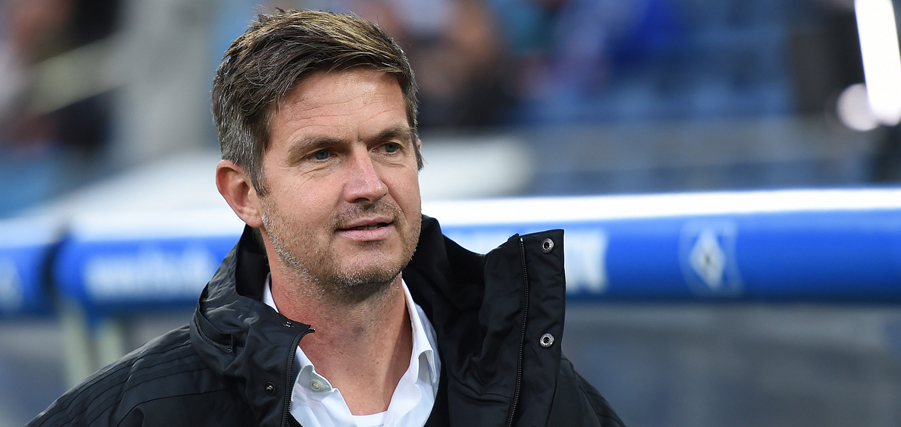 Ralf Becker: "Promotion is in our hands"
IN AN INTERVIEW WITH HSV.DE, HAMBURGER SV HEAD OF SPORT RALF BECKER DISCUSSES THE CLUB'S RECENT RESULTS, THE LEARNING PROCESS FOR THE YOUNG TEAM AND HE LOOKS AHEAD TO THE FINAL EIGHT WEEKS OF THE 2. BUNDESLIGA SEASON.
It is a quiet week at the Volksparkstadion this week as the international break arrives following a turbulent week of mixed emotions for HSV. After the impressive 4-0 derby victory away against FC St. Pauli, the Rothosen were unable to build on this victory, surrendering a 2-0 lead and falling to a 3-2 home defeat against SV Darmstadt 98 last weekend. In the absence of ten HSV players on international duty, a smaller group of players have been focusing on individual training during the two week break. Most of the absentees will return on Tuesday and the Rothosen will then turn their attentions to the trip to VfL Bochum on Saturday, 30th March (13:00 CET). HSV head of sport Ralf Becker used the opportunity during the international break to speak to HSV.de about recent results and to look ahead at the remaining eight weeks of the season.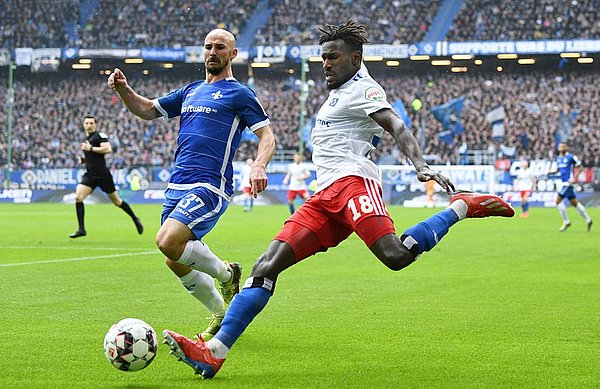 Ralf, a mixed week has come to an end for HSV. After the impressive 4-0 derby victory, the team suffered a disappointing 3-2 home defeat to Darmstadt. How have you interpreted how this week played out?
Following our relegation from the Bundesliga, we knew what our situation was and the big challenge we had ahead of us to secure promotion straight back up to the top flight. From the beginning of the season, we have always said that we need to constantly work hard and that there would be a setback here and there over the course of the season. The derby was the only game that had a special meaning, even before the season began. It had a unique background, which is why we put so much emphasis on the game and the win. That was a successful and lovely day for everyone associated with the club. We wanted to take the momentum out of that victory and use it to our advantage at home against Darmstadt. We managed to do this at the start of the match but came away empty handed. We are of course very disappointing with that result, especially because the fans' excitement was at an all time high after the derby victory.
What may be the reasons for the performance fluctuation and the lack of consistency?
We have analysed and assessed this match exactly the same as any other defeat we have experienced this season. You have to remember that we have six or seven first team players who are under 21 years old and are playing in their first or second professional years at the club. They are all good players and we are convinced by their quality. Sometimes they lack the decisive piece of experience or the necessary clever piece of skill necessary to secure points. This was the case in the Darmstadt match. A couple of our players didn't play at their best against Darmstadt and we missed a couple of players through injury. When this happens, it can sometimes be the case that you lose matches like this, even if you shouldn't lose them.
What kind of criticism does this raise about the team?
We've got the youngest team, the youngest squad and we're putting all our trust in youth. If I have experienced players who've played in the Bundesliga between five and ten years, then they've experienced a lot of situations already. But our players haven't. Our players are still very-much developing, so you have to approach criticism in a slightly different way. You can still be critical, and you should be, but you have to always be aware that in lots of situations, the lads are doing their best, but are just lacking that bit of experience to master certain game situations. This is a learning process.
Is maintaining the same attitude for 90 minutes part of this learning process? Against Darmstadt, it seemed as though the young players took their foot off the gas after leading 2-0.
Yes, absolutely, but when's the last time we were 2-0 up after 20 minutes? We may have won most of the last home games, but we were often only able to decide the game in the closing stages. This was an entirely new scenario: We had the wind in our sail from the St. Pauli game, went 2-0 up early on, the ground is full and the atmosphere incredible, but yes, this went to their heads and made them lose focus. We let the opposition know that they can still get something from this game, that it's not over. In the second half it all fell into place for them – Something like this cannot happen, but we have to tell the young players in a factual manner. So that they learn from it quickly and it does not happen again,"
In this light, how much do you miss an experienced player like Aaron Hunt during these situations?
We have said from the start that when everyone's fit we've got a really good team. Once several players start getting injured, it gets more difficult, which is the case right now. When your captain also gets injured it becomes even more frustrating – Aaron Hunt has earned the respect of everyone at the club over the last few years. There's no doubt that we miss his experience on the pitch, but it won't help us to keep talking about that. Other players need to take more responsibility here, because we still need to win our games without him.
Kyriakos Papadopoulos is another player with great experience. Could he still play a role?
We're now in the final phase of tests which will determine how he is. If he can complete all the training sessions between now and the Bochum game, then he is definitely fully fit again and we will see to what extent he can help the team. Obviously we know how much his experience and mentality does for us on the pitch. We shouldn't make too big a deal of it, but if he's available in the coming weeks it will definitely be good news for us and he could be a big part of our end-of-season run in. Aside from his mentality and experience, he is also a real danger with his head at set pieces.
What's your assessment of the club's situation going into the season run-in?
We're second in the league, we have a three point lead on third place and a seven point lead on fourth. Our situation is absolutely fine, so there's no reason whatsoever to start panicking because of the disappointing result against Darmstadt. Fear and negativity would be an entirely wrong approach at this stage. We are fully convinced of being able to reach our goals and we have addressed the most recent topics that arose from the game. Our focus is now on what lies ahead, because we know that everything is in our hands. We decide how we play in Bochum. We're well aware of our own quality, even with some players missing. We are second in the league and every week we have the opportunity to win another game. Promotion is in our hands and we're full of confidence.