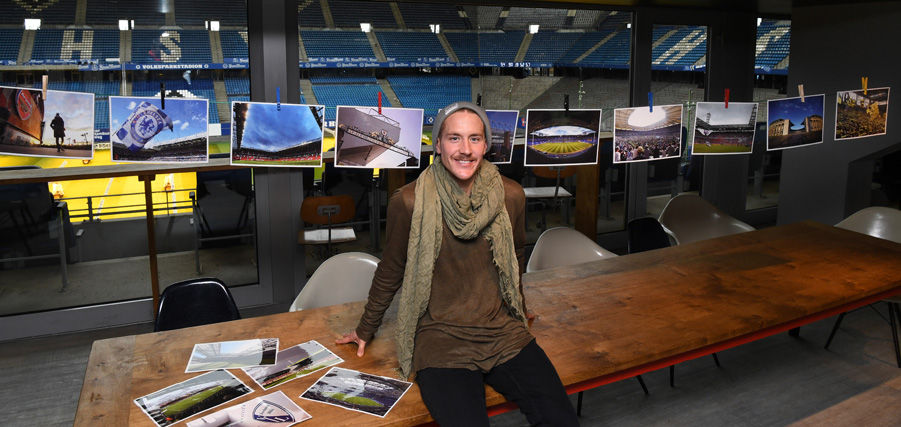 Stadium fascination
From the cinder pitch in Gerderath to the sacred turf of Old Trafford, Lewis Holtby has experienced an array of stadia as a fan and as a player during his career. In this interview, he speaks about the Volksparkstadion, tears of happiness at Goodison Park and his favourite ground in his home town.
As a youngster, Lewis Holtby lived and breathed football. During his teenage years, Alemannia Aachen's stadium Tivoli became his second home. There, in Block M, packed tightly amongst the other Black-Yellow fans, he roared his team forwards. Later, the Rheinlander swapped roles and stood himself on the Tivoli pitch as a player, before performing in front of countless spectators in numerous stadia across Germany. From BVB's famous fortress to Schalke's Veltins-Arena and the Volksparkstadion – Lewis Holtby has played seemingly everywhere, including outside of the German borders in the motherland of football, England. This Christmas, the 27 year old looks back on his best stadium experiences and speaks about his fascination with stadia.
---
"Germany's Maracanã"
"I regularly watched games as a fan in the Tivoli between 2004 and 2006, I was amongst the action in Block M. Later, during the club's time in the Bundesliga, I was a ball boy and from December 2007 I played there myself. It's a special feeling, I'm still in close contact with the boys from the stadium. They come from my home town and infected me with the Tivoli virus. I attended every game and fell in love with Alemannia. The togetherness, the atmosphere and the down-to-earthness really made the trip to the stadium for me, as well as the bockwurst, cola and stops at the kiosks on the way to the stadium. The old stadium had a special flair. Uwe Seeler said at the farewell of the Tivoli that it was Germany's Maracanã. That was a big statement from a great player."
---
"Schalke is a religion"
"Schalke are brutal. Despite the modern stadium, there is still so much tradition. When you look the people in the eyes there, you see how much they have invested in the club. It's a religion. For them, football is everything. I would also say that it's different at BVB. Gelsenkirchen is mining and Schalke. I enjoyed playing there. It's especially cool when the stadium roof is closed, a game under floodlights lies in wait and Schalke's song is playing. The fans turn on their lights and the atmosphere is incredible. Even the players' tunnel is special with its mining theme. It's not a facade, it's filled with real emotions. It's the standard every year that the team goes to see where the club's history comes from. Finally, with the roof closed, it's one of the loudest stadia in Germany – the sound resonates a lot, especially in the derby; it's particularly loud then."
---
"The noise, the size, it's always packed out"
"It's always great to play there – it's the noise, the size, it's always packed out. 80,000 spectators, the Yellow Wall – that's pure motivation. You want to make the stadium quiet. As the visiting team, you're on the receiving end of a lot from the stadium, a lot of whistles, but you get huge gratification from scoring in the goal in front of the Yellow Wall or winning there. I prefer playing at home, because you can be pushed so much from your own supporters, but my preference is maybe 55 percent for home game, 45 percent for away, because it's so fun to steal points on the road. But in Dortmund, that's very hard. After the Allianz-Arena in Munich, it's the toughest place to take anything away from."
---
"The Volkspark will always be deeply engrained in me"
"I'd call it 'our temple'. The Volksparkstadion is one of the most emotional stadia I've experienced in my career. I'll never forget what I've felt, enjoyed and suffered in this stadium over the last three years. The stadium will always be deeply engrained in me, because I associate so many things with it. I've not experienced more in a stadium. I'm just thinking of the last matchday of last season – that was just pure emotions. The fans suffered for 34 or 36 matchdays with us until the bitter end – away and at home. You could see unbelievable joy, gratefulness and, above all, humility in their eyes. It's a bit of a shame that we celebrated like that even though we only stayed up. They deserved more, especially when you see how they come in their tens of thousands every week even though things aren't going right. They are always there. I feel a certain amount of gratitude when I see what they do."
---
"In England, the focus is more on the sport"
"The old White Hart Lane has already been knocked down. It was a great ground with a good pitch and very loyal fans, who had to put up with a lot in the past. In England, the stadium experience is, overall, different. It's friendlier, there's less violence and the focus is more on the sport. I find, we Germans could learn something from them. The fans in England just want to watch 90 minutes of football. At the end of the day, it's only sport and we find ourselves in a time where we're forgetting that more and more. So much is discussed, criticised and exaggerated – I think we should get back to the sporting aspect. That starts with us footballers, we have to focus on the sport more and then it's over to the fans. In England, that's a given, because the respect is there. Here, though, the opposition team is sometimes applauded, and their performances acknowledged."
---
"I teared up because I was so proud"
"I've been a true Everton fan since 1995. My brother chose Manchester United and I went for Everton because of my dad. It's the "people's club", a great club with a huge history and hardcore fans, and the charm of the stadium is just as big. Goodison Park is a beautiful, old stadium. Intimate, amazing atmosphere and typical Liverpudlian humour. The fact I was able to play myself at Goodison for Tottenham, and my father was there in an Everton shirt with his best friend, was and is something I'll never forget. Coming out of the tunnel, seeing the Everton badge and with the music playing – that was the most beautiful moment of my career. I actually teared up because I was so proud and grateful to play at there and to see my dad in the stands."
---
"The best pitch I've ever played on"
"I made my Fulham debut at Old Trafford. It ended in a 2-2 draw and I got an assist in front of the Stretford End. That was, by a distance, the best pitch I've ever played on. The game took place at the end of February and it was damn cold, but the pitch was in unbelievably good condition. I almost didn't need studs and that game was another dream come true for me. Manchester United are a team full of tradition. A great club, even if the fans are very critical.
---
"Where London's money is"
"Stamford Bridge is where London's money is. There is actually only one stand in the stadium, where the die-hard Chelsea fans, or in other words, the workingmen are, and that's behind the goal. Other than that, you notice that it's a very well-to-do club. I've also been a spectator there once, when my uncle invited me to a match. We sat quite high up in the middle of a lot of tourists and fans from across the world. The stadium is, nevertheless, beautiful and has class. When I played there in the London Derby with Tottenham, it was a clear sign that I had reached a high level. That's what I associate with Chelsea.
---
"That's my favourite"
"That's where everything began. My first goal as a youngster, celebrating promotion with the drums on the pitch and so much more. Simply sensational. As children, we always snuck onto the pitch and played football. We also camped next to the corner flag and played games in the woods late into the night. I spent my whole childhood there. I love that ground and I like being there on Sunday with the locals. I only have positive feelings when I think about Gerderath; it's my home town. There, I'm seen as a normal person. I often see myself as two people: here I'm Holtby and there I'm Lewis. There, no one calls me Holtby, but Lewis or my nickname I got from a small, disabled boy, who couldn't pronounce my name – he unfortunately passed away. Out of all possible stadiums or pitches, that's my favourite."