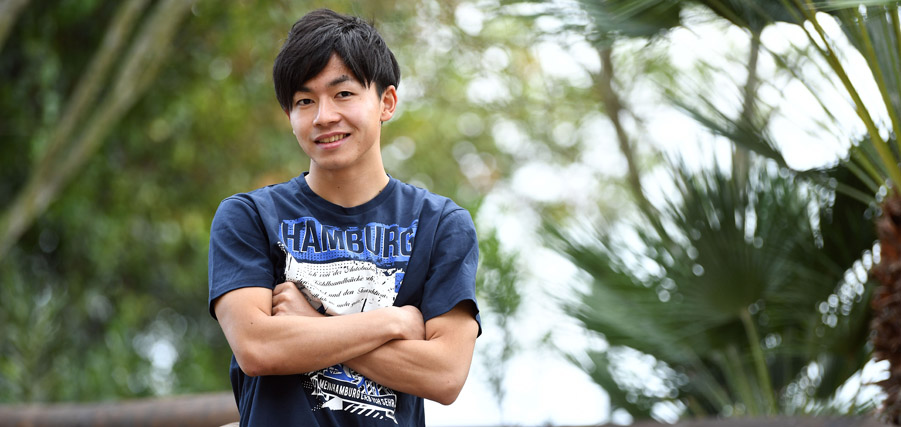 Tatsuya Ito: Ready to go, ready to learn
Tatsuya Ito proved that he has incredible footballing potential in the first half of the 2017/18 Bundesliga season. Now, the lively Japanese player wants to make the next step forwards by developing further as a player.
The Japanese forward made a lightning fast run down the left wing before cutting inside and opening up space for his shot that flew into the top right corner of the goal. Tatsuya Ito has been performing with the same energy and talent that we saw then at the winter training camp in Jerez, even though it is the first time the 20-year old has travelled abroad with the rest of the squad. "It has been difficult so far. We have been training at least twice a day and that showed in my performances yesterday, but that is just what you have to do at a professional training camp," said Ito when speaking to HSV.de.
"You have a lot less time on the ball in professional football"
Every training session is like a whirlwind for Ito. The 20-year old made his Bundesliga debut in September but has since made nine appearances for Hamburg. "I was really pleased with the praise I received from the fans in the first half of the season, but I am aware that I have barely achieved anything," said the Tokyo-born player as he looked back on the past few months. "I have played reasonably well but have not scored or provided any assists yet. I need to do this in order to help the team properly."
Despite this, Tatsuya has been impressing the HSV coaching staff and his fellow players with his impressive footballing ability in training. The youngster is certainly willing to learn however and is taking on all the advice and tips that he can get. "The biggest difference between youth and professional football is that you have a lot less time on the ball and you are always under immense pressure to do something with it. It helps that I can learn from the more experienced players. Aaron Hunt is particularly clever footballer who has good vision."
"You can never stop learning as a professional"
Teammate and friend Gotoku Sakai helps Ito in his development as a player. The HSV captain gives Tatsuya advice on and off the field which reminds him of his early days as a football. "A completely different brand of football is played in Europe. I never stopped trying to improve in training and listened to every tip I received from my teammates," said Sakai, who moved to the Bundesliga in 2012. "Tatsuya has been the target of a lot of praise already. Sometimes it is dangerous to give young players so much praise, but he is ambitious and willing to learn. He knows he is not at the top of his game yet."
The physicality of the Bundesliga is another aspect to get used to. Ito only got 350 minutes under his belt in the first half of the season and did not play any game from start to finish. "It is difficult for young players like Tatsuya to improve physically at such a young age. It will help him a lot if he regularly plays 90 minutes. Fitness is incredibly important. Building and conditioning muscles is just as important as the right nutrition and training. You can never stop learning as a professional," explained Sakai.
Tatsuya Ito listens to Sakai's wisdom and is always out on the training pitch doing extra practice. The youngster extended his contract at HSV before the winter break until the summer of 2021 and is on his way to being a real star in the Bundesliga.