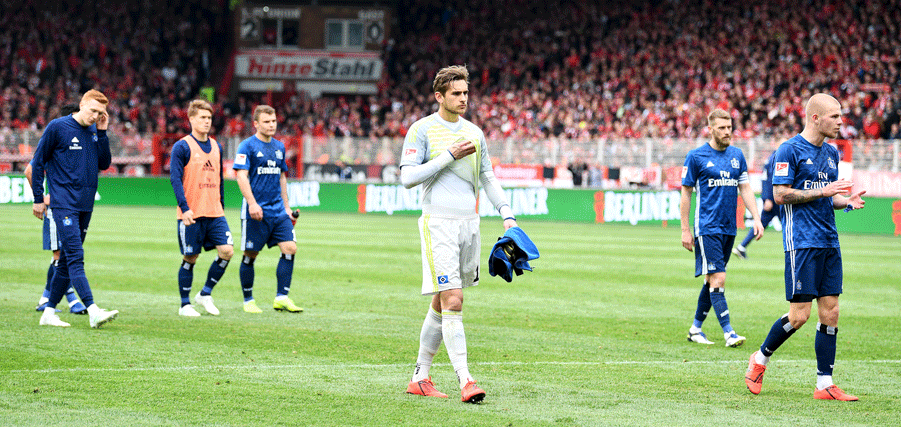 "That was a really poor performance"
HSV's promotion bid took a big hit on Sunday as they were defeated 2-0 by promotion rivals Union Berlin. Due to other results elsewhere, the Rothosen now occupy fourth place in the table.
Anger, frustration and disappointment are just some of the words that could be used to describe the emotions of the HSV players at full time. After a 2-0 loss, the Rothosen dropped two places in the league table, falling from 2nd to 4th. HSV.de has the post-match reaction on a disappointing day.
Hannes Wolf: The first half wasn't good, but it was decent. However, we lost too many duels and we failed to make the most of two good one-on-one chances. At the start of the second half we practically gifted them the goal. After that it was difficult. We didn't have any good chances to score and lost too many duels. Union were very good on the counter which lead to them scoring the second goal. It is extremely disappointing. HSV is a fantastic club, but what we're doing on the pitch at the moment doesn't match that. It isn't good enough. A game such as this one every once in a while can happen, but it is simply happening too often at the moment, especially in the recent weeks – it is extremely disappointing.
Aaron Hunt: We gifted it to them today. In the first half we didn't allow them a chance to score but in the second we invited them onto us. We conceded the goals through individual mistakes and there is no explanation for that. After their opener, we didn't have any more success in creating chances and it became very difficult to win. We didn't manage to regroup and we made too many mistakes. Our passing game was poor and we didn't create enough in attack. In the second half we were lacking in a number of ways. Now we have to win our next three games in order to have a chance of promotion – that is the situation. We have put ourselves in this situation as our second half of the season has simply been too poor and we have picked up too few points. But we can't drive ourselves crazy or say anything stupid – we simply have to stay calm and keep going, and deliver the results.
Rick van Drongelen: In the first half it was going well, but then we conceded early in the second half and our performance dropped. We didn't create much in attack and lost the individual battles. It was simply not enough. Now we have to win our final three games. In the reverse fixtures, we beat Ingolstadt, Paderborn and Duisburg, which gives me confidence. However, we need something different, and perform more aggressively and finally show our strengths again.
Ralf Becker: After going behind it was terrible, a really poor performance, a catastrophe. You can lose a game, but not so helplessly in the way we did today. We are lacking the players who lead the way and pull others along with them. Now we have to see who we can rely on in this difficult situation, who can deal with the pressure and help us achieve our goal. We need the right type of people.