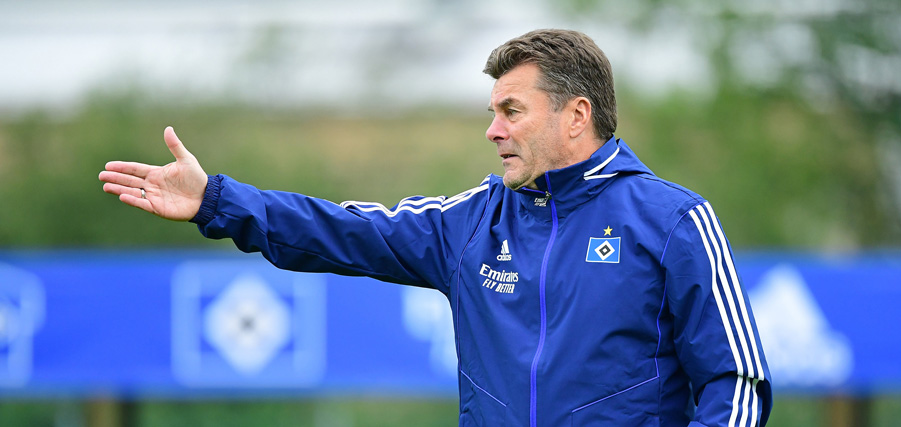 "The progress report is looking good so far"
In a wide-ranging interview with HSV.de head coach Dieter Hecking talks about the strides made during pre-season, how the team is finding its feet after a summer of change and the important task of pooling the resources and energy at the club to achieve something together.
Dieter Hecking's style with the press and with his players is typically short, sharp and clear-cut; at the start of the one-week training camp in Kitzbühel it was no different: "We don't have that much time. We've got two friendlies that we will be focussing on. I want to see that the team really engages and always has the belief to win games against supposedly superior opposition. It's going to be decisive that we gel together quickly as a team and internalise the daily processes that will become norm during the season." The 26-man squad who have travelled down to the Tirolian Alps have managed to follow Hecking's instructions to the letter so far in the three and a half days that have already been spent south of the border. Intensity, willpower and readiness for action have certainly been on show during the training sessions so far, with the one-all draw against potential Champions League participants Olympiacos on Wednesday evening evidence of the growing belief within the camp.
The head coach rewarded his charges for their determination and hard work with a free afternoon on Thursday and was pleased with the progress the team has made so far, he explained during his interview with HSV.de. Other topics for the 54-year-old included how the team is finding its feet, his role amongst the coaching staff and the bigger picture at HSV.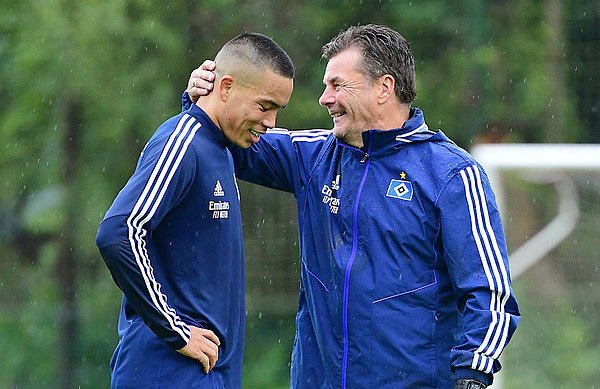 Dieter Hecking, we're over halfway through the training camp already. Five sessions on the training pitch as well as a 1-1 draw against Olympiacos in Jenbach. How satisfied are you at this moment in time with the work that's been done here in Austria?
I think the first thing you've got to say is that the facilities here are very good. The training pitches are exemplary and the hotel is also top notch. The staff know what we want before we've even moved our lips. We're very happy with the conditions here. When you think about training and the friendly you've always got expectations as a manager about what you would like to impart to the players, and how they then engage with that content. In this respect the progress report is looking good up until this point. We have a number of small aches and pains but that's normal during a training camp. If we carry on at this level and the players emerge from the camp fit and healthy, then we will have laid the foundations for a strong campaign.
As well as you and your coaching staff there are a number of new faces in the squad, quite a lot has to be rebuilt from scratch, not just on the pitch. On the other hand the first game of the season is only two-and-a-half weeks away. What's the main focus at this point in time?
There are a number of things which I am paying close attention to. The first thing is bringing the squad together. There are seven new members of staff and nine new players. To try and integrate all of those changes together with the 'old boys' is a huge task for all of us. Everyone has to readjust to having myself, Jonas Boldt (Sporting Chief Executive) and Michael Munzel (Sporting Director) in leadership positions. People always say that it's easy but it definitely isn't. New managers always bring new ideas and different philosophies to their predecessors and you have to convince the team that you've got the winning formula. But the general atmosphere amongst the squad is good and we are trying to ease the frustration that some could still harbour from last season, so that everyone can look to the future with a new-found sense of purpose. In that sense the new signings are really good for that process.
You've already gathered over 400 games' worth of experience in the Bundesliga, only ten other managers have appeared more often on the touchline in the Bundesliga than you. How do you personally adapt to the fact that what worked 10 years ago might not be so pertinent these days?
As you become older you can recognise the changes a lot better. In the meantime I'm now the oldest member of the coaching staff – that wasn't the case in the past. Dirk and I have been working together for the past 18 years, we're almost like a married couple by now. We both know each other's habits. Therefore I consciously chose a younger assistant coach. I wanted to have a bit of a change-up in the coaching staff with a younger assistant coach, who's a bit closer in age to the players and has some new ideas for training. The sporting directors Jonas Boldt and Michael Mutzel are also a lot younger than me. I want to benefit from the age gap and learn how they go about their business in a different way to our generation of coaches. I'm looking forward to learning new things myself and continually developing as a coach.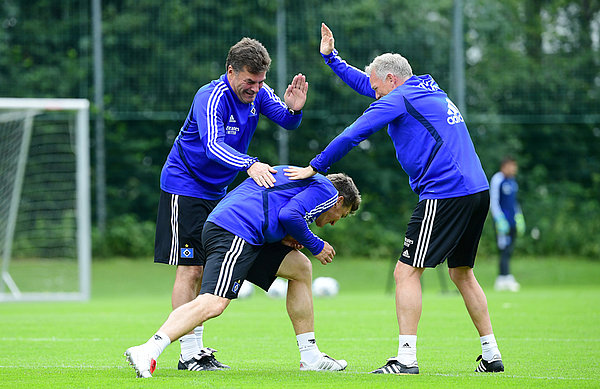 Dirk Bremser has been your number two for a long time, and you already referred to him as your second wife. Alongside him is new man Tobias Schweinsteiger. If you watch training it becomes apparent that both of them together are leading the sessions and then you are focussing more on the details. How did you split up the different roles within your team?
As head coach you need to keep an eye on the big picture, spot errors and work on the details. Therefore it's important to me that the assistants lead the drills. When we have a session that focuses more on tactical elements I take over and explain how I want it to happen. In this context it's important not to over-extend yourself as a manager. If you're constantly ordering the players about, they can quickly become weary of you. I enjoy delegating to my assistants and I think you can see that in the trust that I give to them. With Tobi and the strength and conditioning coaches who were already here, it all feels very good so far.
During your other spells as manager you tried to come to grips with the club that you were at. At Gladbach you said: "When I walk through the office in Gladbach I can feel the people saying: that's our manager!" How do you approach this subject in Hamburg?
I just have to be myself. Whoever knows me realises that I don't flaunt the fact that I am a Bundesliga manager or think that I'm above everyone else. It's a great privilege for me to be a football manager, it really is a dream job. It's important for me that the people know that I remember where I come from and that I know how difficult it is to come to work when things aren't going as well on the pitch, and having to justify yourself when others are looking for faults. I want to give this feeling to the staff at HSV; they should have the feeling that they will be taken on the journey with us and everyone will play their part, whether we have success or not. My experience is that clubs which don't lose sight of the big picture are successful because they also stay close when the results aren't going their way and don't let themselves be divided. If there are a number of cracks within the club, through which outsiders can influence proceedings, then there will be an amount of disturbance.
How should HSV as a club and the team itself be perceived in the near future?
HSV's reputation has been damaged in the past few years, there's no doubt about that. However the club is still a huge pull-factor for many people and is reported about a lot in the media. There are lots of HSV fans and lots of people are saying that the club needs to get back to the Bundesliga. It's our task to make it clear to these people that HSV doesn't have players like Manni Kaltz, Felix Magath or Horst Hrubesch anymore, who represent a very successful period for the club. We have a team that plays in the second tier. This team is very ambitious and motivated but needs the full support of the whole club and the fans. That's particularly true in difficult times. This season promotion is by no means going to be a walk in the park. You always need to have that in the back of your head and remain humble despite your ambitions.