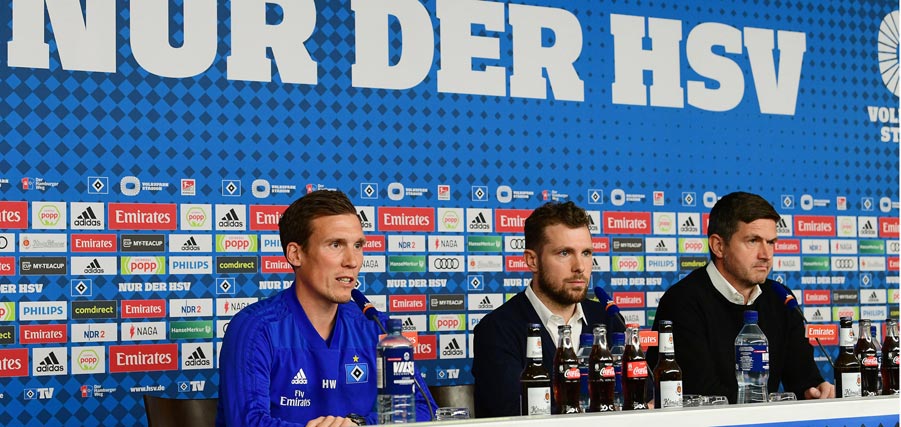 "There will be a radical change"
HSV sporting director Ralf Becker and head coach Hannes Wolf spoke at a joint press conference about the decision to part ways, how the season has gone, and changes ahead of the upcoming final matchday.
Today's press conference ahead of the final match of the season between Hamburger SV and MSV Duisburg (19th May, 15:30 CEST) was different than usual. HSV sporting director Ralf Becker began by announcing that the club will part ways with head coach Hannes Wolf at the end of the season. Both Wolf and Becker faced the media after a turbulent past few days for the club, and announced the intention to bring their association to an end. Becker did not name the reasons behind Wolf's dismissal, but drew from the 2018/19 season and spoke about the future direction of the club and the team. Hannes Wolf said he understood the club's decision, and analysed the past season before speaking about the last remaining match against Duisburg.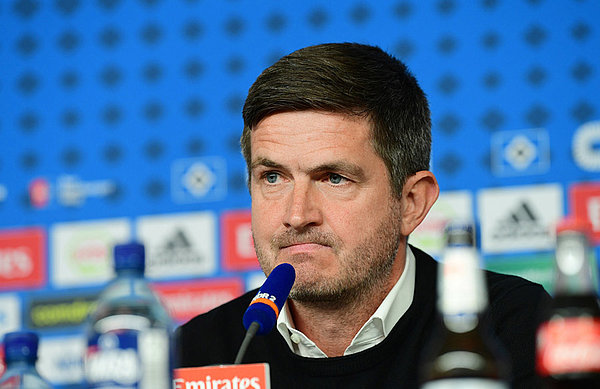 Ralf Becker on…
… cutting ties with Hannes Wolf: I'm still convinced that Hannes Wolf is a good coach. We sat down together yesterday to analyse the second half of the season, as well as our current situation, in addition to our plans for next season. As a club, we have made the decision to part ways with Hannes Wolf at the end of the current season. After the last few days, which did not go the way we would have liked them to, it was Hannes' request that we share the news prior to our last match of the season. That's something that was important to the both of us. Together with Bernd Hoffmann, we had a very strong and trust-filled relationship. We want to preserve this until the end of the season, even if our performance in the second half of the season was not up to par at all.
… the analysis of the season and the conclusions drawn: There will be a radical change. We will be going into next season with a clear goal in mind: getting promoted. We will not know what the team will look like and will have to work hard to pull together a good squad. But, we're convinced that we will be able to accomplish that. My job is to look to the future and to analyse what we have to do better next year in order to get promoted. When there are no games to be played is when I have the chance to get the most work done.
… the future of the lineup: We fielded the youngest team during every game this season. But, we shouldn't place the blame entirely on our youngsters for not being able to handle the pressure. We have realized that, in the future, we need to have a clear hierarchy of players in our squad. We need a key group of leaders on the pitch who can offer help and support to the younger players. However, we will still place an emphasis on youth. We want to and need to integrate young players. What we will have to change is that these young players are then surrounded by other players that can help guide them.
… the high expectations at HSV: I can't sit here in front of you as sporting director and say that we want to finish fifth next season. That's not possible and it's unimaginable for us. It is part of the reality of being at HSV that we have high expectations and a lot of people watching us. We know the challenge that awaits us, and I'm happy to take it on.
… the relationship with Bernd Hoffmann: The last few days have not been great. Bernd and I had a very strong relationship right from the start. We don't always agree. We have differences of opinion, that's to be expected. We didn't do so well this week, but we've moved past that. We're both in the same boat and will make all our decisions together in the future.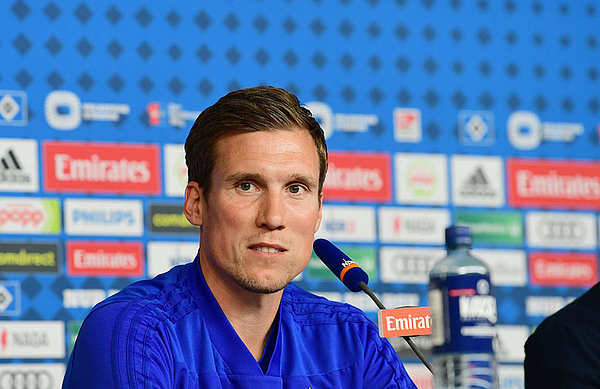 Hannes Wolf on…
… leaving HSV: If anyone would have predicted that we would be 2-0 down to Darmstadt after 20 minutes, we would have said: a lot can happen in football, but that's highly unlikely. Obviously, the last few weeks have been difficult for me. We've had a very trust-filled relationship the entire time I've been here, so it was important to me that we show that today and part ways with dignity and respect. That's why we're here together today. We all hoped that it would be different. It's a reasonable decision to make, given the way the last few weeks have gone, and with an eye ahead to the upcoming season. I've had good luck so far in my career as a coach. Unfortunately, part of the job means it not always working out in your favour.
… the preparations for the game against Paderborn: After the game against Ingolstadt, there was a discussion between Bernd Hoffmann, Ralf Becker and Michael Mutzel during which was said that we would have talk about how we would continue if we failed to get promoted. Personally, that didn't change anything for me. After all, I'm not an idiot. It's obvious that we would have to talk about that. It was also a bit of extra motivation for myself, as well as a show of faith that the club said that they felt that our best chance to win in Paderborn would be if I were the head coach. I put all that into the preparations for the match, and really wanted to make it happen.
…the past season: When I started this job, I saw a big chance for us to make it back up. We played to our limits during the first few games of the season. We were disciplined and often ran more than 120 kilometres, which was enough for us to eke out wins. We failed to reach that limit during the second half of the season. A big part of that was Aaron Hunt's absence. After that, there were little things here and there that failed us. We had issues on offence the entire season, and then we also struggled on defence during the last few weeks. Not only did we not score any goals, but we also started giving them away. Obviously, I had a role in that. Despite having a strong team behind the team, we weren't able to turn it around. At the end of the day, it's a huge disappointment for both myself and the team. There will be a radical change that has to take place.
… the final remaining game against Duisburg: HSV are a fantastic club. The fans are one of a kind and I will continue to wish them both well. I hope that the team give it their all one last time and deliver a strong performance. I don't want us to end with a bad game. It's about giving a proper goodbye. I don't want to be passive, but instead want to plan it to the best of my abilities. That's a no-brainer for me.