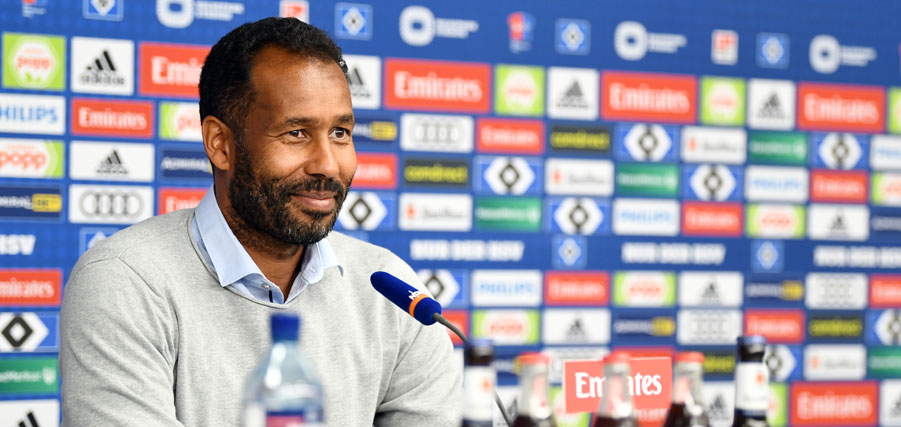 Press conference
06.07.20
"It's about doing things, not talking about them"
In the press conference after his unveiling as the new manager of Hamburger SV, Daniel Thioune spoke about his move to the Rothosen, his philosophy as a manager and what role the development of individual players plays in his thinking.
On Monday afternoon (6th July), Daniel Thioune was unveiled as the new HSV manager as part of a virtual press conference. The 45-year-old, who moved from fellow 2. Liga side VfL Osnabrück thanks to a release clause in his contract, was able to answer the many questions from the 26 assembled journalists who joined the presser from the comfort of their own homes. The former player, who played for the likes of Osnabrück, VfB Lübeck and Rot Weiss Ahlen as a striker during his playing days, showed himself to be open and honest on the podium alongside Head of Sport Jonas Boldt, but made it clear that, for him, actions speak louder than words. "You can talk about things a lot, but in the end you have to do it yourself," the 45-year-old underlined on multiple occasions, pressing home the importance for him and his players of development, desire and readiness during his time in charge at the Volksparkstadion.
Daniel Thioune spoke in detail about…
… his move to HSV: It's a big day for me. I'm very happy to be able to sit here. I would like to thank VfL Osnabrück for making this next step possible. It's an exciting opportunity, a challenge and a huge chance for me. I'm thankful that I have been entrusted with this opportunity and am looking forward to working for HSV. In the past few days there were good discussions with Jonas Boldt, during which he showed me where we want to take the club. I'm someone who wants to advance, someone who's ambitious but at the same time is humble.
… the perspective of HSV: In the past few days, I've seen a lot about HSV. It's obvious that there's a huge amount of potential in the squad, and not just with the young players. There are lots of players who are in a position to make the next step. I think I will meet a team who has the desire and willingness to really want to take this next step. It's my responsibility to develop this potential. Therefore, the current atmosphere at HSV is right for me. Because if you want to develop something, it means that no one is satisfied with the position they are in at that moment in time.

… his philosophy: We try and take everyone on a journey. During that journey it doesn't matter how big or small the club is. Empathy and professional expertise belong in the mix and in the end it's down to me to initiate a response from the players. The lads want to be on the pitch, give everything and win games. I share this attitude completely, in that sense I'm more of a footballer than a manager. As soon as you get on the pitch, you have to have fire in your belly. The lads have to have that desire to play with passion. That's also important if you want to do well in the 2. Liga. As Hamburger SV, we have to work as hard as every other team without the ball.
… setting goals: An amount of humility is needed. When you talk about goals, you don't reach your goal just by talking about it. You can want it only so much, in the end you have to do it as well. I've had a lot of discussions with the hierarchy and the players and here everyone is intrinsically motivated to want to do more. We start to grow in the moment when we're in the position to invest so much that teams find it difficult to complete. And in that moment that we grow, we don't have to define positions or goals – we start to become limitless. I don't want to roll out any slogans. I'm aware that everyone here in Hamburg has hopes and dreams. It's up to us to realise these dreams and come close to them, the first step being working hard. I'll say it again: It's about doing things, not talking about them.
… the new task at hand: You should have respect for everything you do. It's important that you don't worry and see it as a chance. It's a huge challenge, and I would like to give my best shot, but I won't be doing it alone, I'll be doing it with people behind me who I will be working with. We apply the pressure to want to win to ourselves. But there must be that willingness to learn from mistakes. If we do that, we will start to develop.
… his assistant manager Merlin Polzin: In Osnabrück in the past few years something started to grow and it was always important to me that I wasn't solely responsible for everything, but lots of people chipped in. Merlin Polzin is one of those. Along with him, I was able to develop something in Osnabrück and therefore I wanted to have him at my side in Hamburg. HSV and VfL Osnabrück were able to grant this wish so that he will be my assistant here as well.