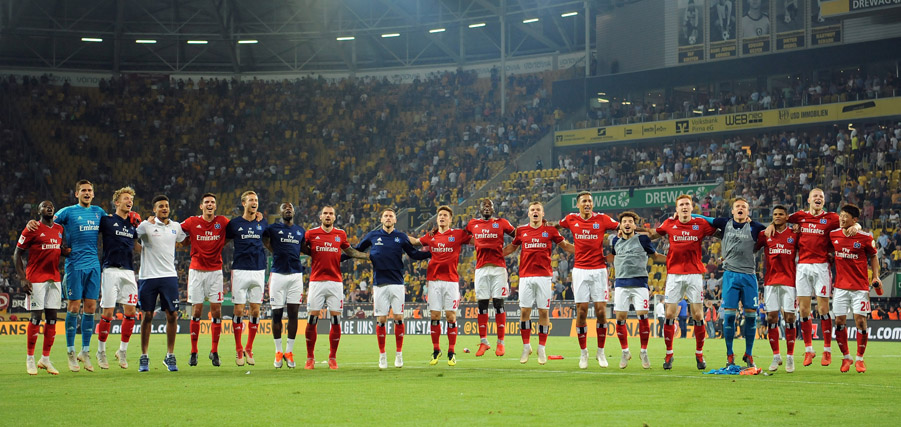 "Three points gained in the end"
In the postponed fourth matchday, HSV won 1-0 in Dresden, thanks to Hee-Chan Hwang's strike. It was a hard-fought game which could have ended very differently. HSV.de presents the post-game reaction.
In the end, Christian Titz showed his magic touch again. Just like the previous game against Heidenheim, the coach made two substitutions which ultimately decided the game. After substitute Orel Mangala made an impact coming on in the 56th minute, it was half-time substitute Hee-chan Hwang who won the game with a stunning strike from 15 yards. Before that, the hosts could have taken the lead. "We couldn't have really complained if Dresden had got a goal," said Titz openly after the game. Dresden's Coach Maik Walpurgis criticised his side's wasted chances and explained why his side didn't deserve to lose. At the end of the day however, these are the wins that teams must get in the second division to achieve success. "What counts are the three points we claimed today," said Rick van Drongelen. HSV.de presents the post-game reaction.
Rick van Drongelen: It was not easy, but in the end it's three points gained. The atmosphere here in the stadium was crazy, and playing at home definitely gave Dresden the advantage. Space was very tight, so it was difficult to find gaps. We've always got to weigh up the risks. If we commit too many players up front, there's always the danger that if we lose the ball we could be done on the counter.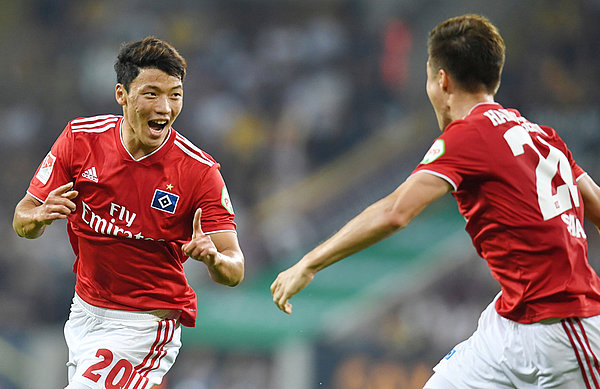 Hee-chan Hwang: I'm very pleased that we could such an important game. I'd like to thank everybody in the team – coach, teammates and staff – for welcoming me so warmly, as I've integrated perfectly. Scoring a goal tops my welcome off, and it was a really nice one to score as well. I wanted to score a goal with that type of shot which I practiced a lot in the summer when I was back home in Korea and working with my personal trainer.
Christoph Moritz: It was a joyous win for us. Dresden's captain Marco Hartmann said to me after the game that it could have ended 5-3 in favour of Dresden, due to the all the big chances both sides had. He might be onto something there, but we don't have to apologise or feel bad about today's win. We always feel a bit nervous when we can't find space playing against an opponent sitting very deep. We don't want to go overboard on the attack and play one pass too few which ultimately prevents us from having a chance to score. We've got to get better at this and we've already collated several clips for us to analyse later. It wasn't our best game, but in the end it shows the quality we have in the squad - one individual play from Hwang won us the game. We've also got a squad that we can rotate and bring impact players off the bench. You can see how important every player in the squad is and that we don't just win games with eleven players. You could see this team spirit when we scored and everyone celebrated together by the away end.
Ralf Becker: After losing the first game, we've now won four league matches on the trot, which is a definite improvement. We're pleased with the win but still realise that we have a lot of work ahead of us, something which you saw today. The surroundings today were a real test for the team – especially the young players. We have a lot of quality attacking players in the squad who have the ability to change the game, something which Hwang showed today. I'm really pleased for the young lad. He's done brilliantly since he arrived, playing well last game and scoring this beautiful goal today.

Christian Titz: It was a tough game. We knew that they would switch it up a lot and be dangerous at set-pieces. We definitely controlled large parts of the game, but Dresden had a lot of good chances to score. We realised that if we managed to take the lead then the game would open up. In the end though, we let it open up a bit too much. Of course we're happy that we got the result here, but we couldn't have complained if Dresden had scored. I'm happy that we have so many good players in the squad. Today showed that we also have players who can help win a game off the bench.
Dresden coach Maik Walpurgis: We definitely deserved at least a draw. The team played with a lot of energy, were very well-organised and had lots of chances to score. We had to take the lead, but unfortunately the elusive goal escaped us, and that decided the game. I've watched a lot of matches, but rarely one where we haven't deserved to lose like we did today. We surely deserved to be rewarded for our efforts today.