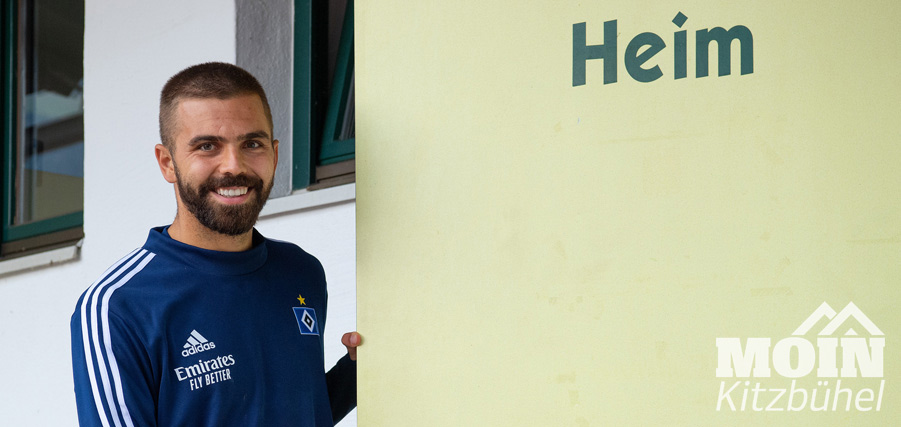 Training camp back at home
For Lukas Hinterseer the training camp in Kitzbühel really is a family affair. The house where the striker grew up with his parents is a mere five minutes away from the training pitch.
On the way back to the team hotel he's always one of the last ones to get on the HSV bus. No wonder, because the training camp in Kitzbühel is like no other for Lukas Hinterseer. HSV's new striker wasn't just born in the small town in Austria, he also grew up there alongside his 8,000 fellow residents. "I had my first ever training session on this very pitch", the 28-zear-old says whilst gazing out onto the pitch at FC Kitzbühel. "We always used to come here as a relatively big group and just played football the whole day. That makes it so much nicer that we're now preparing for the new season on the very same pitch with HSV."
"When all of the lamps had been broken at home, I joined a club"
The 1.92m-tall centre-forward is enjoying a training camp right in front of his front door for the first time. Of course, that's being exploited by all associated with the Austrian. Almost every day a new set of relatives or friends come to the Langau training pitches, to give Lukas a hug or have a chat and catch up for old time's sake. Front of the queue are his family. Grandpa Ernst (87), gold medal winner in the ski slalom at the 1960 Olympics, and father Guido (55), 1982 junior world champion in the combination, survey the next-in-line almost every day whilst he's plying his trade. No one would have said at the beginning that football would turn into a job for young Lukas, according to father Guido. "He wasn't that keen at the start, and didn't really want to play for a club. His mum just left him to sit outside of the changing rooms. At some point he decided to go in and from then on it was almost impossible to bring him back in."
Lukas himself can still remember those nervous beginnings fairly clearly: "At the beginning I only wanted to play at home or in the garden. But then after all of the lamps had been broken my parents said: 'That's enough, you're going to play for a club.' I was already ten by that point so was a fairly late starter but I think it paid off."
A goal in your home town straight away
In the meantime, Hinterseer now has 10 years as a professional behind him. At VfL Bochum he managed to score 18 second-tier goals last time out, and has shown he knows where the goal is during the training camp as well. In the first friendly of the camp he scored a deserved equaliser for the Rothosen, as they drew one-all against Olympiacos. "As a new player and particularly as a new striker it's always nice when you score a goal straight away or show your quality," he confirmed.
This good form should hopefully continue when the league campaign gets underway in around two and a half weeks' time. The season opener against Darmstadt will also be Hinterseer's first outing at his new home, the Volksparkstadion. His family are making the long journey up to Hamburg as well. "We'll be at the first game in Hamburg too," his father Guido explained. If that game is just as successful as the past few days have been in Kitzbühel, Lukas will probably need a bit longer in the changing rooms then as well.
Lukas Hinterseer's first public appearance in Hamburg will be as part of the Volksparkfest next Saturday (20th July). A whole range of activities await the spectators, with the festival lasting from 10am until 7pm, with the main event kicking off at 1pm. You can buy tickets for the game here.