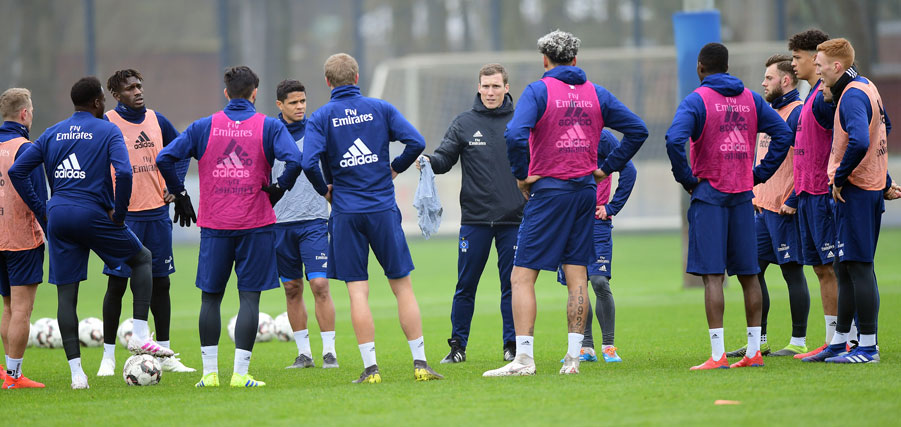 Post match report
05.05.19
Turning things around
Hannes Wolf reminds us that, when it comes to football, things can change very quickly. Ralf Becker backs the HSV head coach once more.
Training at the Volkspark on Sunday (5 May) saw Hamburger SV work on many situations that came up during the previous day's match against Ingolstadt. While Hannes Wolf trained with his team, Ralf Becker backed the head coach once again in front of the media. "We said last week that we know how our last seven games have ended, but that we see things differently given that we are in complete support of our head coach," said the HSV sporting director. "We spoke about our situation last night, which is normal after a 3-0 loss. That became a big headline shortly after. The so-called 'crisis meeting' was a normal post-match meeting between those involved. We made up our minds relatively quickly that we have a good chance of winning the match against Paderborn."
"Seeing this situation through together"
The decision was made with the interests of the club in mind, Becker added. "Over the past 10 years, whenever things have gone badly, the coach has been let go. In the meantime, we are now in the second division and don't have a good record. For that reason, it's important that we see this situation through together. We will face the criticism ourselves," said Becker. Wolf also faced the reactions to yesterday's game, and is happy to have the support of the club. "We have a good relationship based on trust. Having their support through everything is great. It makes sense to sit down together after a game like that to discuss things. We all wanted it to be a different game. It's obvious that people will have concerns afterwards. The club have expressed their faith in me. That's good, and now we will move forward."
HSV's next challenge awaits them this upcoming Sunday in Paderborn, where they still have a chance to make it to third place. "We have beaten Paderborn twice already, and it hasn't been that long since our last victory against them, even if it might feel otherwise. We know what the second half of the season has been like for us, but we will still give it our all in order to turn things around," said Wolf. HSV defeated Paderborn 2-0 in the DFB-Pokal quarterfinal, and won 1-0 against them in the first half of the season. "We were strong in both games," said Becker. "We need to put the last seven weeks behind us, because we have a make-or-break game on Sunday."
Concentrate on the football
To sharpen the team up for the final two matches of the season, there won't be any special changes to training such as last week's training camp. "We want to place full focus on what happens on the football and pitch and not do anything crazy. This is what we can influence," added Wolf. Most importantly, Wolf wants to use this week to lift his side up once more and build some confidence. "We have to remember that we can play good football. We want to dig deep and find some extra strength." The coach has pulled more courage from the fact that, in football, things can change very quickly. "After the victory in the derby against St. Pauli, things moved relatively quickly in a downward direction. We will give everything we have to push ourselves back in the other direction. I certainly don't want to sugarcoat our situation but we are looking ahead. The season isn't over yet. If we win both our remaining matches, we will finish in third place. That has to be the clear message for everybody," explained Wolf.