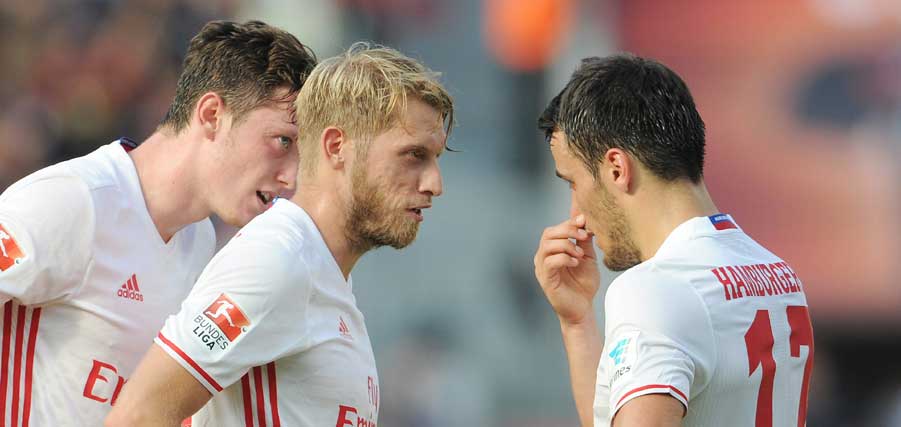 Votes for the match
10.09.16
"We deserved more"
The protagonists were understandably disappointed and frustrated, as we spoke to them inside the mixed zone inside the BayArena in Leverkusen following the 1-3 defeat there.
The Rothosen performed well for the first hour or so of their Bundesliga matchday 2 encounter against Bayer Leverkusen at the packed out BayArena on Saturday afternoon. They took a deserved lead but it was not going to be enough. Leverkusen substitute Joel Pohjanpalo scored an amazing hat trick to undo the good work done by head coach Bruno Labbadia's side. There were some disappointed faces among the players and coach as they told us the following…
Aaron Hunt: It is tough to find the right words so soon after a game. It is so bitter. We played well for the opening hour, only to lose it all through a momentary lapse in concentration which completely threw us. After conceding the equaliser we should have defended it to the end. 1-1 is a tough score to defend but in truth we should have been much tighter. It's a shame because we did a lot of things good and right. In the end though we lost the game. We came here to win and were prepared properly regarding tactics.
Gotoku Sakai: Das 1-1 would have been okay, but we reacted poorly. We failed to remain calm, allowing them to create situations far too easily. We defended poorly as they scored their goals. We have to get 11 men behind the ball and be more clever on the whole. We mustn't dwell too much on this game. We must put it behind us right away. We were not clever enough, but you can learn such things. It was only matchday 2 and we have a lot of matches ahead of us.
Lewis Holtby: We were decent for the first hour but then lacked cleverness. Sadly I had to go off with cramp. I would liked to have helped the team further. In the end we lost 1-3 because we invited Leverkusen onto us, allowing them a way back into the game. That especially applies to the final 13 minutes and we are angry with ourselves. That is all I can say right now.
Bruno Labbadia: The disappointment is huge and will remain so through tomorrow. We deserved more from the game – a point or even victory. We did a lot right up to the time we took the lead, but forgot to continue playing football afterwards. We have to become cleverer and kick the ball out of play sometimes or win a free kick or a corner, play for time and be more stable during the last 10 minutes. That is tough to do against a top side like Leverkusen but we have to learn how to. We have to clear our minds before training starts next week.