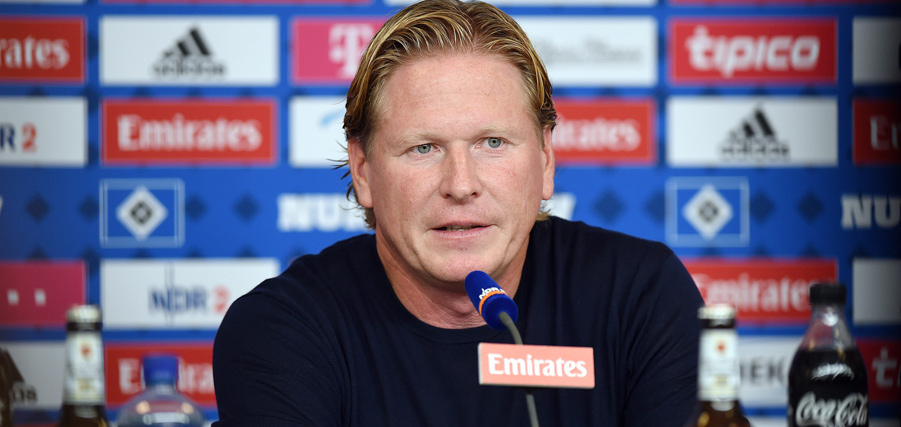 "We have a clear idea"
At the official press conference head at the Volksparkdtadion in Hamburg to introduce Markus Gisdol as the new Rothosen head coach, the former Hoffenheim coach spoke on his new club, his ideas of how to play and of course his new team.
Markus Gisdol was presented to the media as new HSV head coach on Monday afternoon (26.09). The 47 year old made a cool and rested impression. He told the media: "I am very much relishing my new task. HSV is an amazing club and I approach the job with positive anticipation. The man who was in charge at TSG Hoffenheim (2013-15; 96 games) and was also a co-trainer at Schalke (2011-12; 89 games) is realistic about his new task. He said: "We have a clear idea as a coaching team but of course it is not possible to relate everything man to man right away. We have to see what suits the team right now. There will be overnight miracles."
He also pkoe on the following topics...

... why he joined HSV: I consciously chose HSV. It is a massive challenge, it is very exciting working for such a club in such a strong town and I can't wait to get started. I find the crop of players exciting and am very mush looking forward to working with them. HSV is an amazing club and it is our job to change the mood here. We approach the task with total relish.
... his ideas of playing: We as a coaching team have a clear idea, but we won't be able to get it into everyone's head right away. The basis is working well against the ball and aggressively switching. There will be no miracles during the next days of coming couple of weeks. To make predictions or promises would be wrong, but we want to tackle our offensive problem right away.
I don't care if a player is 18 or 35: His willingness to work hard is decisive.
... current state of the team: It is not my place to assess and comment on the past. The first job will be to get the players to take off the heavy backpack of pressure they are currently carrying. We have to get into the heads of the players and somewhat relax them. That will be the key to success. Such things can only happen gradually. We have to take small steps to rekindle team confidence.
... HSV players: I make my first impression of players only after I have trained with them. I try to free their minds from positive and negative prejudice. Every player here has a chance to start from scratch with me. I confirm my reputation of liking work with younger players, but actually I don't care if a player is 18 or 35: His willingness to work hard is decisive. I do enjoy developing young players but also helping more experienced players to get a different positive aspect to their game.
... Bernhard Peters: He was an extra plus for me deciding to join HSV. As a coaching team we have a clear idea of how to lead a team, but it is always important to have other experts with whom you can discuss matters. A coach should never believe that he knows everything. That is why I am open for advice when I need to be.