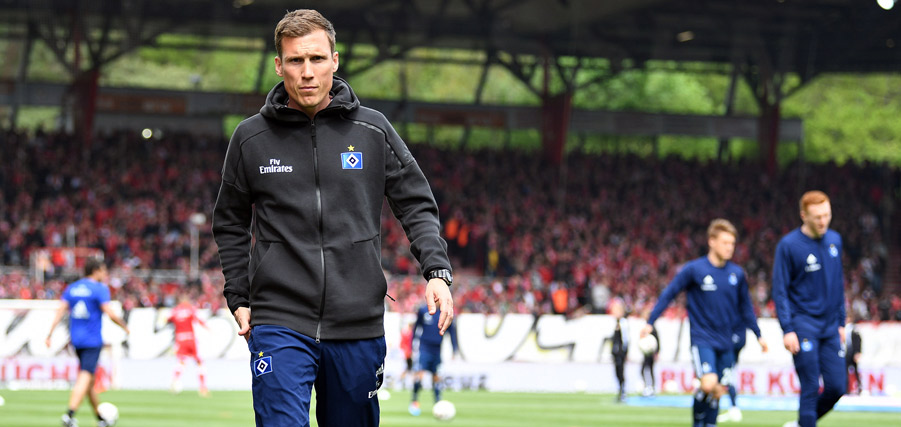 Post match report
29.04.19
"We have to face up to our responsibility"
After the 2-0 away defeat to 1. FC Union Berlin, head coach Hannes Wolf, spoke to the media about a number of aspects of the club's current situation.
Something has to change, and quickly. That was the main message from Hannes Wolf as he faced the media on Monday, a day after his team's loss in the German capital. The Rothosen enjoyed a solid first half, but lost their way in the second, and conceded two goals which both stemmed from individual errors. Therefore, the head coach will now look to see who has risen to the pressure as the season nears its conclusion – not only in defence, but also at the other end of the field. In order to do so, Wolf has arranged a short training camp which will run from Wednesday (1st May) to Friday (3rd May). In the camp, Wolf is looking for the team to show determination and make the adjustments that are needed to secure a win against FC Ingolstadt (kickoff 13:00 CEST). On an analytical and emotional level, Wolf explained how his players can manage this, and what issues need to be tackled in order to turn around the club's recent bad form.

In detail, the head coach spoke about...

... the reasons for the bad spell: The assessment in winter that we could keep going was understandable at that moment in time. Since then, we have had a couple of injuries, some one-off issues and some established players who have been struggling to find their form. Also in training I felt that we were lacking that cutting edge. We have the responsibility towards the fans and our colleagues to do everything we can in order to finish in the top three. That's what we're facing up to. Now we need the players who will give everything. These are the guys that we need to find and they're the ones who will go out there on Saturday. I am a part of it and I'm also responsible.

... the many changes: There is a fine line between change and reliability. We didn't make wild changes, but rather stuck to things that worked. If players aren't performing, we have to react.
... the club's support: The support is fantastic. That is another responsibility for me, to reward the faith and put everything into it. At the end of the day, it is about the club and giving it all we've got. My bosses can evaluate how I work. They are always present and also often at training too. It is a great show of support and feels good.
... team news: Aaron Hunt landed awkwardly on his back against Union – we will have to see how it goes with regards to the game on Saturday. Orel Mangala still has pain in his toe, and it will be tight as to whether he will be available. It looks like Kyriakos Papadopoulos should return this week – he currently has a small infection at the moment.

... the plan for the next three games: The situation changed yesterday, as we were hunted for a long time before, but now we are the ones doing the hunting. Now we have to put in the corresponding performances. Luckily, we have this training week. Because of the cup it was a little bit more difficult to train intensively. Now we have to get the sharpness back and show it against Ingolstadt. We have to play offensively and in the final third, and create goalscoring opportunities. Above all in attack, what I demand and what happens on the field are often two different things - it's not enough. We have to show that we can do it.

... the misconduct of Lewis Holtby: Lewis hasn't committed a crime. He is a good guy and we've always got on well. But when a player comes to you four weeks before the end of the season and says that he doesn't want to travel for an away game, it's unacceptable. There must be some kind of consequence. If not, I don't have a leg to stand on in the next case. The club comes first.
... the planned training camp: We will go there on Wednesday and stay until matchday. We simply want to be together as a group and are pleased that we are able to train there. We want to commit ourselves to the task at hand. A lot can happen, but the deciding factor is that we give it everything. Some of the U21s may also come with the group.