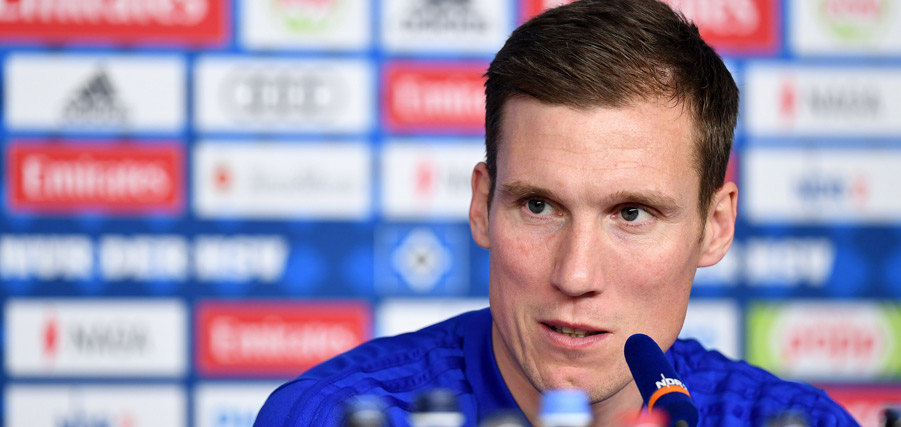 Press Conference
06.12.18
"We have to perfect the basics"
In his press conference ahead of Friday night's home clash with SC Paderborn, HSV coach Hannes Wolf spoke about the dangers the visitors from Westphalia possess, his work over the previous weeks and the significance of the final match in the Volksparkstadion this calendar year.
HSV have one more chance to secure points at home in 2018 as they face SC Paderborn tomorrow night in the final home 2. Bundesliga match of the calendar year. Around 48,000 tickets have been sold for the match. This fact has played a subordinate role for HSV coach Hannes Wolf in his preparations for the Paderborn match, instead focusing on his own team and their opponents. However, he doesn't want to dismiss the significance of the match: "We want to give everything they have at home, use the crowd and give everything to create the perfect evening," said the Rothosen coach ahead of the clash with their Westphalia opponents.
In further detail, Hannes Wolf spoke about…
…squad updates: Julian Pollersbeck sustained a minor back problem and he didn't train today as a precaution. I am assuming he will be able to participate in training tomorrow and will be available for selection tomorrow night. However, we will decide tomorrow.

…the competition on the left wing: it is great to have several players who can play on the left wing. What happens on the pitch is what is important to us, nothing else matters. That is football, however those who do not start play pivotal roles at the club. We work together with the players all the time. Baka is currently playing and training well but the others are also working hard. It is important to have this competition for a starting place. Every place has to fight for their place in the lineup. Strength and development is important for every player. I've coached several players who have gone through phases of not playing but developed well after this period.
…opponents Paderborn: You can see from the statistics that we're facing a side who have a lot of quality in attack. They have scored lots of goals. We have to defend well against them. Paderborn are a side that like to press against you and put you under pressure whenever they lost possession. We have to try to adopt a pressing game and then attack with pace. We also have to keep the ball under pressure. We need to put in a top performance.
…Paderborn top scorer Philipp Klement: He really is having a very good season, as he has pushed forward from central midfield and doesn't play as a complete striker. He has scored an extraordinary amount of goals from that position. We cannot allow him to have too much room in attack and prevent him from having shots on his left foot. He plays very well in the final third and can play the final pass very well. However, we cannot fully concentrate on him as the other players around him are also dangerous.

…Steffan Baumgart's compliment: His heart and soul is in Paderborn and is 100% behind his team. He has proved his with the promotion back into the 2. Bundesliga. If he a HSV fan, I am sure he will do everything he can to secure points here tomorrow night.

…the significance of the final home match of the season: "48,000 tickets have been sold for the match and I am sure even more fans will attend the match. Nearly all of them will be supporting us. We want to give everything we have, get the crowd behind us and do everything we can to create the perfect evening. In doing so, we will continue to influence other teams around us. That is football and our approach in which we enter this match.
…his work: We will do everything we can to give a top performance tomorrow night. The team has performed well in recent weeks. We cannot always have the feeling of wanting to make the next step. Instead we have to perfect the basics and the try to play better football. Training has gone well this week. None of the players have showed signs of stepping down gear or becoming complacent. We've been willing to invest time and give everything we have. I am currently not more important than the players. I've only been here for a few weeks. We benefited from the desire, hunger and players the players have to resolve and adapt to certain situations. We have to constantly prove ourselves. I try to help but the matches come down to the players.