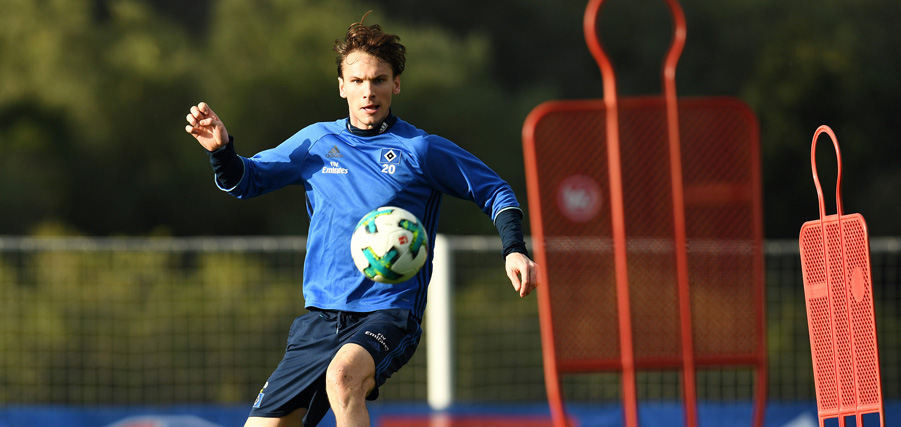 "We have to take responsibility"
Defender Albin Ekdal spoke to HSV.de about the winter training camp in Jerez, his fitness and his desire to become a leader on the pitch.
For Albin Ekdal, the first half of the season with HSV was like a rollercoaster with several ups and downs. Even in his third season on the Elbe, the Sweden international has not managed to avoid injury. Back and thigh problems ruled him out of six matches in the Hinrunde. However, when the 28-year-old featured, he showed his class and was an integral player for the team. HSV picked up 11 of their 15 points when Albin Ekdal played. HSV.de spoke to the Swedish footballer about these statistics, how he's feeling after several exhausting days in training and his desire to become a leader on the pitch.
Albin, you're now in the final stages of the training camp. How's it been so far?
Everything has gone well. We've trained hard over the last few days. It was a bit of a shock to the system because we came back from holiday and hit the ground running. Therefore, yesterday's recovery day was important, especially after the friendly. Now we have three high intensity days left before we head back to Hamburg.
You mentioned the friendly against Malaga. What did you learn from it?
Despite some tired legs after five training sessions in two days, we played with intensity and had a lot of possession. We beat a first-division team and that always helps create a good feeling and atmosphere among the group.
The second friendly is tomorrow and you'll face Bundesliga rivals Freiburg. How important is this game in regards to laying down a marker?
There might be more pressure in the game against Freiburg. Fans have different expectations. It's an important match for us because it's our last friendly before we face Augsburg in the league. I hope that we can also win this match so we can start the second half of the season full of self-belief.
Let's talk about you now. You've had to deal with and talk about injuries a lot recently. How are you currently feeling?
I feel better every day. There have been two or three moments during the sessions that have caused some discomfort but other than that I am feeling fine. I hope to stay fit for the next five months and play lots of matches. My fitness levels should be better than in the first half of the season, when I unfortunately couldn't complete all 17 games.
Incidents like that during training can worry players and staff. How do you psychologically deal with injuries and manage to fight back again and again?
For a footballer, it's normal to take a knock here and there. These things happen in training too. I think they are more worrying for outsiders. That's football. There are lots of tough tackles and these are part of my style of play. Therefore, I don't shy away from challenges and don't let myself be influenced by past injuries.
It's crucial for the team that you keep fit because they've picked up more points when you've played. Did you know that?
No and that doesn't interest me. I'm a team player. We're a team of around 25 players and 11 take to the pitch. When we win, everyone has played their part. And when we lose, then perhaps things haven't gone optimally. I'm not interested in my points-per-game average. All that matters is that as a team we pick up more points than in the first half of the season.
Head coach Markus Gisdol gave you some additional responsibility before Christmas. Is that something you'd like more of?
Yes, definitely. When I'm fit, then I regularly play. Also, I'm already in my third season here and am one of the longest-serving players at HSV. We have lots of young players with real talent, who the experienced ones have to take care of. Mergim, Papa, Bobby, Aaron and myself – we all have to take responsibility and be role models.
Are you born a leader or does leadership come with age?
That's a good question and hard to judge. For me, it's simply my style to play with confidence and like a leader. I've been playing professionally for 10 years now and that probably comes with experience. I always want to do my best and I expect that from all the other players, regardless of their roles in the team. Only then can we turn things around in the second half of the season.
"I trained with players such as Del Piero, Nedved, Buffon and Trezeguet. They didn't have to say much – I learnt a lot just from watching them."
You were just 18 years old when you moved to Juventus. Who were your role models back then?
I was obviously very young and that was a big moment in my career. I have lots of good memories. I trained with players such as Alessandro Del Piero, Pavel Nedved, Gianluigi Buffon and David Trezeguet. They didn't have to say much – I learnt a lot just from watching them. I learnt what you have to do to become a great player. You must always be professional, remain positive and train hard.
Final question: what are your aims for 2018?
My main aim is obviously to help HSV avoid relegation. We played quite well before the winter break but struggled to pick up points. We want to pick up points from the off in the second half of the season when we face Augsburg and Köln. In addition, being selected for the World Cup in summer would be an absolute dream for me. It's the first time in 12 years that Sweden have qualified and it would be my first ever World Cup.