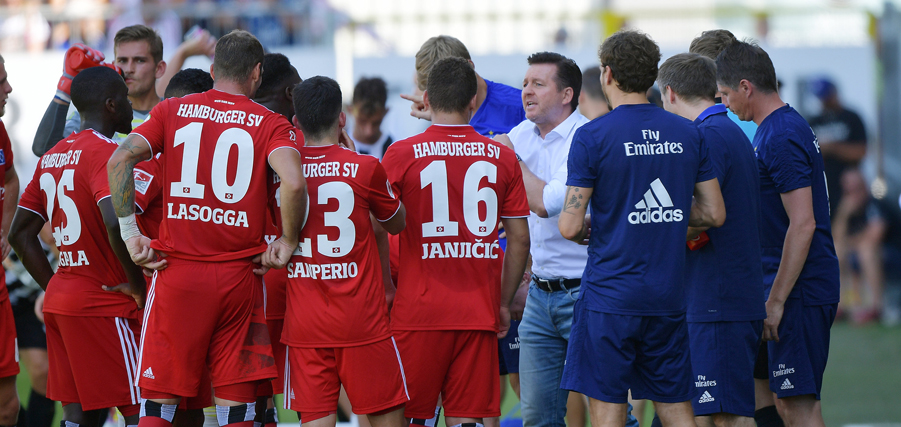 Post Match Reactions
12.08.18
"We put a lot of things right"
Matchday 2 saw HSV beat SV Sandhausen 3-0. A deserved win earned by a solid performance from die Rothosen.
A week after the season's opener ended in a bitter 3-0 defeat to Holstein Kiel, matchday two saw HSV regain their status as favourites. Seven minutes in Khaled Narey's goal set HSV on their way. Rick van Drongelen doubled the lead on the half hour. After the break HSV remained in control. In the 59th Minute Narey got his second to seal the win. After the match the HSV players were understandably pleased. HSV.de give you the post-match reactions: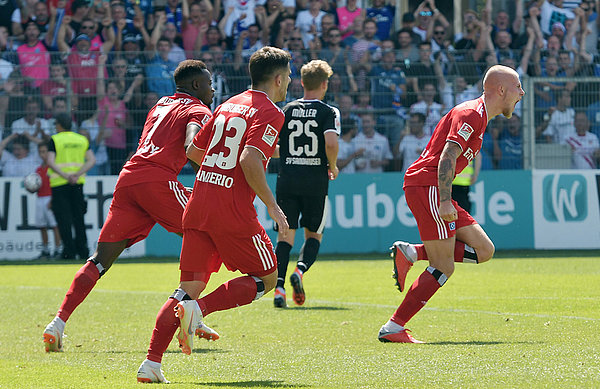 Rick van Drongelen: Scoring a goal is the best feeling in the world. At first I didn't believe it. I ran directly to physiotherapist Andreas Thurn since he's helped me so much and has always been there for me. He's one of the people involved with the team that you don't see on the pitch, yet he played an immensely important role in this win. Not everything was wrong with last week's game. We analysed the second half and put a lot of things right today. Defensively we kept our shape and at the other end of the pitch we got the goals. It was an important and well-deserved win that proved our system is working.

Khaled Narey: The early goal gave use confidence. It's my first double in the second league and of course I had a bit of luck since the keeper let the ball fall in front of me twice. But in the end it doesn't matter who scored, the most important thing is that we won. The win was good for us. We did a lot of things better today than last week. However, there are still things we need to work on.
Christian Titz: At first, as expected, it was a difficult game and we needed 10 minutes to get into it. The goal made it easier for us and we deservedly got a win in the end. The victory is good for our confidence. Just like last week not everything was bad, but there were phases in which we could have done better. We're going to continue to work calmly. A word should also go to Orel Mangala who had a good debut after only a few training sessions with the team.