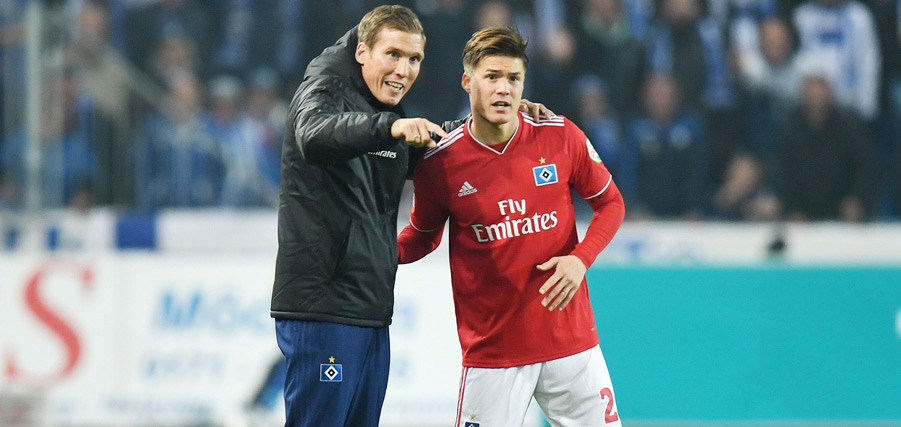 "We want to achieve more"
He stayed at HSV despite relegation, he lives to play football and he scored his only goal for the club in Ingolstadt. Gotoku Sakai is the perfect person to talk to ahead of our upcoming away game.
Since he signed for HSV from VfB Stuttgart in summer 2015, Gotoku Sakai has experienced a rollercoaster of emotions. After finishing in a solid tenth place in his first season, and just about staying up in 2017, he suffered relegation with the club last summer. After a teething problems, HSV now look to have settled into 2. Bundesliga life. Sakai, who has started every game this season, chatted about his decision to stay, team spirit, his retirement from international football, and his role in Hannes Wolf's system.
Go, you made a statement in summer by extending your contract with HSV despite the relegation. The club has since undergone a major transformation. Looking back, what do you think about your decision, and what's the mood like in the team?

For me, it was the right decision, as I want to get back into the Bundesliga with HSV. That my goal even on the day we went down. We have a very young team and we have a lot to learn. I'd like to help with that, and I speak to the young players a lot. So far, we're working well together and there's a good atmosphere in the team.

You're no longer captain of the team. Has your role changed because of that?

It's a great honour to wear the armband. I always enjoyed it and I was proud to wear it. It definitely gave me strength. However, there's always a lot of pressure when you play for such a traditional club. Losing the armband in the summer means that I'm now playing a little more freely. My role in the team hasn't changed, and I continue to help wherever I can. It's also important that I support Aaron Hunt.

After playing in the Bundesliga for years, HSV are now in the 2. Bundesliga and go into every game as favourites. What does this change mean for the team mentally?
Above all, I think it plays a role for the younger players. It was difficult for them to be under pressure all the time. We also felt responsible last season and gave 100% in every game. Unfortunately we went down anyway, but we some important experiences. We're having more success at the moment and it's more enjoyable. For me personally, there's a big difference, as we always play football and want to win now. It's a positive chain reaction – everyone wants the ball. It's just a different situation. Of course, we still make small mistakes, but we want to improve them to raise our game. We want to improve, even though we're top.
You retired from the Japan national side after the World Cup in order to focus on HSV. How has that helped physically so far?

I definitely feel at lot fresher now that I'm spending less time on planes. I miss the national team, of course, and it was a great honour for me to play for my country. I made the decision because I want to give 120% for HSV. It just makes sense in my head that I can now fully concentrate on the club.
You're almost never injured. What's your secret, and how important is your diet and sleep schedule?

A footballer can't just play football. You have to prepare yourself well if you don't want to get injured, and sleep and diet are very important factors. Fitness also plays a big role, and I work on mine before and after training. Preparation is everything. I start training at 80%, and then I'm at 100% after the warm-up. I have my own physiotherapist and coach in Japan. I speak with then every day, talking about what I should eat and when I should sleep. They're always giving me feedback and they know what my body needs.

Your role has changed slightly under Hannes Wolf, and you're having to come inside a little more. Does this remind you of playing the No. 6 role in the past?

Personally, I enjoy it. I'm on the ball a lot and I can get involved in the build-up play. I'm very versatile and so can pose the opposition problems. We've got a lot of good players in the squad who work well together. For example, I can remember when I played in defensive midfield under Markus Gisdol. I felt good playing there, too, and I could impact the game a lot. My role now is different, but it's going well so far, so I want to get even better.
You played 85 games for Albirex Niigata, 106 for Stuttgart and you've played 105 for HSV so far. This will probably become the club that you've played most games for. What does HSV mean to you?

I just love the club. The fans create an unbelievable atmosphere and I get goose bumps every time I play in the stadium. I look forward to it every time I go to the stadium. HSV is my favourite club in Germany. I also learned a lot in Stuttgart, but I've experienced so much in Hamburg that it's special. We finished tenth in my first season, and then stayed up on the final day of the season the following year. That was the best moment of my footballing career. Even though we went down last season, I found it impressive that we never gave up as a team. It was just unbelievable how most of the fans reacted after we were relegated. I cried too because I was so sad that I couldn't help us to stay in the Bundesliga. It was very emotional.

You scored your only HSV goal in Ingolstadt in January 2017. Are you planning another on Saturday?
If I get a similar chance to last time, then I'll score again (laughs). The most important thing is that we enjoy the game again create a lot going forward. We made some mistakes against Union that we want to fix. It's important that we continue to improve in defence. We want to get the three points on Saturday and I want to play my part.