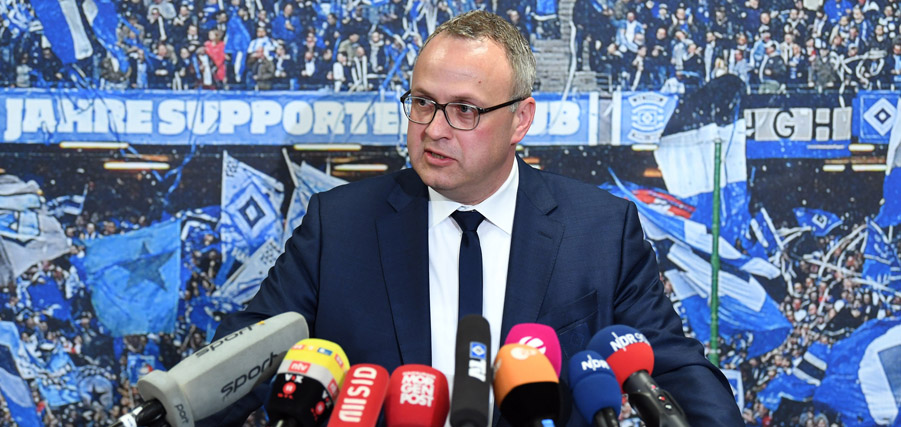 "We were forced to act"
Sporting director, Frank Wettstein, explains the reasoning behind the latest personnel changes and discusses the banner found on the training pitch.
HSV.de: Only four days after the chairman and director of football were put on gardening leave, the board came to the decision that it was time for head coach, Bernd Hollerbach, to be relieved of his duties after a 6-0 defeat in Munich. Why did you come to that decision?

Frank Wettstein: The decision was made as we want the impetus that a new, fresh head coach can bring to help us fight against relegation from the Bundesliga. It was seven games without a win for Bernd and, in Munich, the team didn't perform with the fundamental virtues which we seek from Hamburger SV. That surprised us. I spoke at length with the sporting director, Bernhard Peters, and with the chairman of the supervisory board, Bernd Hoffman, and asked for their advice. We came to the same conclusion and we were forced to act.
What are you hoping from head coach, Christian Titz?
That he will be fully and completely focused on the remaining challenges facing the squad. Bernhard Peters rates Christian's exceptional work with the U21s and knows Christian has a good relationship with the assistant head coaches, Soner Uysal and Matthias Kreutzer. The coaching staff know they have our trust and backing.
Where do we go from here?
That's what I'm waiting to see. I wasn't happy with what I saw in Munich and we've analysed the game thoroughly. Sure, it's okay to lose against Bayern but it was the manner in which we lost and the team's lack of fight which was disappointing. If the new coaching team spot players aren't pulling their weight, there will be a strict crack-down and, before anyone thinks that some of our players will simply walk into another club with a smile on their faces if we are relegated, they need to remember that a majority of our players have a contract which they must upkeep. We're certainly not going to let every player that wants a move leave if they've put us in this scenario themselves.
Former HSV player and board member, Thomas von Heesen, will support the new coaching team in the interim period. What role will he fulfil?
He will be key in merging together the various strands of our day-to-day management in the Bundesliga. Thomas will be a 'sparring partner' for the coaching staff, he'll accompany the squad on a daily basis, he'll have meetings with advisors, lead the management team and be the glue in between me and sporting director, Bernhard Peters. I'm very happy he's immediately shown his passion for HSV. He'll close the gap before we appoint a new sporting director.
At the moment, the atmosphere at HSV is unprecedented. Some fans are being critical, others have resigned themselves to relegation. What do you think about the mood at the club at the moment? Do you have anything to say about the banner that was left on the training pitch at the Volkspark after the 6-0 loss in Munich?

About the tasteless banner: This type of protest was inappropriate and threatened the team with violence. It's a criminal act and will be cracked down on severely. This isn't just some frustrated teenagers. Whoever creates such banners with the hope of scaring or outright threatening the club is damaging not only our players but everyone who works at the club and, also, themselves. Protesting in this manner doesn't help anyone.
I'd also like to emphasise as well that these stupid actions are only from a small collection of our fan base. The majority of the fans are like you described it: perplexed, resigned, frustrated, sad but there are also some who believe. I count myself as one of those. We should all realise that we only have a chance of saving ourselves from this predicament by coming together and supporting the team. Internally, we're doing that. I know the fans are tired and angry. I understand their frustrations. We have to stick together through thick and thin, through good times and the bad.
How do you imagine the club being run in the future?
Professionally and properly. We're focusing on staying in the division and have to do everything in our power to ensure we can do that. We're trying everything. That's why we changed head coach.