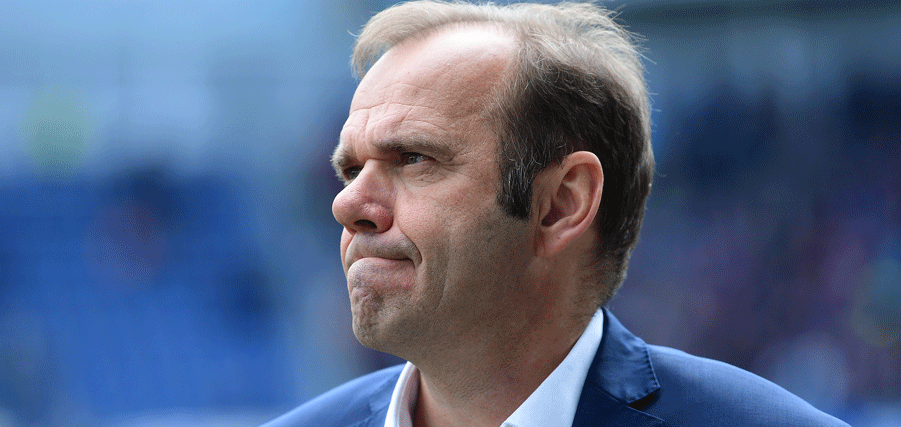 "We will leave no stone unturned"
On Tuesday, the HSV president Bernd Hoffmann discussed missing out on promotion and the subsequent consequences.
After losing to SC Paderborn on Sunday, it was decided that HSV would be playing 2. Bundesliga football again next season. Two days later, HSV president Bernd Hoffmann answered the media's questions about the "most superfluous failed promotion in football history." HSV ended the first half of the season at the top of the table, before falling away after Christmas – and therefore missing out on promotion back to the Bundesliga. This is something which Hoffmann has found hard to stomach and he has subsequently announced that there will be a detailed analysis carried out, in order to make sure the club secures promotion next season. While taking to the media, he discussed individuals, the squad and the overall club structure.
Bernd Hoffmann on...
...the reasons for missing out on promotion: You can't pick out one reason or one person, as this has basically been a complete system failure. Our whole sporting system collapsed at some point in the winter and has never recovered. Some individuals have played their part in that, but are not wholly responsible. If a Formula One car only has three wheels, then it doesn't matter who is driving it. It simply won't work – and the drive isn't at fault for that. As a result, we will leave no stone unturned and make the decisions that we feel we need to make, to ensure that we get back to the level we should be at.
...possibly changing the head coach for next season: We can't blame one person for what's happened, as not one player has played as well they did in the Hinrunde. We need to find the reasons for that, whether it's down to sporting, mental, health, contractual or any other factors. Replacing just one person hasn't had a long-term effect in the past few years. Therefore, we will discuss things together and talk to the coach, not about him. Then we can decide how things will move forward.
...the financial consequences of not getting promoted: We have made sure that HSV is set up well financially at all levels and received our licence for the 2. Bundesliga with no strings attached. We will carry on at this level and will be able to put together a strong squad. Financial strength isn't always decisive – a squad worth 27 million played one valued at eleven on Sunday – and were effectively without a chance. You can't always put sporting results down to financial reasons.
...the fans' support: The HSV fans' enthusiasm is incredible. It's phenomenal how loyal they are. The energy after the Paderborn game was so positive and it just showed how close the club, the fans and the whole city are. Our togetherness is absolutely first-class; we just have to ask ourselves how we can work better. We have the responsibility to do this for our fans.
...Klaus-Michael Kühne's comments: Mr Kühne has invested a lot of money in HSV and is also an extremely passionate fan. He is allowed to have his own opinion and also make that known. Every partner, investor, member and fan of HSV has that right. Nevertheless, we will make our own decisions. After the last few months, we have to accept the fact that we will be criticised. It's a similar situation with the fans, who are incredibly disappointed and now want to give their tickets back for the Duisburg game. I can understand this reaction to some extent. All we can do now is ensure that the fans come back next season.
...the new season: First of all we want to end the season positively against MSV Duisburg. Then we will start analysing things. We will continue to use a number of younger players, which is something we like doing, especially as we have a great academy and are also capable of bringing in talented youngsters from elsewhere and developing them. The squad's average age might change slightly, but that will all be decided in the coming few weeks.
...the future direction: We need to break the cycle of negativity that has been lingering over the club for the past few years. The recent collapse is the result what of has happened over the years here. We haven't developed well enough and some of the club's areas aren't state of the art – a Rückrunde like this wouldn't have been possible if we weren't in this state. We will now do a brutal analysis of all areas of the club, to work out how to improve and to reach our aim of promotion next season. The last thing that can happen is that we get stuck in the 2. Bundesliga and learn to live with it.