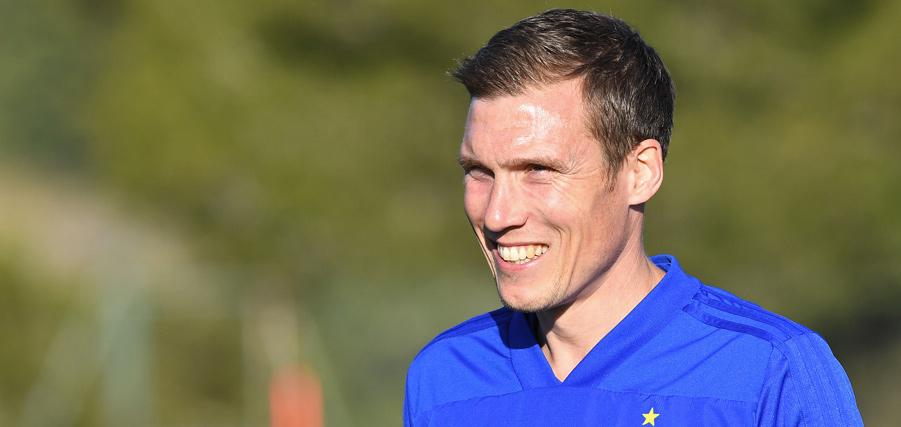 "We've got a combination of hunger and experience in the squad"
In an interview with hsv.de, Coach Hannes Wolf spoke about the current winter training camp in Spain, his approach with the players, and the distinctive traits of the team.
The current one-week long training camp in Spain is Hannes Wolf's first as HSV coach. For him, there's a lot more to do than just tweak and refine the tactics from the first half of the season, as there are some essential things that need seeing to. Wolf spoke to hsv.de about his thoughts on the work being done in La Manga, what philosophy he's adopting to approach the players, and what steps he wants to take with the team.
Hannes Wolf, you're more than halfway through the winter training camp in La Manga. What are your impressions so far?
Hannes Wolf: I'm pleased with the things we've achieved so far. The most important thing for us is to train a lot and train hard, without going mad. The lads need to come out of the other end better for the hard work, which has worked well on the whole so far. We have a tough second half of the season ahead of us, with lots of games in quick succession. We want to attain the necessary substance to tackle this head on.
You took over the team during the first half of the season, which means this is the first time you've had all the players together for a longer period of time. Does this mean there will be different focuses in training?
Definitely. When you take over midway through a season you have to get to the point right away and take extra care with every bit of information you give that you don't overload players. You have to help them complete the next task well. It doesn't help to have another meeting and give them another bit of information. It's a bit different now: At this stage you don't need to be as careful. Obviously you have to be careful they don't get injured, but if you make them play in a friendly despite fatigue, it's not so bad. In a league game it is – so we take this opportunity to really work hard and cram in a lot without causing any damage.
We have noticed that you try to talk to players in between sessions. How important is it to get to know the people behind the players?
It's my job to talk to the lads about football. I always give them some short feedback and give my input on what we still need to work on. This doesn't require long conversations – often it's a case of two minutes. I don't sit down and ask for someone's life story: Where they grew up and what they like to eat for dinner. I try to stick to the topic of football. My role here is clearly defined: Try to make the team win as often as possible and help every player improve their individual game.
You once said: "Football will always be the players' game." Does this also define your handling of the players?
The players carry out their game tactically, according to how we outline the game plan. You need procedures within a team that fit together, which is why my task here is setting the team up tactically strong. After that, it's the players' game: The standard to which the tasks are carried out, how certain situations are resolved, which foot to use, these things all come down to the players' choices and ability. You can't put too much important on your role as a coach. You foreshow the progress a team needs to take – you need to help every player reach their full potential.
How would you describe your role in terms of coaches and players playing together?
We'd have to talk for hours on that, because football is a very complex system, and this role varies. Sometimes you have to explain, while at other times you need to demonstrate. It's very complex though at the end of the day, because players need to be addressed differently on certain days. As a coach, it's your job to react to the different situations properly. You can't plan everything – you need to react to what people give you.
With an average age of 24, we have the youngest team in the league. Where does this become apparent and what do our players have to offer?
You can tell that we have a young team. It has a lot of advantages: The lads are very hungry, they go full throttle and train with a good attitude and intensity. Fortunately, we have players who've been playing at this level for years and have certain calmness about them in common situations. This combination between experience and ambition within the squad, the readiness to work hard, is really good.
What are the next steps you want to take with the team at the training camp?
We always work on everything. Yesterday, for example, we worked on our technical side a lot, which we will do today as well: working on penetrating in the final third, making runs, finishing etc. Tomorrow we'll work on positioning: Once you master positioning, you can always work on attacking and defending simultaneously. From there, you can introduce a focus to a session. It's not like we can just play five-a-side and coach everything like that.
For an overview, we have the friendlies. What insights did the game against St. Gallen give you?
We expanded our repertoire in this fame, because we set up differently, as everyone saw, we also played with a back three. This means if we ever want to change our system at short notice during the season, we have something to look back on. We have footage of it and we have gained an idea of the strengths and weaknesses of this system. Unfortunately, the weaknesses prevailed far more than the strengths, because this is a more offensive system – you have more players going forward, which means you have a great advantage if you can get those players on the ball, but if not you leave yourself vulnerable to counterattacks.
So would you say the result is of secondary importance?
It was very important for us to get a look and a feel of the new system. If we get the feeling during the remainder of the season that this is the right thing to do, then we can now do it. It is now easier to fall back on. It doesn't matter that we didn't win this game, we expanded our repertoire, but would have liked to do better in this instance. As soon as things don't work, everyone talks about the system and the formation, but if you concede a free-kick that goes under your wall, it has nothing to do with the system you're playing in.
Looking towards the second half of the season in the Bundesliga 2, what will be the deciding factor over the remaining 16 games?
We will have a lot to contend with. We need to be athletic and tactical. We need to know when to implement certain tactics, but we also need our players to be in top form. That is decisive! The second half of the season is always more intense than the first – the games come thick and fast and you can afford far fewer mistakes. We cannot afford to say: "We lost this game, so we'll just have to win next week." You have to be in the moment. We are preparing for this with lots of hard training.
We have one more friendly as part of the training camp against Lugano. Will this already be fine-tuning for the Sandhausen game?
No. We are responsible for a group of 22 outfield players. We can't talk about opportunities, or about how training is important because every player has the chance to prove themselves, and then not follow through with this. I think it's wrong to have an A and B starting XI at this point in the season. Everyone should have the chance. We have to get back to the level we were playing at and start doing the things that made us so strong again: A good balance between defence and attack – we had a good run until the game in Kiel.
Did the Kiel game sharpen your senses further?
Not mine, because I know how difficult it is in this division. Maybe it sharpened our senses overall, but we would have liked to win there. The rest of the league has a lot of respect for us, and the other games were all tight as well. We want to reach our top level to increase our chances at achieving our goal. That starts for us now, because soon we will be playing against Sandhausen, and we want to be at the top of our game by then.