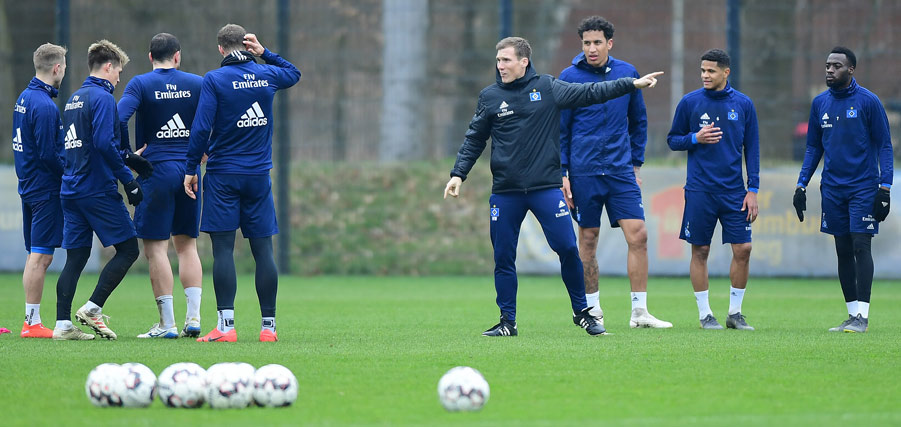 Post match report
09.04.19
Work is the key word
Hannes Wolf and Ralf Becker didn't mince their words on the performance and result against Magdeburg. The players will have some intensive training sessions to get back to winning ways.
The wind is changing direction in Hamburg. Following HSV's 2-0 win against Paderborn in the cup last week, there was a lot of praise for the side. However, there was no repeat performance against Magdeburg at home on Monday evening, and HSV fell to a 2-1 defeat.
"If you don't give 100%, you won't win any games. And we didn't do that. It's extremely annoying and massively winds us up," said Hannes Wolf after the game. Sporting director Ralf Becker also didn't mince his words following HSV's warm-down run the day after the game: "Whenever it's not a must-win game, we put in a bad performance and don't get the points. We don't have the feeling that we had a team on the pitch who wanted to win the game. Magdeburg were more confident and were more up for it – that can't happen with us."
The last-minute defeat was doubly painful, as it's not the first time that HSV have let a game slip through their hands. "We had just recovered. Now we're here for the second time in a short space of time saying: that shouldn't happen to us, but it happened," said Hannes Wolf, looking back to the game against Darmstadt 98 three weeks ago, when HSV lost 3-2 in the last minute, despite leading 2-0. "When you don't manage to score a second goal, then it always goes 1-1," added Wolf.
Things could have played out differently had the referee handled things differently in the 53rd minute. First, Pierre-Michel Lasogga went to ground in the box and the referee awarded a penalty, only to take it back and give a corner moments later. From the resulting corner, David Bates headed onto the arm of Tobias Müller, but the referee gave nothing. However, Wolf did not want to use this as an excuse for the defeat: "It wasn't a good first half from us. We have to deal with that happening. We have to find a way with the team to play how we prepare to. We have a week of training ahead of us and we have to train hard. First and foremost, it's about getting our players into top form. Then we'll try to help them tactically for the Cologne game, but also for what's coming after that."
"Everyone has the opportunity to show what they've got"
Wolf was backed up by Becker: "Everyone has the opportunity to show what they've got. There are maybe one or two that were a bit behind recently. You only get back through training and work. We've always managed to come back from setbacks. That has to be the aim today. Today, we're rightly down and we also have to take criticism. But now we have to look forward, speak about these topics and draw the right conclusions."
Hannes Wolf wants the same from his team, but he won't be changing things up massively: "At the right moment, sometimes it's necessary to provoke your team. Despite all the sharpness, a certain amount of calmness is good." The head coach is also hoping for the speedy return of Aaron Hunt and Hee-chan Hwang, who are both in strength and conditioning training. "We're missing both of them a lot, but the gaps are still too big. We still have the opportunity to reach our goal, but we have to improve," added Wolf. HSV will be hoping that this happens sooner rather than later.