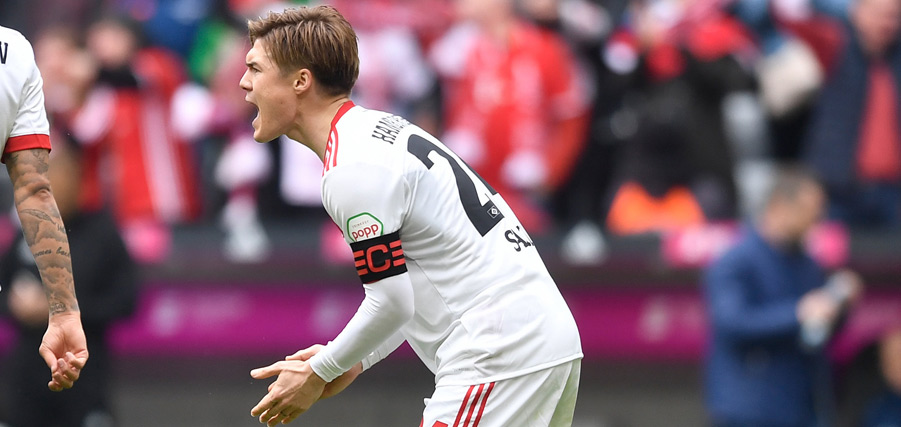 Post match reaction
10.03.18
"You can lose in Munich, but…"
The players and the coach found words for the performance against Bayern after the game. Giving up is not an option.
HSV suffered a clear loss on Saturday (10th March) afternoon in Munich, as in past years. Bernd Hollerbach's team were at no point during the 90 minutes a match for FC Bayern and left the pitch having suffered a fair 6-0 loss. The match had to be ticked off as soon as possible and those in the mixed zone were united in their wish to not spend a whole lot of time there after the final whistle. "As long as we still have a chance, we'll go for it," said Aaron Hunt on behalf of all the Rothosen.
Gotoku Sakai: It was a poor performance from us from the beginning. We can't be playing like that, we shouldn't be conceding like that in the Bundesliga. I think it all started with the first goal. Even if it quickly turned to 3-0, we had to show character. It's really disappointing and it hurts. I feel really bad for all the fans.
Kyriakos Papadopoulos: We had to tick the match off quickly; we don't want to think about it any more and turn our full focus to the game against Hertha BSC. That's our last chance. We absolutely have to win that. It's down to us as the players.
Aaron Hunt: When you concede such simple goals, especially in such a short time period, then the game is over in Munich. We defended really poorly today. Every long ball felt like a huge clear-cut chance for Bayern. Of course, most teams lose here, but you shouldn't lose by such a margin. But as long as we still have a chance, we'll go for it.
Bernd Hollerbach: We wanted to be bold from the beginning and push forwards. But when you give Bayern such room, it's no wonder when you lose. The game was settled after 19 minutes. We had to be much more aggressive. We always knew it would be a very difficult game. Everything had to go right for us to have got a result here, but we didn't perform today. The way and manner in which we played is not that type of football I want to see. You can lose in Munich, but you have to be strong in the challenges and throw everything you have at the game.