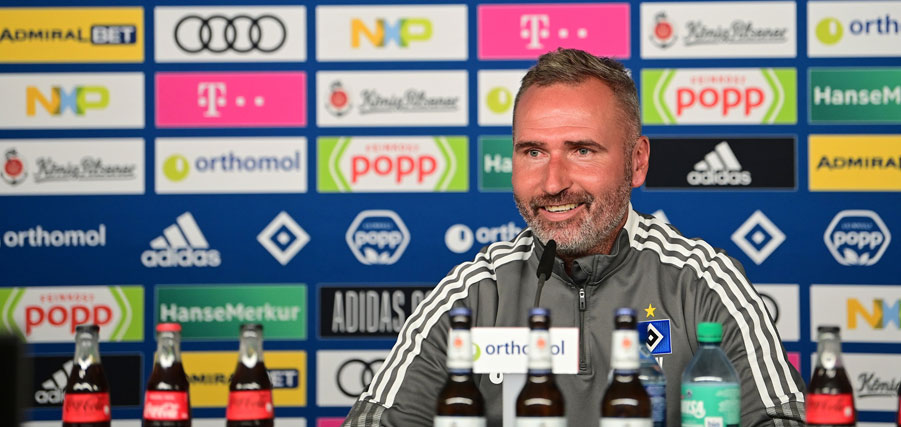 Press Conference
17.05.22
"We are fired up for these games with cup character".
HSV coach Tim Walter spoke in the press conference about the first leg of the relegation against Hertha BSC as well as the prerequisites and approaches to this very special duel.
The first leg of the Bundesliga relegation between Hertha BSC and HSV will take place on Thursday (19 May). Kick-off in Berlin is at 8.30 pm (live on HSVnetradio) - and 75,000 spectators will turn the Olympiastadion into a football witches' cauldron. "I can't even put into words what it triggers in me when I think about it," Tim Walter gave an insight into his soul on Tuesday (17 May). The HSV coach is so incredibly fired up about this match, as well as the return leg that will take place at Volksparkstadion on 23 May, that there is no room for anything else in his head at the moment. "Total focus", as the coach calls it, and which his team is also living. In the press conference, he talked about how he prepares his team for the first relegation match and how he assesses the conditions before the duel between the two traditional clubs. Tim Walter about...
... the opponents Hertha BSC: Of course, the team has great individual quality, that's clear. Nevertheless, our approach to this game is the same as always, even though we don't know the opponent from the league. Therefore, a big praise to our analysis department: We are very well prepared for this opponent.
"Character can play a decisive role in this competition"
... our own condition: We are of course happy that we were able to secure 3rd place with the victory in Rostock. That's why there was the brief joy about what we achieved, but the focus is clearly on what comes next. Because it goes on, we are not finished yet. We are fired up for these two games with cup character, in which we want to achieve what we are determined to achieve as a team.
... the approach to the relegation: We've had a great run to catch up and have won five games in a row - euphoria and self-confidence are definitely on our side. And courage is a big aspect. My young and hungry team shows this courage in every game. We stand for courage, willingness and conviction, these are our character traits. And character can play a decisive role in this competition.
... the support of the fans: It's just wonderful. The boys and girls have given us great support in the home games and also away, and it's incredibly enjoyable to feel that support. Football is emotion, the fans live it just like we do as a team. And they notice and honour that their HSV stands for something again.